Reading Time:
2
minutes
Vol. 44 #2
published week of October 12, 2015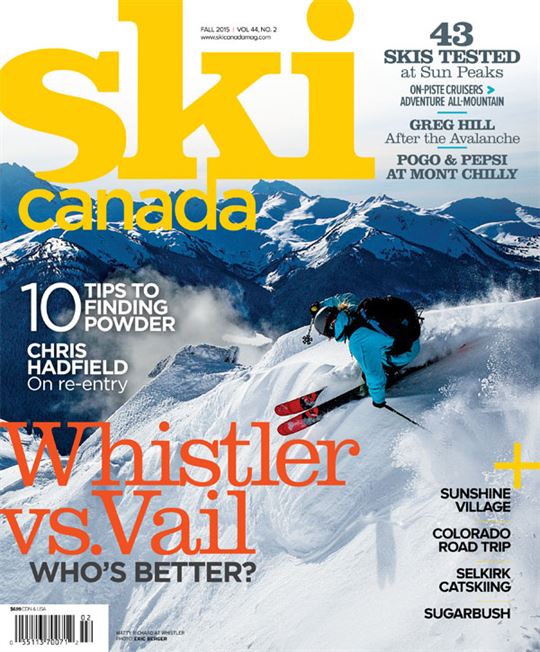 photo: ERIC BERGER * skier: Matty Richard * snow: Whistler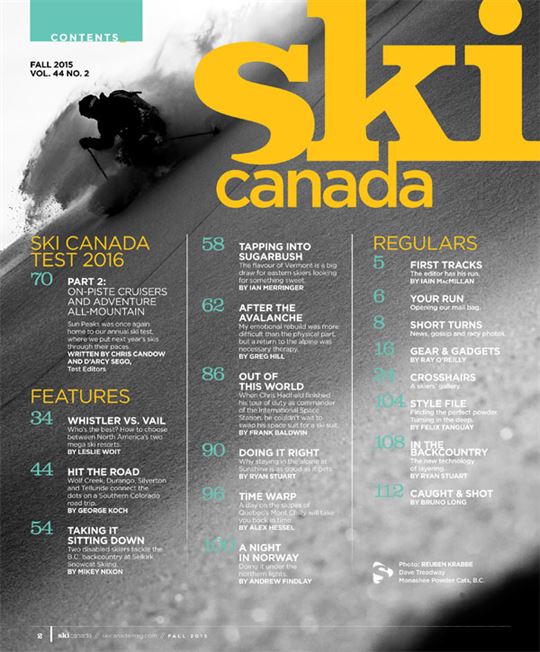 SKI CANADA TEST 2016
 PART 2: ON-PISTE CRUISERS AND ADVENTURE ALL-MOUNTAIN
Sun Peaks was once again home to our annual ski test, where we put next year's skis through their paces.
Written by CHRIS CANDOW AND D'ARCY SEGO, Test Editors
FEATURES
Who's the best? How to choose between North America's two mega ski resorts. By LESLIE WOIT
Wolf Creek, Durango, Silverton and Telluride connect the dots on a Southern Colorado road trip. by GEORGE KOCH
Two disabled skiers tackle the B.C. backcountry at Selkirk Snowcat Skiing. By MIKEY NIXON
The flavour of Vermont is a big draw for eastern skiers looking for something sweet. By IAN MERRINGER
My emotional rebuild was more difficult than the physical part, but a return to the alpine was necessary therapy. By GREG HILL
When Chris Hadfield finished his tour of duty as commander of the International Space Station, he couldn't wait to swap his space suit for a ski suit. By FRANK BALDWIN
Why staying in the alpine at Sunshine is as good as it gets. By RYAN STUART
A day on the slopes of Quebec's Mont Chilly will take you back in time. By ALEX HESSEL
A NIGHT IN NORWAY
Doing it under the northern lights. By ANDREW FINDLAY
REGULARS
FIRST TRACKS  Own Your Own – The editor has his run. By Iain MacMillan
YOUR RUN  Opening our mail bag.
SHORT TURNS  News, gossip and racy photos.
GEAR & GADGETS  By Ray O'Reilly
CROSSHAIRS  A skiers' gallery.
STYLE FILE  Finding the perfect powder. Turning in the deep. By FELIX TANGUAY
IN THE BACKCOUNTRY  The new technology of layering. By RYAN STUART
112   CAUGHT & SHOT   By BRUNO LONG