Reading Time:
2
minutes
Garibaldi Turns 100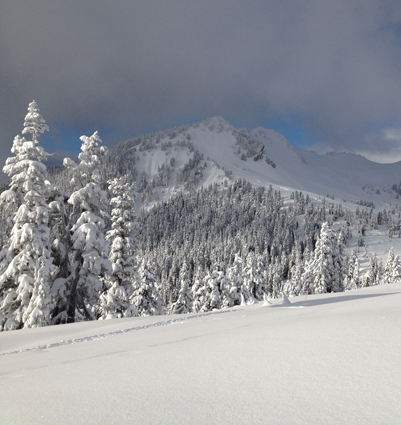 Italian army general Giuseppe Garibaldi may be famous for being "the father of modern Italy," but he never travelled anywhere near the B.C. provincial park that bears his name. While exploring the head of Howe Sound in 1860, British Navy captain George Henry Richards anointed the stunning "diamond head"-shaped peak after Garibaldi, who renowned British historian A.J.P. Taylor once called "the only wholly admirable figure in modern history."
The triangular peak was a beacon to early white settlers in nearby Vancouver, specifically mountain adventurers in the newly formed British Columbia Mountaineering Club, whose members produced the first crude maps of the day in the summer of 1910. Soon, pack animals carried tents, food and supplies to stock seasonal camps for hikers and climbers. Both the BCMC and the rival Alpine Club of Canada pressed the B.C. government to create its first provincial park in 1917. In 1920, their dream was realized with the creation of a "Park Reserve," protection that was further strengthened in 1927 when it was granted Class A protected status.
Many of the park's more remote peaks, specifically those in the Spearhead Range, were explored on skis, which allowed for much faster travel on the region's vast glaciers. One of those skiers was Karl Ricker, a retired UBC geology professor who still lives in Whistler. (Followers of Olympic snowboarding will recognize the Ricker name; Karl's daughter Maelle captured the gold medal in snowboard cross at the 2010 Winter Games.)
Garibaldi Provincial Park is a jewel in the oft-beleaguered B.C. Parks system, hosting 80,000 annual visits via hiking trails and heli-drops. Whistler Heli-Skiing uses vast glaciers just outside the Whistler Blackcomb boundary in the Spearhead Range. Remote summits in the park's eastern boundary, the McBride Range, are visible from the top of Mount Seymour in North Vancouver yet are located in such rugged terrain that very few parties ever ski or climb there. Winter visitation will surely increase with construction of the Kees and Clare Hut near Russet Lake, a popular region with backcountry skiers and hikers.
The forested flanks and alpine bowls of what was London Mountain until 1965 began to attract attention from Vancouver businessmen wanting to create a downhill ski resort within the park. Thus began a lengthy, complicated relationship between B.C. Parks and the various owners of Whistler Blackcomb. Last winter, thanks to efforts from members of the BCMC, backcountry skiers were granted access through the ski trails and into the park without paying for a lift ticket or an access fee.
And a final word about that name. As great as Garibaldi was for Italian nationalism and unification, there's another group with a far closer connection to the peak and surrounding Squamish Valley, and that's the Skwxwú7mesh First Nations, who still live in the area and have been very active in asserting their history and culture over the last two decades.
by STEVEN THRENDYLE
from FALL 2020 issue