Reading Time:
3
minutes
How to join your friends on a powder day.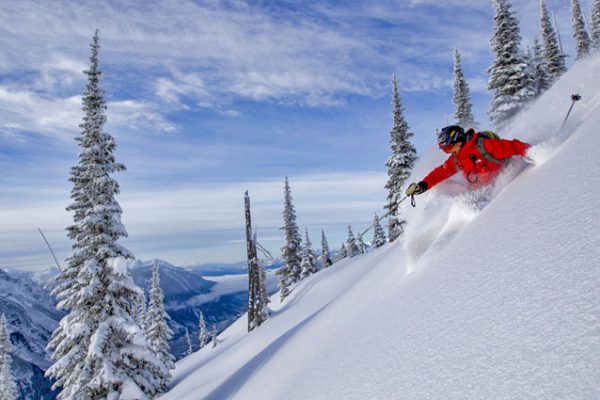 Powder? Pfft," I mumbled to myself as my family, practically vibrating with excitement, hopped into a van and sped off to some untracked oasis.
On this glorious bluebird day in the Italian Alps, I would be carving up pristine groomers with friends Ginny and Jane and our amiable young guide, Giacomo. Tonale-Ponte's abundance of well-groomed trails meant we could look forward to three days of blissfully powder-free corduroy.
Learning to ski in Ontario simply meant "pow" was never my thing. If I did give it a shot, it wasn't pretty. (Think yard sale.) But after our first couple of on-piste runs, I began to suspect Giacomo had a secret deep-snow agenda. "You ladies are much better skiers than I expected," he said with a grin as we settled onto a chairlift. "Do all Canadians ski this well?"
A few runs later it was, "Have you ever tried to ski off-piste? You are all good enough to do it."
After lunch came the kicker: "So, the powder. I would be happy to take you. I could show you the best snow."
Ginny and Jane, always up for a challenge, jumped at the offer from our persuasive guide. Swept up by their excitement—and maybe hoping I'd unlock the secret of powder skiing—I found myself saying yes to a day in the deep stuff. Giacomo's pro-powder charm offensive had worked its stealthy magic.
I'll save you all the next day's gory details, but somewhere on a couloir I'd rather forget I took my customary faceplant. As I tried to pull it together—where the hell did my ski go?—it finally dawned on me. I wasn't going to retool the way I ski in one or two runs, even with an assist from Giacomo. I needed sustained help.
No, I needed a full-blown powder intervention.
Fast forward nine months and the gang is back together, but this time we've flown to B.C. for our very own, custom-designed powder camp. With just a few weeks' lead time, we had arranged for instruction, lift tickets, cozy chalet accommodations, flights and transfers. (Okay, Ginny's husband, Rob, did most of that but he's super-organized.) If I was ever going to conquer powder, it was going to be now.
Over the next three days, we worked with patient instructors who blew up our bad technique and carefully rebuilt it. Our group soaked up every pro tip, and as our confidence grew, we began criss-crossing the mountain, finding untouched terrain and trails so quiet it felt like we were the only ones on the mountain.
If powder was in short supply, our instructors pivoted, taking us beyond the groomers in a completely different way: Hello, moguls! That's the beauty of a build-your-own ski program; you have total flexibility. Adjust to changing conditions, hunt down the guides' secret powder stashes, push your limits—steeps! trees! short turns!—without ever feeling like you're out of your depth. It was totally empowering—and kind of addictive. As our last ski day dawned, we were greeted by fresh snow as far as the eye could see. I scarfed down breakfast since I couldn't wait to get out there before all the… Hang on a second, what was this? Was I, Maggie Screaton, actually pumped about powder? It seemed our custom camp had been a complete success. From here on in, every mountain I skied would be that much bigger thanks to tons of new powdery terrain to explore. Could backcountry be next?
BY MAGGIE SCREATON
from Fall 2020 issue