Reading Time:
2
minutes
''I'd noticed a direct relationship between pain, snow hardness and ski width… ''
Repeated visits to an orthopaedic surgeon revealed exactly how my knees had worn with time. This got me to wondering how much my life of skiing had to do with my knee problems. I'd noticed a direct relationship between pain, snow hardness and ski width, as in: the wider the ski, the harder the snow, the more pain.
by Martin Olson, CSIA IV, Examiner in Fall 2017 issue
My anecdotal and therefore unscientific hypothesis was still valid chairlift chatter, though, and others agreed that the trend toward wide skis may be affecting skiers' knees.
Not so long ago skiers were on boards with waists in the 60-65mm range. Now it's hard to find a recreational ski narrower than 75mm, and 100mm waist measurements are not uncommon in the All-Mountain category. Yes, wide skis are unmatched in deep and soft snow, but the inconvenient truth is that most people ski most of the time on firm, groomed snow.
Edge grip on skis can be improved by adding a lifter that brings forces closer to the gripping edge and better aligns forces through the knee (see diagram). Another way to bring forces closer to the knee is to make the ski narrower. Perversely, wide skis that could benefit the most from lifters are usually mounted "flat," or without any spacer under the binding at all.
Wide skis put the edge farther away from the centre and therefore exert outward forces on the knee when the snow is firm (see diagram). It's a different story in soft snow, where the ski base is more evenly supported and no side loads are applied to the knee.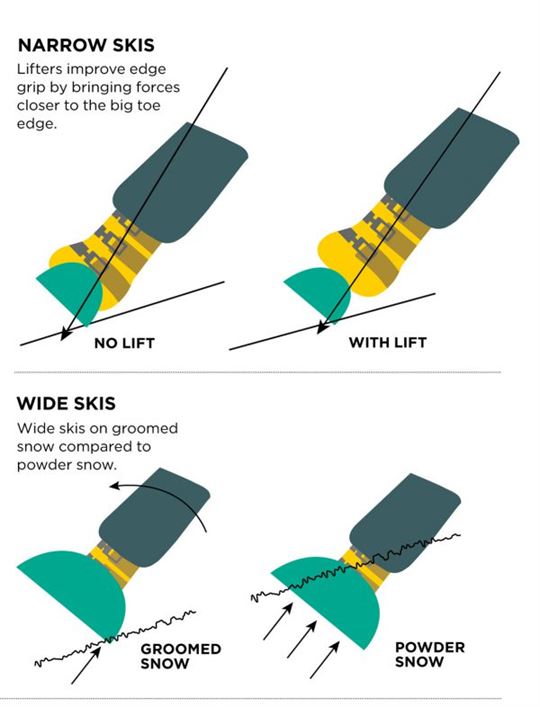 After working in the ski industry almost my entire life, my knees have seen more abuse than most but may still provide a cautionary tale. There had to be something that caused severe erosion of the cartilage on the inner aspect of my knee joints. If my boot set-up had too much cant, if the snow was hard or if the skis were wide, I could feel it immediately. The bone-on-bone pain was debilitating.
My solution was to go to the narrowest ski I could find (70mm) and to avoid hard-snow conditions. It also helped a bit to reduce the cant adjustment on the ski boot to a negative setting. Anyone can test this by standing on a hard floor with boots buckled skiing-tight. If the knees are close when the feet are hip-width apart, it's a negative setting. It's terrible for ski performance, but helped to reduce knee pain.
If I lived at a cat-skiing lodge in the Kootenays, I would have only wide skis under my feet. But in the real world, I don't take out the big sleds until the snow is over my boot-tops.
Editor's note:
Dr. Charlie Secretan replaced the inner half of Martin Olson's knee with titanium and the transformation has been nothing short of "miraculous". The knee joint is stable and completely pain-free—and he can even enjoy wide skis again.