---
SWEET DREAMS
Eight Canadian alpine lodges
BY STEVEN THRENDYLE PHOTOGRAPHY BY RYAN CREARY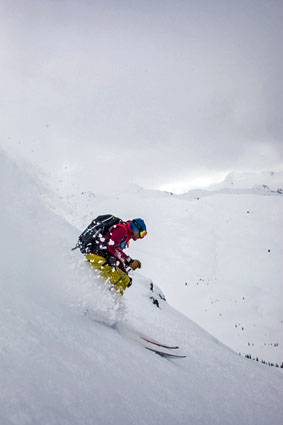 Backcountry skiing has been part of the B.C. landscape since the mid-1980s, but thanks to huge advances in off-grid energy conservation technology and environmentally sensitive construction techniques, today's private lodges are a far cry from the drafty, rodent-infested hovels of yesteryear. Most backcountry ski lodges take their cues from what's been done in the heli-skiing industry. Gourmet lunches and dinners have replaced gorp. Private rooms separate the snorers from the insomniacs. There are plenty of hooks for drying jackets and climbing skins, and most lodges offer hot water. Then, of course, there's the option to repair to the bar to sample craft beer and B.C. wines. And did I mention Wi-Fi? Well, let's just leave the phone at home, shall we?
Currently, the Backcountry Lodges of British Columbia lists 32 separate operations, many of which have been happily serving their customers heaping plates of rosti and powder for the past 40 years. Now, get your bubble of skiers organized and book a memorable week.
SOL MOUNTAIN LODGE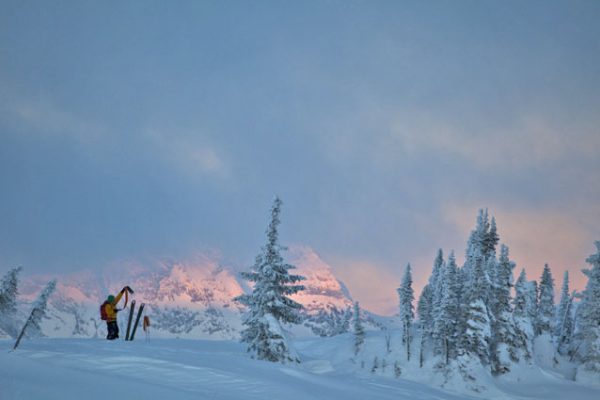 Sol Mountain Lodge is a short heli-hop from Hwy 6, an easily accessible drive east of Vernon, B.C. The Monashees are known for cold, dry powder, and Sol Mountain Lodge offers a fabulous backcountry experience in more than 12,000 hectares. Sol is a leader in sustainability; its power is generated by a micro hydro power station and every effort is made to reduce waste. Skiing ranges from long open bowls a half-day from the lodge, to steep chutes, pillow lines and mini-golf-style terrain, to nightskiing every full moon. Avalanche courses are available as well.
Cool stat: One of Sol's primo day tours explores the flanks of Mount Baldur, which apparently translates as the "Norse God of Powder Goodness."
SELKIRK LODGE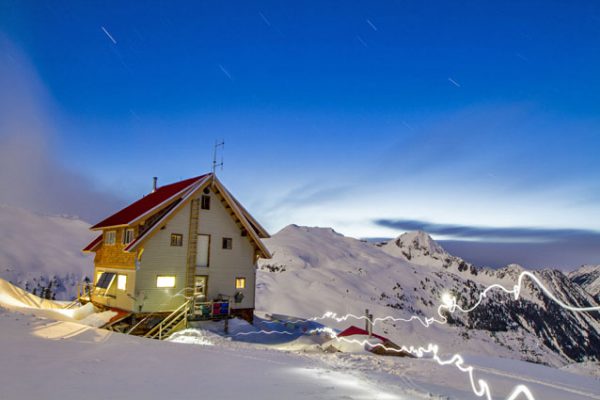 Apart from the oldest cat-ski operation in the world, Selkirk Snowcat Skiing, you should know that there are also two highly respected backcountry lodges in the Selkirks. Try not to confuse Selkirk Lodge with Selkirk Mountain Experience. This is high-alpine snowfield/glacier skiing at its best. All trips are guided and catered. There are three women-only weeks, one in early January and two Alpine Finishing School courses running in late April run by SheJumps and the Arc'teryx Mountain Academy.
Cool stat: Selkirk Lodge has been in operation for 33 years and has just been passed on to Katie Devine, renowned freeskier, certified alpine guide and daughter of the lodge's founder, Grania Devine.
SELKIRK MOUNTAIN EXPERIENCE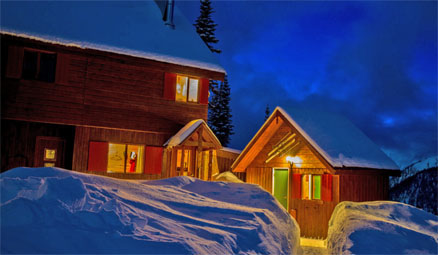 Ruedi Beglinger offers what one client calls "high-performance guiding." To ski with Ruedi, you need to be in strong physical condition, know your equipment inside out, and be able to speedily transition from climbing to skiing. The reward? Several thousand vertical metres of both alpine and gladed backcountry runs—as much as you can handle. Easier tours are available for less ambitious/experienced skiers. Trips are based from Durrand Glacier Chalet, with hut-to-hut overnighters to the Moloch and Empire Lake chalets.
Cool stat: Ruedi and his family were the focus of "A Life Ascending," a documentary film based on the Beglinger's commitment to mountain life.
ASSINIBOINE LODGE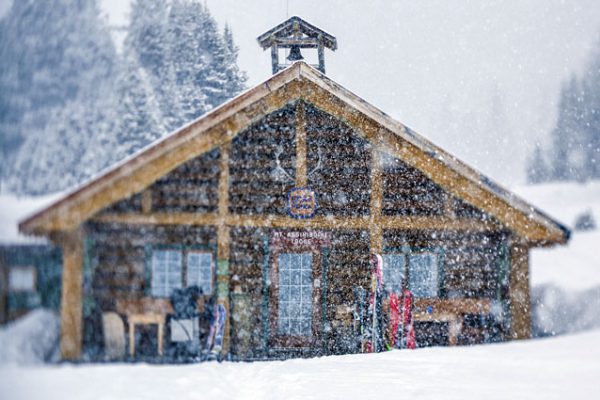 Known as "Canada's Matterhorn," the mesmerizing pyramid of Mount Assiniboine straddles the Continental Divide between Alberta and B.C. While the lodge is on the B.C. side, heli-access is via Canmore, Alberta. The treeless, snow-covered meadows surrounding the great peak have been skied continuously since 1928, when Norwegian ski instructor Erling Strom guided a hardy group to this remote Shangri-La. It would be tough to find a more scenic place to ski.
Cool stat: Long-time Lodge operators and guides Sepp and Barb Renner are the parents of Sara Renner, one of Canada's most successful female Nordic skiers.
VALKYR ADVENTURES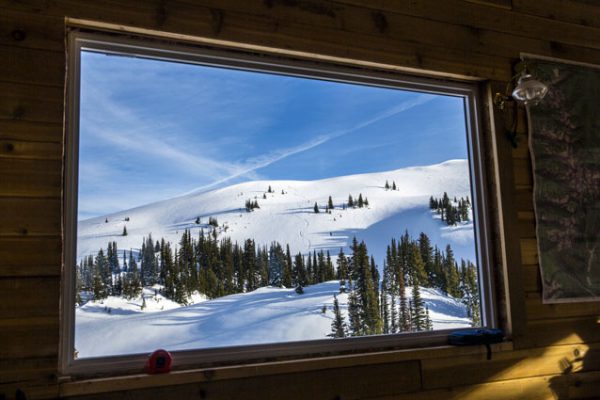 Nestled in the famed southern Selkirks snow zone, Valkyr Adventures offers both "base camp" and "hut-to-hut" ski-touring adventures in a remote corner of the B.C. Kootenays. Between these huts, the Valkyrs feature a lifetime of skiing adventure. Chutes, trees, bowls, gullies and even an eerie forest fire burn await the intrepid adventurer. Some mid-week tours feature morning "heli-bump" lifts that greatly maximize skiing time. Ski with a private guide whose judgement you trust (and who plays a mean version of American Pie on the guitar) by privately booking the LQ Outpost Lodge.
Cool stat: The Valkyrs of Norse mythology are angel-like figures who bear the souls of lost warriors to heaven (aka Valhalla).
POWDER CREEK LODGE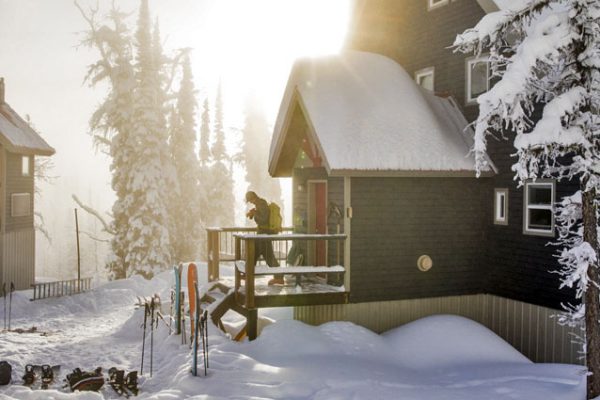 This is a lodge that really seems to tick all the boxes: super-dry high-quality Interior powder, a vast array of terrain for novice to advanced tourers, and a warm, homey cabin to come back to after a rewarding day on the uptrack. Located at 2,283m, Powder Creek Lodge offers outstanding skiing right outside the door and dropping into sweet drainages. On sunny days, the alpine awaits with 900m-plus descents, including a few first descents, we're told, still possible.
Cool stat: Powder Creek is so far off the beaten track that no evidence of civilization exists: no road, logging slashes or heli-skiers buzzing overhead.
PURCELL MOUNTAIN LODGE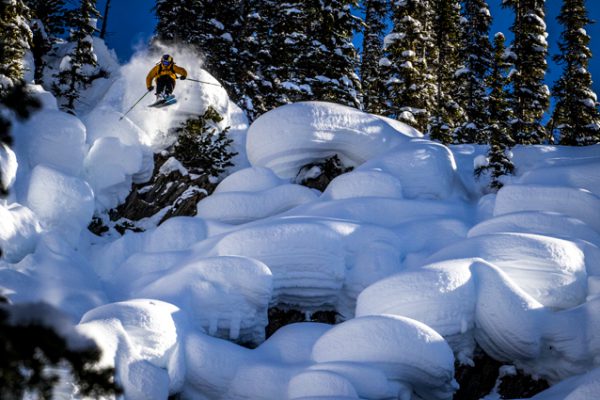 One of the first wave of luxury Canadian backcountry lodges, Purcell Mountain Lodge is a comparative rarity. Although Canada's national Nordic ski team has trained here, you don't need to have the stamina of an Olympic athlete to enjoy the eye-popping alpine scenery dominated by Mount Sir Donald in Glacier National Park. The broad plain that Purcell Mountain Lodge sits on is suitable for snowshoes and light touring gear. Spicier and more challenging objectives lie within the span of a longer day trip later in the season.
Cool stat: Purcell Mountain Lodge was the first backcountry ski-specific lodge equipped with hot showers.
ICEFALL LODGE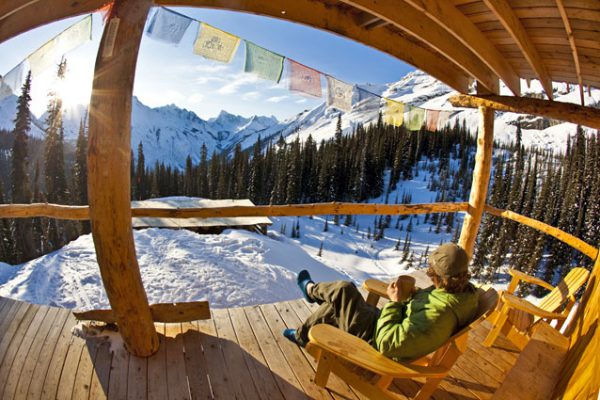 One of the few backcountry tour operators to offer true glacier skiing, Icefall Lodge is a long way from anywhere—60 km north of Golden, to be exact. Long-time ACMG guide Larry Donecki has built three huts adjacent to the Lyell Icefield on the Continental Divide between B.C. and Alberta. Mountain summits here are over 3,300m, and there are straight-shot runs more than 1,200 vertical metres and a couple over 2,000m. It's a wild place.

Cool stat: Situated on a lofty outcrop at an elevation of 2,860m, Lyell Hut is the highest commercial cabin in Western Canada.

Assiniboine Lodge, backcountry, Icefall Lodge, Powder Creek Lodge, Purcell Mountain Lodge, Selkirk Lodge, Selkirk Mountain Experience, Sol Mountain Lodge, Valkyr Adventures