---
The incentive to move from Sweden to Canada goes beyond the legendary powder and vast backcountry of this Northern B.C. community.
story and photos by MATTIAS FREDRIKSSON
After the driest February in many years, it's finally starting to snow again. Today's forecast is looking good: 15 cm, 30-40 more in the next few days before returning to a high pressure. Things are about to get back to normal. Well, as "normal" as things get up here at Shames.
When the upper parking lot is full on a weekday, you know it's a powder day without even looking up toward the mountain. It seems everybody who has the privilege to influence his or her own work schedule is here on this snowy Monday. It's almost the same excitement as it was at the beginning of the season.
B.C. skiers are spoilt when it comes to snow quality, and these days you can never be sure about consistent winters anywhere. However, with just two winters living in B.C. I've already experienced a lot more powder days here compared to growing up in Sweden.
–––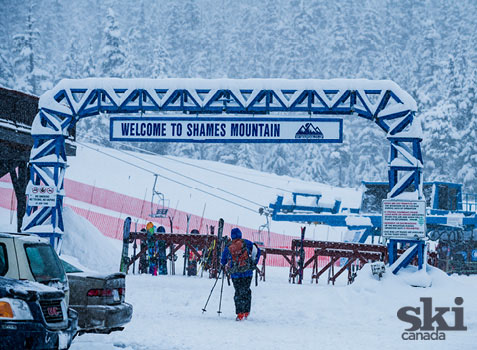 So how the hell did a Swede end up living in northern B.C.?
Having spent half my life in Åre, a small Swedish mountain town about an 11-hour train ride or eight-hour drive northwest of Stockholm, it was time to try a new adventure. For 20 years, I'd called Åre home and it became my primary studio. The Scandinavian skiing and mountain-biking hub is a neat little town, but sometimes change is healthy. So in 2017 my Canadian partner, Elle, and I moved "home."
Ever since my first trip to Canada in February 1999, I've been a fan of maple syrup, flannel shirts, the laid-back people and Canadian ski culture. I guess it helped that my first experience took place in the B.C. Interior—and during an exceptionally deep winter. My memories from that first trip are still vivid and real. I was travelling with a group of good friends from the film crew of Free Radicals. At the time, I was the managing editor of Sweden's national ski magazine, Åka Skidor, and we had sponsored the film.
We knew some Swedes who ran a little hotel in Fernie at the time, so we began our trip there. We later continued on to Nelson, and loving the deep powder and Kootenay vibe, we stayed a week longer than planned. Our B.C. road trip eventually moved on to Rossland then Revelstoke before we finished off with more partying than skiing in the Banff area. Three weeks went by fast. I knew as I boarded the plane back to Sweden, I would return soon. B.C. had exceeded expectations—and had stolen a bit of my heart.
Over time, B.C. became a second home to me. I was making annual trips in the winter, and soon began visiting in summer for the mountain biking. Ski and bike buddies became close friends, some came to visit in Sweden and we made trips together to other places. Somewhere along the line I told myself that "one day I would love to live in Canada," but that was a utopia for me as a single Swede with no real ties to Canada. I had to face facts: I wasn't even good at hockey.
In 2011, after numerous trips to B.C., I was fortunate to meet a smart, young woman in Sweden from, of all places, Nelson, B.C. Elle spent a year in Stockholm working on her master's degree in European Law at Stockholm University. We started to date and Elle eventually moved up to Åre, where we lived together for five years. She also became my business partner, and the best post-production operator/assistant I've ever worked with.
Elle wanted to pursue her career as a lawyer in Canada and I had dreamt about living in Canada since that first trip to Nelson in 1999. In 2017, we packed up our belongings, including Tikaani, our Siberian husky, and moved more than 7,000 km across the Atlantic and North America.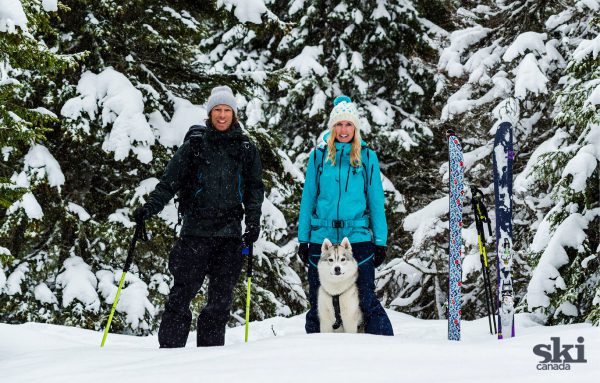 With Whistler just up the road, we kicked off our Canadian adventure by moving to Squamish. It was great in many ways, but the commute to Whistler, especially on busy weekends, made us realize we needed to find a smaller place. We considered several classic mountain towns in B.C. but we found either unaffordable living costs or few job opportunities. When Elle was offered an exciting job in Terrace, we took the chance and headed north.
Terrace lies near the southern border of the Alaskan panhandle about an hour and half drive east of the port city of Prince Rupert, or halfway between Vancouver and Whitehorse. Terrace is a quiet, old-school, small industrial city of about 14,000 people by the Skeena River, one of the longest undammed rivers in the world. Endless forests abound; hockey is a religion. Yes, mountains in Canada are a lot bigger and it snows a lot more here, but it's a lot like northern Sweden and I often marvel at the similarities.
For a long time, Terrace has depended on its natural resources, especially its forests. In the '80s, Terrace had three big sawmills, which employed half the town. But when the forestry industry soured, two of the mills closed. Over time, Terrace, aided by its strategic location along the railway and Hwy 16, has transformed into a service and professional hub for northwestern B.C. Last autumn, for example, LNG Canada's Coastal GasLink pipeline project between Dawson Creek near the Alberta border and Kitimat was approved and when finished will become one of Canada's most significant industrial projects.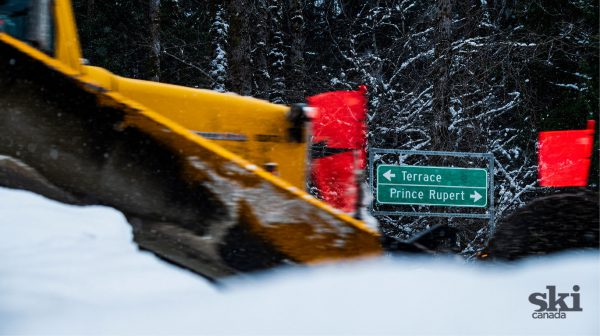 Terrace and the northwest region are seeing an influx of both young people and professionals working in fields beyond forestry. Many come for a job opportunity but stay for the lifestyle. Terrace offers affordable housing, great outdoor activities and barely any traffic. As well, the newly rebuilt airport, with up to six flights a day to Vancouver, makes life easier for travellers. Of course, the deal-breaker for Elle and me was all the positive things we read and heard about Terrace's local ski hill, Shames Mountain.
Among hardcore powder skiers, Shames plays in the same league as Whitewater or Mt. Cain more than Red Mountain or Revelstoke. South of the border, think Mt. Baker, Washington, or Silverton, Colorado. All are relatively small, unique ski hills with rad terrain, ridiculous annual snowfalls and no crowds.
A 25-minute drive from town, Shames has existed as a local ski hill since the late '70s. It's the small-town big mountain with an average annual snowfall of 12 metres, outstanding backcountry terrain and a small but passionate community of shredders.
It's a difficult and challenging task to run a ski hill as a business in a small remote city where most work Monday to Friday. When financial hard times hit in 2008, the local ski community created a non-profit society called Friends of Shames and figured out the most effective way to keep the local ski hill open long-term: a community service co-op (as opposed to Ontario's members only "private clubs"). Individuals, businesses and corporations bought memberships and worked to raise awareness about the benefits of a co-op ski area. As of January 2013, they achieved the milestone of officially owning Shames Mountain Ski Area. Nowadays, the co-op has slightly more than 1,500 members, and I am proud to say Elle and I are two of them.
Shames Mountain serves as a (steep) ladder into some of B.C.'s most underrated backcountry skiing. With a single chairlift, T-bar and rope tow for kids and beginners, it punches above its weight for both quality and quantity of skiing. Shames has almost 500 vertical metres of steep and challenging inbounds terrain as well as excellent tree-skiing.
But let's be realistic, visitors don't come all this way to ski piste. The ski area and its 30 designated runs on paper is just a gateway to more. A lot more. Shames's total tenure is more than 3,000 hectares—that's 30 square km—about 10 per cent less than Whistler Blackcomb. Although a busy day at Shames often means you're sharing its fabled powder with a few hundred other skiers and boarders, as opposed to 10-20,000 at Whistler Blackcomb. We're good at math.
–––
At the top of the T-bar, the flurries have turned to big flakes and the white gold accumulates fast. The Upper Shames Valley is just one hour from the ocean, by crow, and surrounded by big mountains and glaciers, which brings in a lot of different weather systems. The coastal climate creates a wet, stable snow quality and delivers a lot of precipitation in the northwest Coast Range. The result is typically a fat, stable snowpack.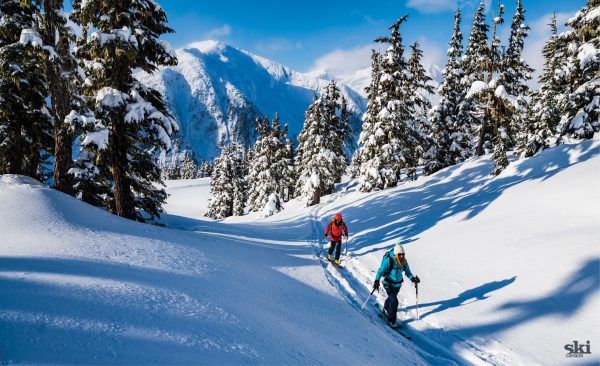 About 20 packs are sitting in the snow at the top T-bar today, a sign of a busy day in the Shames backcountry. After a few quick warm-up laps, we find our bags at the top lift and put the skins on. I follow my friend Chad Sayers on the skin track through the widespread cedar trees, and quickly settle into a nice pace up the hill.
Although he lives in Whistler, ski nomad Chad (see SC's Fall 2019 issue) has been coming to Terrace to ski Shames regularly ever since his first visit in 2010. That year he visited three times with filmmaker Jordan Manley when the duo worked on an episode of the short film series, A Skier's Journey. Indeed, the Shames episode helped kick off the idea of creating Shames's co-op business structure.
We follow the rolling hills away from the ski area and aim northeast to the Dome, which offers many lines facing mainly south and southwest. With this cold storm, it's the perfect place to start a day like this. Thirty minutes later, the skins are ripped, stowed away, and we're ready to drop in. We decide to ski Waterfall Chute, one of my favourite runs near the ski area. Straight fall line, pretty steep and, like today, often untracked.
Chad drops first and skis the upper leg in one go. His first few turns create big snow-smoke clouds, and then disappear around the corner. My first turns feel a bit funky, but I soon get into it and open it up. Quickly I realize the snow is a lot deeper than we thought and I get to enjoy a few faceshots before joining Chad by a lone tree.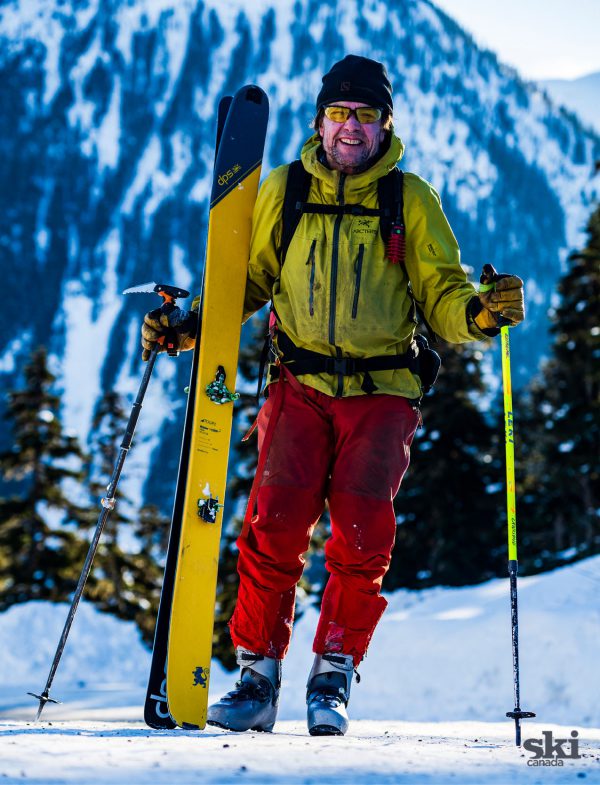 We continue to ski the chute in the same way. The terrain flattens out as we hit the treeline and we ski together, a good way to keep track of each other knowing the danger of deadly B.C. tree wells.
Back at the top lift, we meet Brad Zeerip, a local ski legend in Terrace and a Shames local for more than 15 years. Brad grew up in Newfoundland, and eventually moved to Terrace to both ski and work as a fishing guide. Nowadays, Brad doesn't guide anymore, but together with his partner, Kim, they run the Skeena River House, a B&B with stunning views of the river and mountains.
We join Brad and his friend Sarah Panofsky for another lap in the backcountry. "There's skiing for a lifetime here around Terrace," says Brad with a grin and laughs, "and nobody seems to get that."
I don't think I've met a more passionate skier. The 60-year-old is obsessed with skiing; his whole life revolves around it. He manages to ski every month of the year. If there is a bit of snow strip left somewhere in the Terrace backcountry, Brad will find it. It doesn't matter if the approach is a real slog—nothing can stop Zeerip from ripping.
We continue past the Dome, toward Mt. Remo, a 1,907m iconic peak that you can see clearly from the ski area. It's a lot windier now after lunch, but it doesn't stop us from walking up to Brad's Breakfast, obviously a run named after Mr. Zeerip.
We rip the skins standing above Brad's Breakfast and follow him from tree island to tree island. The snow feels a bit unstable and it's steep, so no high-risk moves allowed. Eventually, we're skiing and not just moving between safe zones.
"It was a bit touchy up higher, but now we're all right," says Brad when he takes a break to collect the group.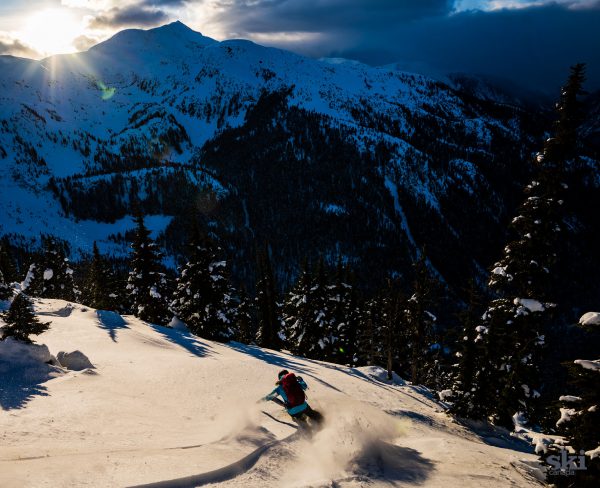 Moments later, he points his DPS fatties down the fall line and starts skiing again. He's fast, stable and knowledgeable. Just by looking at his way of moving in the mountains, you can tell he spends a lot of time here.

We ski down through Mystic Valley, which is more beautiful than mystic this glorious day. The sun shines straight into the canyon-looking valley with steep walls on each side. Eventually we glide back along the flats toward the ski area. The snow is still deep in the gully and the trees are completely covered by the white gold. It is a peaceful ending to our run.

Brad represents the ski culture here: unique, soulful and back to roots, the type of values that once attracted people to ski communities like Terrace. And seemingly the polar opposite to the commercial wave that has hit many better-known ski destinations.

Having visited more than 250 ski resorts world-wide as a photographer and ski journalist, I'm so thankful to call Shames Mountain my home hill. The move to B.C.—and particularly Terrace—has been very inspiring for me, both on a personal level and as a photographer and writer. To have this new fresh canvas to explore is a privilege. I think I'll stay forever.

backcountry, BC, British Columbia, Shames, Shames Mountain