Reading Time:
5
minutes
WHITEWATER is fingered as one of Canada's quirkiest powdery treasures—and its sister city of NELSON doesn't disappoint, either.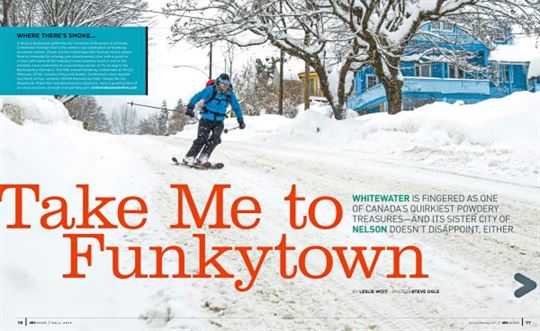 by LESLIE WOIT * photos by STEVE OGLE * Fall 2017 issue
Beneath the low-hanging clouds of a wet March morning, snowbanks along the two-lane highway outside Nelson are hemorrhaging muck. Damp is in the air. But well before pulling into the welcomingly laid-back, pot-holed parking lot at the base of Whitewater, the Kootenay comedy vibe is in full swing. An old orange school bus, complete with stovepipe chimney, constitutes the bulk of Nelson's urban sprawl. Blink and you'll miss it. Peckertown Inc., pop. 53. Edge City (next door), pop. 2.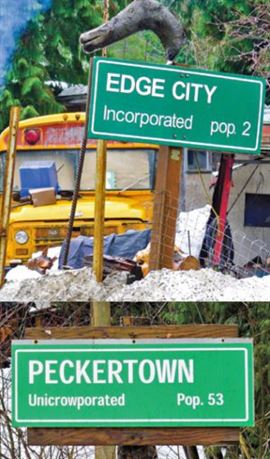 Not all of Nelson is quite so honkeytrash chic. Bearded fish-taco and poutine-munching hipsters mingle with dreadlocked teens shrouded in Mexican blankets. Though the Kootenays may be a remote stash of rugged mountains and impenetrable bush famous for harbouring draft dodgers and grow-ops, even pinkos appreciate the odd mojito. According to the chamber of commerce, Nelson claims to harbour more restaurants per capita than Manhattan. They also have theatre, opera, ballet and live music; the downtown Bloom Nightclub is owned by the folks behind the famous Shambala outdoor electronic music festival, which attracts thousands each August just a half hour from Whitewater. With so many outlets for cocktails and quality nibbles, should the crop fail, there's also a sparkling-new marijuana boutique where every strain from the likes of Blue Diesel to Grand-daddy Purple are yours with a note from Dr. Internet.
At Whitewater, aka WH2O (I admit, it took me a while to decode the moniker, but that's just me), authenticity is the vibe, sedate is the speed. An unhurried atmosphere prevails, both inside the lodge—built 41 years ago by volunteers, there's no WiFi access or cell phone coverage; the office's Wi-Fi password got out last year and there was hell to pay— and likewise, on the mountain itself.
With Nelson's modest official population of 10,000, plus Peckertown's fifty-three intrepid souls and handfuls of lucky visitors, Whitewater's annual 12-metre snowfall goes a long way. This flaky bounty means there's never much rush to access the light, dry powder it's famous for. Beneath the majestic Ymir Peak, steeps, deeps, chutes, bowls and glades are all there—so hop on one of the three chairlifts and take your fill. Yes, three. (Newsflash: this winter a brand-new fixed grip quad will replace the iconic 1976 two-man ride up Summit. Which brings the lift count to a grand total of…still three.)
In addition to pleasant pistes and groovy glades, it's all about the terrain that surrounds. Whitewater's lift-accessed backcountry has achieved semi-legendary status among ski-tourers and slackers. Three main on-mountain points of access open onto the same rough and rugged Selkirk backcountry terrain that makes this region the cat-skiing capital of the world.

Cat-skiers, being resolutely mid- to upmarket types, will want to warm up at Whitewater. The place to bed down for the night is Nelson's lovingly renovated, historic Hume Hotel. From 1898 to 21st-century comforts, the rooms and suites couldn't be more lovely and the live jazz makes downstairs the place to be. Its central downtown location rubs happily alongside replanted Vancouver remote workers buying adjacent riverfront houses, and the most famous hippies—and many of the happiest skiers—in the province.
WHERE THERE'S SMOKE …
A groovy grassroots gathering for mountain enthusiasts of all levels, Coldsmoke Powder Fest is the winter's top celebration of Kootenay mountain culture. Check out the Coldsmoke film festival, hit the dance floor to compete for schwag, join a backcountry tour with a guide or a clinic with some of the industry's best coaches, huck in one of the contests, race randonnée on a punishing course, or fry an egg in the Backcountry Olympics. The 12th annual Kootenay Coldsmoke at WH2O, February 23-25, crowns a King and Queen. Contestants must register and finish all four contests: ROAM Randonnée Rally, Village Ski Hut Slopestyle, Poker Run and Backcountry Olympics, each a gruelling test of on-snow acumen, strength and grinding grit. coldsmokepowderfest.com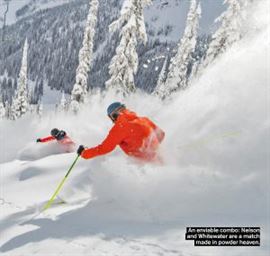 KOOTENAY KOMFORTS
Prepare to be pleasantly surprised. On the menu here, many excellent and funky foodie delights await. In addition to being home to the award-winning cooking school at Selkirk College, Nelson makes a great place for graduates, locals and imports to set up shop. Here are some of our faves:
Bibo delivers a top-notch modern bistro menu, with international comfort food using local, in-season or organic ingredients. Groovy rooms with beautiful lighting and funky atmosphere.
It's taco time at Cantina Del Centro, where the flavours of Latin America fly high with a fabulous variety of tacos, tortas, ceviches and salads set in a stunning space of chandeliers, teal-painted walls and sparkling tequila bar. And mmm, the margaritas…
For the best pre-ski hot breakfast—it's complimentary for guests—head to the Hume Hotel. Also great for après-ski, The Library Lounge offers a cozy fireplace, yesteryear atmosphere and lovely jazz nights.
For beers and pub-grub, spin around the corner to Mike's, a friendly old-school B.C. dive bar with a difference.
BE HOPPY
Hard by the fire hall, Nelson Brewing Company (NBC) is one of the first certified organic breweries in B.C.
A nano-brewery known for macro-goodness. Visit the tasting lounge close to downtown, or buy a few for the room. There's also a rotating list of beers on tap.
Inside The Falls Music Lounge, behind a set of impressive glass doors, lives a microbrew facility that uses only local ingredients, available here and at the newly opened Farm Fresh Café.
Stop by Baker Street for a pint or flight, or grab a growler to go. Backroads Brewing Company serves up craft ales and lagers, brewed in the heart of Nelson.