Reading Time:
7
minutes
The contrast between Mt. Baker and Whistler proves skiing is the least and most elite sport.
Scrubbing toilets, flipping burgers or ensuring beginners don't fall off the Magic Carpet doesn't exactly scream "I've made it." If you've been there, then you know: skiing is a sacrifice. We chase winter like that first whiteout in the alpine, the wind blowing in your face, your best friend shrieking at you as if he's forgotten where this world ends and the next one begins. For us, the vagabonds, who live without a fixed address and perpetually hunt for powder, the ski hill is where we learn. Where we grow. Where we push ourselves. And push others. It can be a daily masquerade party, where the clock never quite strikes twelve, and sometimes making a fool of yourself is as much a virtue as proving yourself. Hell, maybe it's a vice.
For others, skiing is an expensive weekend or holiday. One involving long travel times, high-end accommodation and restaurants, new gear and clothes, and maybe the churn of helicopter blades filling a gap in an otherwise mundane work week.
Call it a paradox, but skiing is at once the most elite and the least elite sport in the world. And the irony is, its trickle-down economy fuels the hardcore, those of us who live and breathe for powder.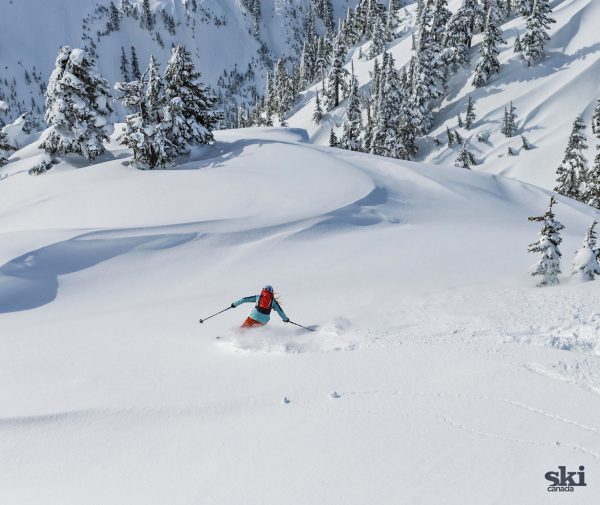 Take Mt. Baker, for example. The iconic Washington state ski area, closer to Vancouver than Seattle, is often used as an analogue for the down-to-earth, homegrown, hardcore ski resort mums and dads who remember crushing bumps together on their skinny 210s in neon onesies and glacier glasses. Baker is still cheap. The chairs still move slowly. And it still snows—a lot. Twenty years ago Baker set a record annual snowfall of nearly 29 metres.
But even when they're skiing in the rain at Baker, people laugh and high-five each other. Picture about a hundred or so standing in the lift line, huddled together in the rain, laughing about what kind of absurd sport you'd need to love enough to don pieces of plastic and let it rain all over you; refusing to retire for want of just one run in chest-deep, utterly wet, "Cascade Concrete."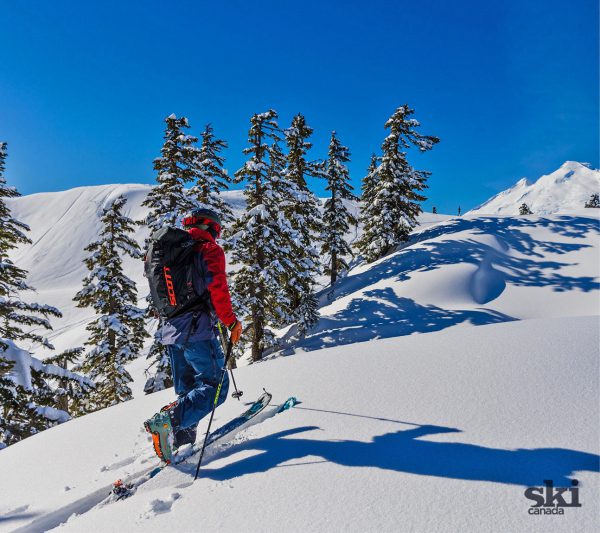 On my visit last December, day two of the season, it snowed so much the ski area couldn't open until noon. Standing on a chair in the main lodge, one of Baker's senior folks in Operations—wearing helmet and goggles—made a well-received announcement: "The skiing today will be free!" Others stood around enjoying their morning cup of joe, old regulars reminiscing about yet another Baker pow day and the long drive home, while others sang the ski bum blues accompanied by someone hammering on the grand piano that lies in wait at the base lodge. It was one of those moments of pure Cascadia gold.
Now, just north of the border, in virtually the same region and market, try to picture a similar scene at Whistler Blackcomb—or any other resort for that matter.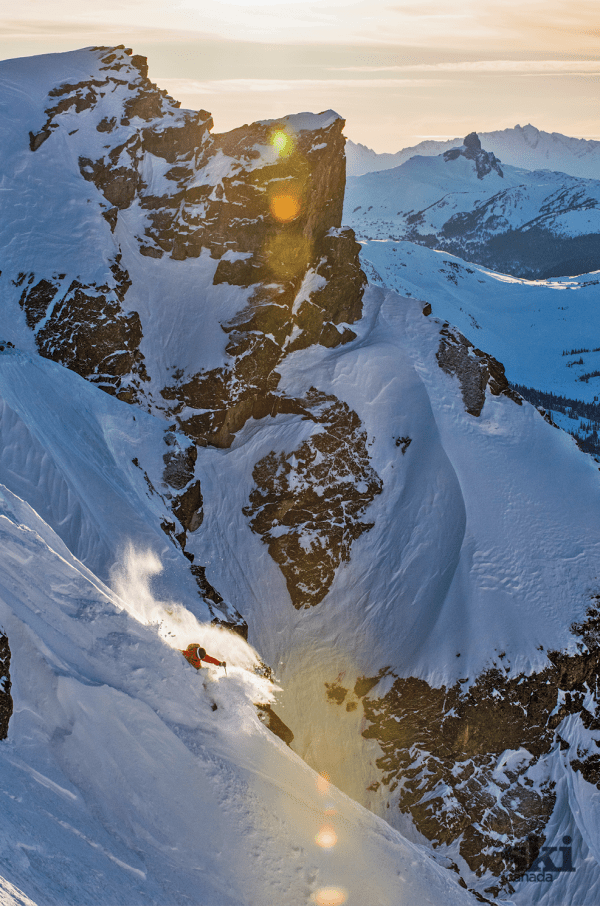 The cut and dry of it is no. That's because Baker is quite possibly the antithesis of what the people at Vancouver Island's community-run, non-profit ski hill, Mt. Cain, call the "VailBorg." And while the contrast is interesting, it raises an important question. Namely, at what cost does a down-to-earth, homegrown ski hill come?
Let's return to Mt. Baker. With about 200 permanent residents, Glacier in Whatcom County is the poorest town per capita in Washington state; median income is about US$10,000 a year. The land is cheap, and most people, I was told while bumbling around town last December, don't stick around for the summer. It might sound crass, and I'm sure there's a Glacierite or two who will take offence to this statement, but you just can't cultivate community—arts, vibrancy, nightlife, culture—on nickels and dimes.
The Whatcom County that surrounds the national park where the ski hill is located, stretching from Bellingham along the Mt. Baker Hwy to Glacier, has some serious problems. About 15 per cent of its population live below the poverty line and the same percentage point have a bachelor's degree. Compounding that, there is reportedly a drug problem and an extremely high percentage of sex offenders among the population of Whatcom County. Within an eight-km radius of Maple Falls, some 40 km from Mt. Baker, there are 11 registered sex offenders. Maple Falls has a population of about 300.
One liftee, who grew up in the area, told me while hitching his way home that staff get special training at Mt. Baker on how to act in the event of a child abduction. We received a lot of training between run breaks and "safety meetings" during my liftee days at Revelstoke Mountain Resort, but nothing quite like that.
Meanwhile, at Whistler you can say what you will about the atmosphere, but there is work. Yes, you really can stay longer than a season and make an actual living in Whistler—and people have been doing so for a long time.
They work as registered massage therapists and chartered accountants. They own catering companies and they wait tables, wash dishes and scrub toilets. They're baristas and work in banks. And of course, they teach skiing and run lifts.
There's also affordable housing and staff accommodation in Whistler. And that's remarkable when you consider that perhaps the biggest socio-economic problem facing much of B.C. at the moment is affordable housing, and people are struggling to make ends meet and live comfortably in ski towns beyond a weekend warrior's drive like Nelson and Revelstoke, or the surf town of Tofino, where the hospital last year became a makeshift homeless shelter.
People within and beyond the hardcore ski community might not like to think of Whistler, the epitome of the VailBorg, as being a place that cultivates community, supports low-income earners and provides staff accommodation for those earners (the life blood of its economy), but it leads the way in terms of its affordable housing program, one which has become a model for the rest of the province. That's because about half of the resort community of Whistler's population of 12,000 live in a property administered by the Whistler Housing Authority (WHA), owned and operated by the resort municipality itself.
According to the CBC, only people who live and work in Whistler and don't own land qualify to rent space operated by the WHA, and there are restrictions in place to prevent rent inflation. That keeps prices to about half of what they would be at market rate. The WHA hopes to one day house 75 per cent of the resort municipality's workforce.
Whistler Blackcomb (WB) also runs an environmentally sustainable ski operation thanks to its geographic position, generating all the power it uses with its own hydroelectric dam located at Fitzsimmons Creek between Whistler and Blackcomb, below the Peak 2 Peak Gondola. According to WB, that dam generates 32 gigawatt hours of electricity annually, which is the equivalent of WB's energy consumption. Furthermore, since 2000, WB says it's reduced waste by 70 per cent. The goal is to have a zero operating footprint.
So again, the question arises: At what cost does all this come?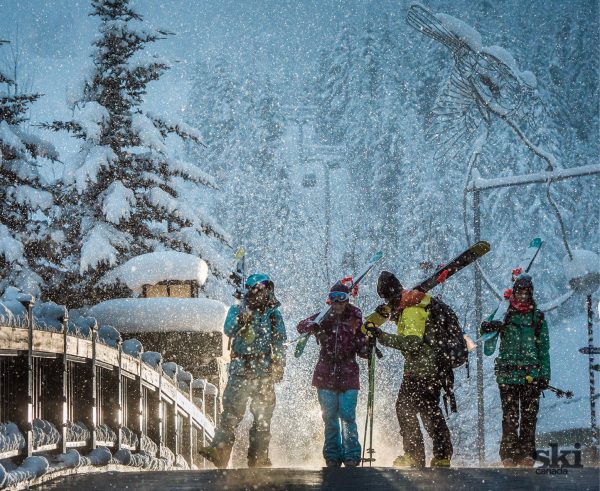 The answer is that yes, there are lots of people in Whistler who are simply there to spend money to ski, stay, eat and party rather than cultivating community, and who don't know or care who the Shane McConkeys of the pro ski world are. Indeed, many of the people going through the lift lines don't care about bagging big lines, yet can afford to ski poorly down a heli-accessed line on a glacier that most of us only dream of. But look at what those folks provide for the average Joe. Job security. Affordable housing. Even environmental sustainability. They may not be on the cover of the next Ski Canada, but they do help make the dream a reality for ski bums.
So is it worth it?
The point is: it's a paradox. Skiing is the most elite and the least elite sport in the world. And there's a lot of room for work, even scholastic work to be done on class identity and ski resort operations. A few organizations have been looking in the mirror examining race and class in the context of ski resort operations. But perhaps that paradox and the extreme income inequality present in the sport is something we just have to learn to live with. For better, or for worse.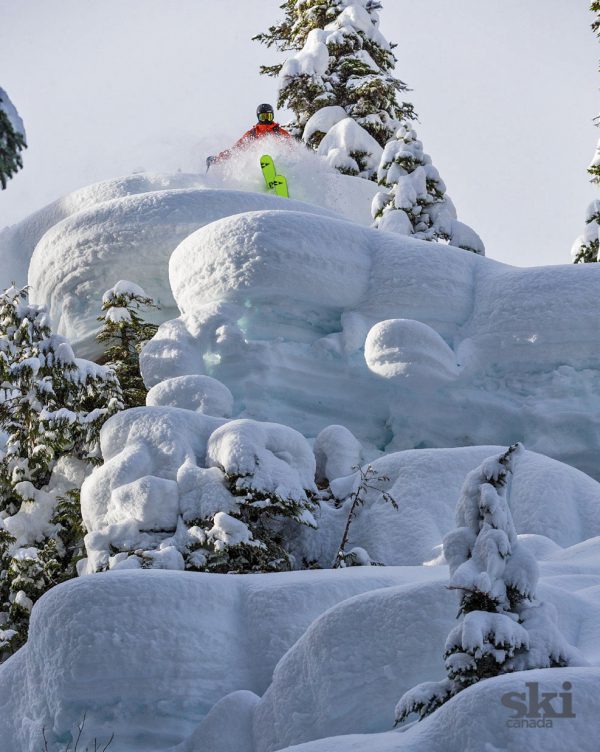 Oh, and the wind blowing in your face, your friend screaming so loud his vocal cords tear the seams off his storm-drenched powder bib, and making a fool of yourself to entertain your friends? Those things, too. They're okay. Because at the end of the day, as long as there's snow involved, wherever you go—even if you have to listen to some guys in the gondola talk about their investments—there you are.
Jake Sherman, 27, is an award-winning photojournalist and freelance writer based in Nelson, B.C. He formerly wrote the news at the Nelson Star and Revelstoke Review. Once upon a time, in between run breaks, safety meetings and graduate school, he may or may not have spun a lift around a bullwheel.