Whistler Gondolas For Sale
---
Delivery not included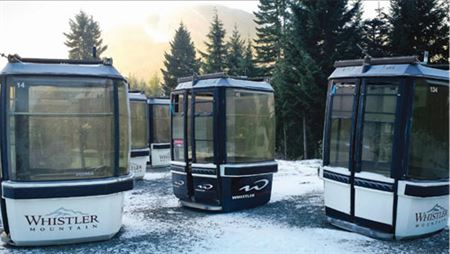 Whistler Mountain's two-stage gondola was pretty state-of-the-art when the first passengers hopped onboard during the inaugural 1988 ski season. Indeed, its construction dates back to when the Young family owned Whistler Mountain, while competitor Intrawest—the new kid on the block—owned Blackcomb.
"Those cabins were real workhorses," said Whistler Blackcomb's Doug Forseth. The corpulent cabins (almost 550 kg each) also had some design issues—the seating wasn't very comfortable for shorter passengers. So when Whistler Blackcomb management put 142 of the 156 cabins up for quick sale (just $300), they were snapped up pretty quickly—mostly to WB residents, but also to folks from as far away as Hong Kong, Vermont and the United Kingdom. Not surprisingly, those shipping costs were almost ten times the cost of the cabin itself.
The last cabin to be sold went to the legendary Rossland B&B owner Angela Price, who will find it a place of honour (a smoking room, perhaps?) for her guests in the Kootenays this winter.
It probably shouldn't come as too much of a surprise that Whistler Blackcomb sold the cabins. After all, the company has won numerous awards for its environmental initiatives and, well, who wouldn't want a gondola cabin swinging from a tree outside your ski abode?
Frank Salter wanted one. The Whistler resident and a well-known collector of skiing memorabilia will give his cabin a place of honour at his Alpine Meadows mountainside home.
"Why would I want one? Well, it's an iconic piece of history…and it came cheap! We'll likely convert it into a garden nook where we can drink our coffee and enjoy the view. We'd just need to add a table in the centre to accommodate that."
Forseth says other owners have some innovative ideas: tree houses, change rooms, greenhouses and even an office meeting room are just a few of the concepts.
Once you ride the new cabins, you won't have any nostalgia for those narrow half-benches the old ones had. "The new ones are much more comfortable, quieter and smoother," Forseth said. And now even short skiers can sit down.
---
Tags: Angela's Bed & Breakfast, B.C., BC, Frank Salter, gondolas, Rossland, Whistler