Was Skiing Better in the Day?
---
In honour of Ski Canada's 50th anniversary, it's time to look back on our sport and wonder out loud, "Was skiing really better in the good old days?" If you're still rockin' a big-shouldered teal Descente one-piece in rear-entries—not that there's anything wrong with that—chances are you're not at all image-conscious and just living in the moment. So, keep calm and ski on.
The good old days are closely related to "nostalgia," like that moving scene in Mad Men where Don Draper introduces a noisy Kodak carousel slide projector as a "time machine, it goes backwards and forwards, it takes us to a place where we ache to go again."
Cops, psychologists and suspicious spouses know that memory is notoriously unreliable, if you even have one. Skiing wasn't necessarily better, but it was different.
What's climate change?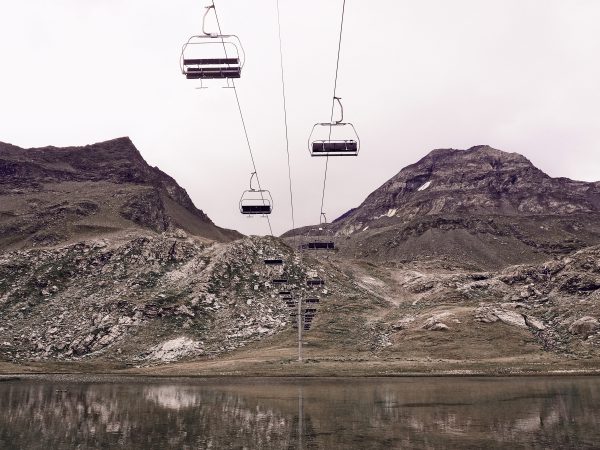 Skiers have always talked about the weather. In the 1970s, the only decade of the last century when the world's glaciers actually increased in size, skiers only feared a mid-January warm front. In 2021, we fear that winter itself might end, possibly by the end of the century. We may begin skiing in late November these days, but that's only thanks to snowmaking. Canadians feared communists, DDT and the FLQ back in the '70s, but not climate Armageddon. Perhaps we should have; glaciers in Canada and around the world are indeed shrinking rapidly—and it's nothing less than shocking.

Mmm, stretch pants!

Before North America's obesity epidemic of the 1980s, both men and women could look good (and stay surprisingly warm) in body-hugging stretch pants made by blending oil-based polyester with traditional wool. Worn by the original "influencers" (a.k.a. ski instructors) before being adopted by the masses, stretch pants—especially ones with padded knees and shins—meant you were girding up for battle on the slopes. Now, thanks to expanding waistlines and saggy bums, we slide about in horrible shapeless pants that were first worn by, ugh, snowboarders.

Speaking of which…
NO SNOWBOARDING!

In so many ways, snowboarding ruined powder skiing, especially in the steeps and in the trees. The snowboard's short length meant that it could manoeuvre through the tightest of lines, but most boarders noisily sideslipped down, often on their bums, scraping fresh snow to the ground. While it could be argued that ski designers looked to snowboards to progress ski design into powder-friendly fat skis, first-tracks fanatics might counter that narrow skis kept intermediates on-piste, which was exactly where they belonged, like, forever.

Free parking for land yachts

We drove to the hills in massive, V-8 powered station wagons (even muscle cars had ski racks). The good thing was that you could easily transport five or six skiers to the hill; Dad's green Newport had enough trunk capacity for five sets of 205s. (Who needed a box?) The downside? Longer trips in "Detroit iron" could result in a host of vehicle woes: flat tires, burnt-out brakes, dropped mufflers, frozen radiators and cracked blocks could make things miserable for the driver and Nirvana for the passengers: "Sorry, it won't be ready for three days. If you want to leave it with us, you probably should take your skis out of the car."

Maps, not apps

In 1979, I embarked on a month-long road trip where information about resorts even in the same province was hard to come by. My bible for that trip was a book (which I still have) called Skiing the Best—A Guide to North America's Top 50 Ski Areas by Miles Jaffe and Dennis Kreiger that dispensed wisdom still true to this day. "Vail has long been identified as the resort where solid, prosperous citizens of America come to ski." "For intermediate skiers used to the groomed slopes of a family area back home, Snowbird can be a painful experience." "Whistler is an extraordinary place to ski, particularly if you have a spirit of adventure." "On the eastern edge of the magnificent Rockies, Banff is a tasteful modern town with a few touches of Victorian grandeur." My handwritten note on one page reads, "Carlton Hotel, 140 East South Temple, SLC. $35 per week."

"Single!" Double (and triple) chairlifts

The Sony Walkman wasn't exactly designed for skiing, but the portable stereo in a pocket had an immediate effect on a crucial element of skiing socialization—it killed conversation between strangers. Think about how common it is these days to spark up a chat with someone whose eyes you can't even look into. Back in the day, if your chair-mate gave you the silent treatment, he was likely painfully hungover. At the end of the ride, "Want to go for a run?" might end up with "Want to come over and watch some ski porn?" Forget Tinder, the entire future for skiers of both sexes could forever be altered by calling out "SINGLE!" in the lift line.

In my 40s, I'd look back on my 20s and say, "Skiing wasn't better back then. It was just different." In my 60s, I look back at my 40s and go, "My body knows that skiing was better."

My working memory says otherwise. I'm still naïve enough to think every autumn that "this year will be the best winter yet." I remain hopeful that there will be more than just the dozen or so faceshots that I've collected in five decades of skiing.

Then I remember a few snippets from the bad ol' days: the smashed Chevelle, getting grilled by a Utah cop, sleeping on a train crossing in Montana, buying (almost) stolen skis from a friend of a friend who tagged along on a trip to Quebec. I'll always remember getting ready to call in sick so that I could chase a major storm to Jackson Hole, then discovered that I'd left my wallet—loaded with cash—in the Big Mountain cafeteria. Sometimes, even bad days can provide good stories.

50th, Grumpy Old Man