The new world of freeriding
---
by Tobias c. van Veen  from Fall 2012 issue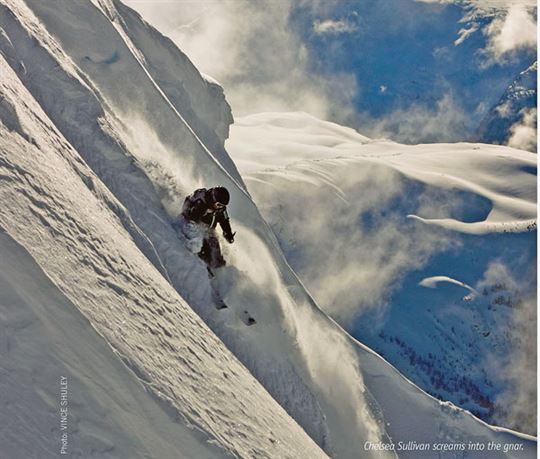 This season (and may it be blessed) will see the long-awaited merger of the Freeride World Tour (herein called the FWT) with the Freeskiing World Tour (herein now part of the Freeride World Tour) what does this mean, you ask? For starters, it means bigger audiences and more exposure for competitive big-mountain skiing. It also means that the field will be blown wide open. with younger athletes expected to advance the gravity-fed adventure sport as they import park and slopestyle tricks into the big-mountain arena of cliff-drops and steep lines.
In the past, the FWT was by invitation only; now that the two tours are one, all athletes will rank in qualifying events. Ranking athletes will compete on the unified tour, which will feature six stops across Europe and North America. The new tour completes the vision of former IFSA Head Judge Jim Jack, who treated competitions like celebrations and the bibs like family. Tragically, Jim died last February in an avalanche burial near Steven's Pass.
Canadians have long placed in both tours, including Brett Crabtree, who claimed top spot on the 2008 edition. And just last season, Whistler's Kye Petersen—yes, son of freeskiing legend Trevor—showed up to compete at Revelstoke last January, clinching the podium with a fluid, impressive line that included a slick 360, rock snaking and slashes through the no-fall-zone, and a cliff stomp finish. Kye's demanding, no-holds-barred lines in the Tantalus Range were captured in the award-winning Rocky Mountain Sherpas flick, All.I.Can, winning Kye "Best Natural Air" at the 2012 Powder Awards.
But can the aesthetic lines (and calculated risks) of freeriding be judged as a competitive sport? The question is already a dated one. Judging looks at a number of factors: speed, fluidity, airs and tricks. In a way, it's not that much different from gymnastics. Athletes are judged on the creativity and speed of their line, and the execution and difficulty of big airs. Both tours have more than a decade of history from which to draw.
Competitive freeriding is also attracting alpine racers who are seeking release from the regimented style of racing on-course against the clock. Hell, freeriding is the next level for the speed addicts. It merges fast skills in navigating the most challenging steeps of mountain terrain at nipple-freezing speed with air-oriented, acrobatic rock stompin'. Take Jackson Hole's Crystal Wright, who raced with the U.S. Development Team before taking it up with the fat planks. She claimed the 2012 Freeskiing World Tour championship. This also goes to show that race training need not keep the kids in spandex—there are other avenues for creative competitors.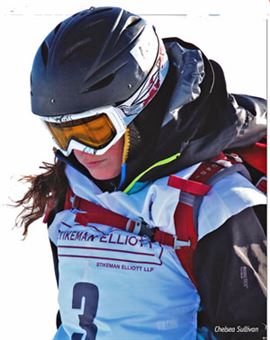 Here in Canada, one of the unsung heroes of the past six years in women's freeskiing is 26-year-old Chelsea Sullivan, who hails from the flatlands of Buckham's Bay, Ontario. Growing up skiing Mt. Packenham, Chelsea never looked back after getting twintips for Christmas. She became a park rat—then, after a brief stint at Carleton sucking down economics, moved out to Whistler.
"I'd never experienced big mountains before. I had never been out in the backcountry," says Chelsea, on the phone from her family cottage and still dripping from underwater Crossfit training. "It was a natural progression from park to big mountain."
Chelsea has wanted to be a pro since age 12, when she began working the shop floor at Tommy & Lefebvre. As a teenager, she was coached by Sarah Burke at the Progression camps held at Tremblant and Blue Mountain. "She's been my biggest influence my whole life," says Chelsea, who went on to do park-and-pipe comps in the East.
Upon arriving in Whistler in 2006, she found herself in the deep end with the freeskiing freaks. Working at Surefoot introduced her to big-mountain skier Christian Boucher, who invited her to the Canadian Championships in Rossland. She was 20, and had no idea what she was dropping into. "They put me in the backseat and took me along for the ride," says Chelsea. "I came to Whistler with the intention of being a total park rat. I had no idea there was this thing called freeskiing. And I was like 'Oh, this is way better!'"
Over the past six years, Chelsea has racked up a number of podium finishes as a Rossignol team rider on her Sickles and S7s. She trains Crossfit every day and rock climbs to keep her mind in the zone. Last season she put the brakes on (ever so slightly) to complete a diploma in Adventure Guiding at Thomson Rivers University. With SAR and rescue training complete, she's already preparing for her ACMG Ski and Rock Guide certification—and pursuing a degree in Sport Performance. "I want to become an athlete agent," says Chelsea. "I want to help other young athletes who have the pipe dream of going pro—I want to show them how to do it."
Though this season will see her return to the unified FWT, her vision for the sport is nothing short of the Olympics. "I would like to be the roadmap, the person who makes it happen," says Chelsea. "I am going to try my best to create a Canadian team and make this more of a mainstream sport, get us a bigger audience, and get the sponsors and the money, and become a sport that gets inducted into the Olympics. What's more exciting than skiing down a crazy huge face with an audience at the bottom?"
In the end, it's the line that defines competitive freeride. After the exposed hike to the top of a gnarly and uncompromising face, the worst part is sticking it out and waiting for your gate, says Chelsea. Then it's time to put in the earbuds and visualize: stomping every air, arcing every turn. Most comps only allow visual inspection, as "practicing"—the usual fare of alpine racers with the ever-present course scrapers keeping it smooth—litters the face with bomb holes. There is no course cleaning in big mountain. No warm-up laps. Go time means hitting the line for the first time. And that, indeed, is competitive gnar.
"All the anticipation and anxiety you have at the top of the line drops when you hear '3, 2, 1…go'," says Chelsea. "It's a really cool feeling to go from heart-pounding anticipation to being in the zone…and then sending a massive drop."
---
Tags: Brett Crabtree, Chelsea Sullivan, Christian Boucher, cliff-drops, Crystal Wright, Featured, Freeride World Tour, freeriding, Freeskiing World Tour, Kye Petersen, Rossignol S7, Rossignol Sickle, slopestyle