Reading Time:
< 1
minutes
Seemed Like a Good Idea
50th Anniversary looking back
About 40 years ago a strange boot design appeared on the slopes. Today they would be invisible under a pant cuff and nobody would know you were wearing "high-top" ski boots, but back when ski pants were tight this new boot design was hard to hide—or easy to flaunt.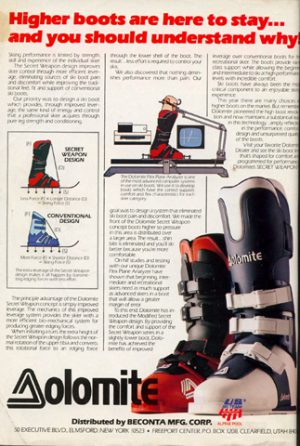 Several companies produced high-top ski boots, including Dolomite, Nordica, Alpina and Trappeur. This Dolomite ad from 1981 goes into great detail explaining the logic behind its "Secret Weapon Design." According to Dolomite, the primary advantages of its design were increased "leverage" due to the high cuff and greater comfort due to more area on the shin. Dolomite thought higher boots were "here to stay," but unfortunately their time in the sun was short even though they seemed like a good idea at the time. In the space of a few years high-top boots could only be found at the best garage sales.
On a personal note, I spent one day testing a pair of Secret Weapons. They felt so good I've been scouring garage sales ever since. No kidding.