---
It's the people of a place that make it home.
A little town in a big place, Banff is chock full of dreamers and schemers and lovers of all things alpine. Protected from developers, yet defenseless to the admiring coos of everyone who sees her, Banff's Rocky Mountains are soul food for the heart. Its ski areas—each unique, shockingly scenic and free of corporate overlords—attract a devoted set. Many have moved mountains to make a life here. We asked a few of them to let us in on the secrets of Banff's success.
GEORGE AND ANDRÉ SCHWARZ, INNKEEPERS EXTRAORDINAIRE
In 1978, two soigné Swiss ski instructor brothers named Schwarz fell in love with a little log inn and bought it. In the intervening four decades, André would leave his post as ski school director at Lake Louise and George his successful restaurants to concentrate on turning The Post Hotel into Canada's most beautiful ski lodge. They modernized the Rockies' elegant address without sacrificing its rustic Canadiana-rich charm, filled its cellars with Wine Spectator-applauded vintages from across the globe, and fed devoted gastronomes consistently inspirational meals again and again. All this and they never stopped skiing at their neighbourhood ski hill of Lake Louise. On the contrary, they made skiing and après-ski there that much better for all of us.
ERIN EVANS, MISTRESS OF THE MAT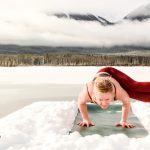 Because no mountain town is complete without a girl who turns it all upside down—on the mountain and on the mat. "After university I had my heart set on moving to Banff. The dream: I would snowboard as often as possible and meet the love of my life (who would be Australian, ha-ha). Part of the plan worked. I snowboarded as often as I could and I did meet the love of my life, however, the love my life turned out to be yoga." Banff's beloved Erin can be seen finding her sukha while ripping up powder at Sunshine and teaching at Rocky Mountain Yoga nearly every damn day.
FAMILY MONOD, ROCKY ROYALTY
John Monod emigrated from the Swiss Alps to the Canadian Rockies in 1947. Soon after, he started Monod Sports, its first incarnation selling gear from a shed at Sunshine. His three sons,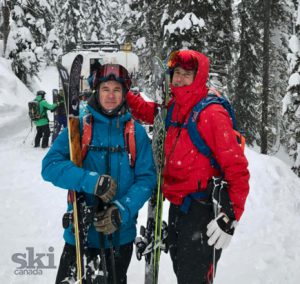 Peter, Nick and Phillip, raced on provincial and national alpine ski teams. Peter's daughter, Tatum, is now a Red Bull athlete, appearing in freeskiing films that boggle the mind and tighten the sphincter. Monod Sports on Banff's main street is approaching its 70th year as a trusted institution for fine sporting goods and frisky mountain fashion. "Skiing has been our life here in Banff. Our hometown is all about the mountains and what they have to offer: skiing, biking, fishing and, most of all, our legacy in business. All our experiences—skiing in these home mountains, travelling to the B.C. Interior to freeski and racing on courses around the world—have shaped who we are." —Peter Monod
MARK HEARD, DR. FIX-IT
"I've had a life-long love of skiing and working in the ski industry as a knee mechanic, and I had my own ACL reconstructed last year by my partner, Greg Buchko, so I am living the typical skier's life cycle." One of Canada's pre-eminent orthopaedic surgeons chose Banff for home and hospital, providing ortho-care at Banff Sport Medicine as well as being consulting physician for the Canadian Freestyle Team, Canadian Alpine Ski Team and Canadian Mountain Guides Association. His latest innovation is the creation of the Banff Sport Medicine Foundation, which, in collaboration with Banff's Covenant Health Mineral Springs Hospital, is in the planning stages of improving access and patient pathways for the injured skier. "The concept in the works is a patient-focused pathway from the ski hill to an intake clinic with rapid access. The patient should leave with a known pathway of what to expect—whether that be rehabilitation or surgery. This will be a new model of healthcare delivery that's still in the creation phase."
JONNO, MOVER AND SHAKER
By night, Jonno may be found behind the bar at Banff's grooviest and delightfully independent resto, The Block. By day, he's addicted to the mountains. "I came to Banff for just one winter from the Gold Coast of Australia. By the end of the season, I had spent all my money so I had to stay. I've been here for 10 years now and each year I've clocked up 100 days or more on the mountain. This year I broke my leg but I'll be back at it next season. In the meantime, I recommend one of my new cocktails, the coconut margarita."
JT, TATE AND CLAIRE THORNTON, DAD AND DAUGHTERS ON TOUR
This family has mountain life all tied up. Twenty-six-year-old Tate is at Lake Louise from dawn to dusk, securing pistes and rescuing as required. Her dad, JT, oversees all things snow safety at Norquay, and is also the mountain guide who designed the exciting new summer Via Ferrata route that makes climbers of us all. And we couldn't leave out youngest daughter, Claire, who together with her friend Lauren MacCartney, recently skied the entire Wapta Traverse, a challenging four-day hut-to-hut tour across the Continental Divide from Lake Louise. "My ACMG guiding certification opened a lot of possibilities for our family," said dad JT. "We've been lucky enough to do lots of alpine touring, often with friends." Oh, and their lovely dog, Ella, is a CARD-certified avalanche rescue dog.
LAUREN STARLING, THE 139-DAY WOMAN
We think any woman who clocks up the most days on her SkiBig3 season pass deserves a round of applause. This Australian has lived in Canada for only four years, and Banff for just two. "Sunshine Village was my first real mountain experience and I knew this was my passion, my inspiration and my motivation." Lauren was introduced to sliding on snow by her partner, Tyler, soon after coming to Canada (who says you should never teach your other half to drive?), and has a night job as a server to free up her days for fun. "I am very lucky to have a job that allows me to snowboard every day. I love the supportive community that brings all skiers and snowboarders together with a common passion, and I absolutely love tree runs on powder days. Next season I want to be as good on skis as I am on a snowboard."
AMELIE PATTERSON, THE SKIING CHANTEUSE
Listen up, good people. If you haven't heard the bluesy, gutsy, downright sexy stylings of Amelie yet, you will. Banff National Park's first poet laureate is well on her way. Her hit, Roll Honey Roll,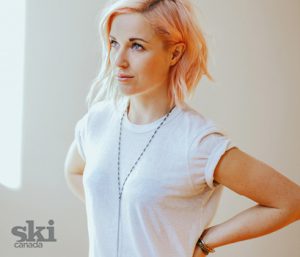 is all over the interweb and a new album is coming to a turntable near you soon. A former ski coach and alumna of the Alberta Ski Team, Amelie is a Banff baby through and through.
"I don't know where I'm going, but I know where I am from. I won't go it alone, it's a long way home, to the place where I am from." —Where I'm From, from the album Roll Honey Roll.
SYDNEY BEZENAR, TWO-TIME SLUSH CUP WINNER
The most recent reigning champion of Sunshine's spring-fling wing-ding proves there is skill in sending it—and sending it good.
BONNIE AND MIKE WIEGELE, TRAIL BLAZERS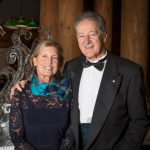 From Blue River to the Bow River, Mr. and Mrs. Wiegele may have made the Cariboos and Monashees the spiritual home of heli-skiers, but Banff is home when the blades stop turning. Mike's leadership as Lake Louise ski school director and co-founder (with Bonnie) of Banff Alpine Racers left a legacy: "I saw an opportunity to lend support from my experiences in high-level skiing and I wanted to make sure that the next generation could achieve a higher level. We had incredible success. From six young kids to more than 600 kids in the program." Bonnie's Banff retail empire began by running ski shops, learning to ski and teaching skiing with a new baby in tow. "Michelle travelled with me in a little pack on my back as I proceeded to ski from shop to shop. She was only three months old in a very nice warm cardboard box that I left at the bottom of Temple Poma lift so the young lift operator could give her a bottle if she cried." Bonnie started the Banff Gymnastics Club, running a top program with 55 competitive gymnasts and later applied her enthusiasm to Masters racing.
LEO GRILLMAIR, BUGABOO BUILDER
Leo came from Austria to Canada in 1951, where he teamed up with his childhood friend Hans Gmoser for what would be a wild ride on the alpine adventure machine. A plumber by trade, Leo soon turned his hand to mountain climbing, skiing and guiding in his adopted land. A founder of CMH heli-skiing. Leo pioneered the sport of heli-skiing and helped create a whole new industry—the old-fashioned way. "Before it took us four or five hours to get to the top; with this thing, the helicopter, we were there in minutes. And we were always happy to break a leg," he said after cracking his own. "Legs heal, skis cost money."
EDDIE HUNTER, NIMBLE NONAGENARIAN
Look it up: a nonagenarian is a person in his nineties. At 92 years young, Eddie is well into it—skiing most every day since he came to Banff in 1934. Indeed, Norquay opened in 1926, the year he was born. We asked Eddie to share some insights into his near century on skis in Banff.
"My skis went from a piece of rough pine wood to a spaceship material challenging all mountains and snow conditions. My first skis didn't know the word control.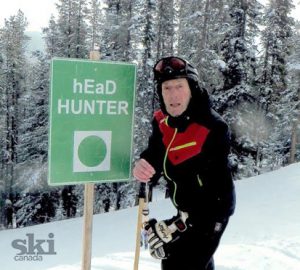 •"Funny, the first thing I notice is my foamy hot chocolate that once cost a nickel is now foamless and costs $3."
•"Our daughters Mystee and Kendall will always be the best. Some might say 13 months was a little early to start skiing, but they proved them wrong: frozen diapers held their little legs in the perfect position for skiing."
•"It would take a book to tell it all, but people don't buy books unless Oprah makes the suggestion. Hey, that might work if the final pages of my life were giving Oprah a free ski lesson. She might enjoy the moving red carpet."
•"If I were—and I'm not—looking to document my final runs, a perfectly produced ski film "The Wise Man" was released a couple of years ago with Mystee, her son Noah and me—three generations in powder when I was only 88."
—Eddie Hunter
THOMAS GRANDI WORLD CUP INNKEEPER.
"My family emigrated from Italy to Banff in 1975. My parents didn't speak much English then so essentially we were Italians living in Banff. The community took us in though and Banff became home. Of course, winters were all about skiing Norquay, Sunshine and Lake Louise. Everyone had a Big3 ski pass and we took full advantage. Norquay really became my stomping grounds and we would spend the day training gates, but any spare moment we'd rush up the Big Chair and ski the bumps. After training we would ride cafeteria trays down the ski-out, where I eventually broke my leg on a GT Snow Racer. Chasing the Monod brothers at Lake Louise from the first lift to the last are also great memories.
"Now as a recently certified ACMG ski guide, my wife, Sara [Renner], and I are ecstatic in our new chapter at backcountry Talus Lodge. We discovered it last year, found out it was for sale and made the decision after spending some time last winter exploring the hills. Since October 2018, we are proud to call Talus our new home."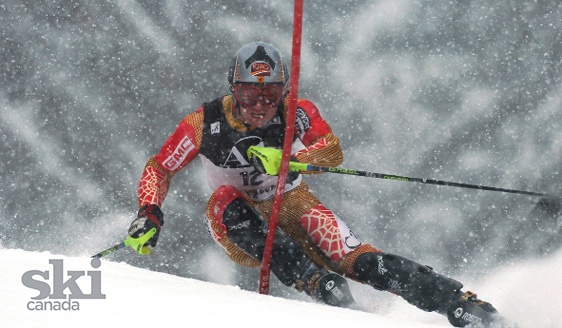 PIKE, CEO OF LIVIN' THE LIFE
Clocking up more than 150 days on skis a year takes commitment. "I've been in Banff 40 years. I work my butt off in the summer and work part-time in the winter. Even my driver's licence picture has a goggle tan. Sunshine has the snow and from Goat's Eye to my shower is 35 minutes. I met my wife on the Goat's Eye lift. We've been married for two years and finally found a condo so I can move out of the Y and move in together. The best part is we're too old for divorce."

Tags: Alberta, Banff, CMH Heli-ski, Featured, Mike Wiegele, Monod Sports, The Post Hotel, Thomas Grandi