Reading Time:
10
minutes
Nothing beats powder, but carving perfect arcs down virgin corduroy comes a close second: playing with physics, feeling edges bite and skis flex, the acceleration, the G-forces… Or maybe it's cruising in perfect snow, enjoying the view, chatting with friends, basking in the sun—no rush to go anywhere. Whichever you choose, or somewhere in between, this is frontside skiing.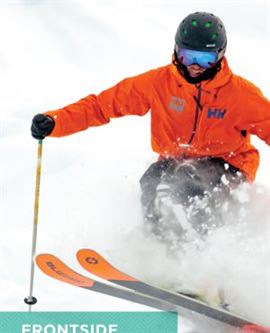 Traditionally, resorts left the backside wild but refined the area closest to the lodge and parking lot, making it a little friendlier for newer and less-adventurous skiers. When ski areas began grooming their slopes in the 1950s, the frontside is where they focused their efforts.
Modern Frontside skis range from 60-85mm at the waist, offering quick edge-to-edge performance, and they're made to grip hard snow with bite. They range from near-race skis built for high-end skiers and top speeds, to friendly and forgiving cruisers.
The difference is all in the construction. More metal translates into more power and stability for controlling the forces generated by high-speed arcs. Less metal translates into lighter skis that are easier to turn and control. Ski Canada demo'd 12 unisex and women's models to help you find a winning pair that fits your own style, size and ability.
Whatever your frontside personality, these skis will make one of the nicest ways of getting down the mountain even more fun.
Last season Ski Canada testers headed to industry demo days at Mont Avila, Blue Mountain, Whitewater and Whistler Blackcomb. With the support of the Canadian Ski Council more than 60 models of 2018 skis were put through their paces.
* price includes binding
VOLKL RTM 84
BEST FOR: Mostly Eastern skiers who holiday in the West * LENGTHS: 162, 167, 172, 177, 182 * RADIUS: 16.8@172 * SIDECUT: 131-84-112 * $1,299*

The RTMs are hybrid beasts that could be either in the Frontside or the All-Mountain category. Where to put them probably depends on where you ski. Eastern rippers would place them in the All-Mountain category, while most in the West would delegate them to the Frontside. This split speaks to the family's diversity. But keep in mind: these skis like to carve and to finish turns, but are not meant for the racecourse or regular powder skiing. Everything else applies. The eight models, which range from 73-86mm waists, also vary dramatically in performance, thanks to a mix of construction and technology. The big stories for this year are two new models, the RTM 76 and 76 Elite, and the addition of 3D.Glass in the other widths in the family. The 76 width shares the same construction as the other narrower RTMs, but the 76 Elite is a different beast. Rather than a single-source wood core, Völkl added two wood stringers, which allows for more power and a smoother flex. Testers felt it was smooth even in chattery conditions. The 86, 84 and 81 models get 3D.Glass this season. This is an extra band of fibreglass around the sidewalls that makes the skis livelier and edge better. Testers said the technology stiffened the skis torsionally, transferring power to the edges more efficiently and increasing rebound, so the skis popped out of turns with more energy. Testers found the various members of the RTM family have different personalities, as would any eight-person household, and they were united in praising each member. Everyone, from an intermediate to expert skier, at Whistler to Mont Avila, dedicated groomer to all-mountain explorer, will find what they like in the RTM family
ROSSIGNOL PURSUIT 800 Ti CAM
BEST FOR: Laying trenches, whatever your ability * LENGTHS: 163, 170, 177, 184 * RADIUS: 14@170 * SIDECUT: 127-73-109 * $949*

A rarity in ski families, Rossignol says the four skis in its Pursuit range are built slightly different, each one optimized for a different type of skier. A small step down from the skis used on the World Cup, the Pursuit 800 Ti CAM is not a ski for the meek. In addition to a poplar wood core and a carbon alloy layer, there are two sheets of titanium. Despite the ski's light weight in this category, all that structure gives this ski edge bite. "Very dependable for performance and grip at high levels in both short and medium turns on blue and black terrain," said Paul Cunnius. "Very quick from turn-to-turn and easy to engage. Surprisingly strong for a ski this light." The 700 Ti is a step down in performance but up in forgiveness. With no carbon alloy sheet and one less layer of titanium, it will be a little easier to engage and steer, particularly in less than ideal conditions. Likewise for the 600 CAM and 200 Carbon. As the number decreases, the ski is easier to ski but a little less performance-oriented. "The Pursuit lineup is perfect for the carving skier, and all the models are a little easier to ski this year compared to last," said Arnold Schubert from Gates & Boards ski shop in Barrie, Ontario. The nuances between each model are best understood by skiing them.
NORDICA GT 76 Ti EVO
BEST FOR: Athletic eastern experts * LENGTHS: 150, 156, 162, 168, 174, 180 * RADIUS: 14.5@168 * SIDECUT: 126-76-106 * $850*

The newest member of the GT family, the 76 Ti EVO is an edge-holding machine. And no wonder. Nordica tweaked a concept developed for the company's Dobermann race skis. The ski is a sandwich of seven layers. Working out from the poplar and beech wood core are prepeg composite layers and then two layers of Titanal Torsion Bridge, followed by a polyamide topsheet and a graphite base, top and bottom respectively. The Titanal is the key. By removing sections from the metal, Nordica lost some weight without impacting the strength and vibration-dampening attributes. "Early initiation and smooth, severe grip right from the top of every turn," said Paul Cunnius. "The pressure and power generated from this early turn activity plays out well from the fall line through to completion." Chris Candow found it to be stable at speed and the 12-16.5m radius (depending on length) highly versatile: "Smooth transitions from long to short." Both agreed that this is an expert's tool, ideal for carving around the frontside at high speed. "Best for an active and athletic technician looking for a full day of energetic performance," said Cunnius. Pre-mounted with binding, also known as a system ski, Peter Dorey of Olympia Cycle and Ski in Vernon, B.C., noted that it's an amazing performance carving ski for the money.
MEIER BANGTAIL
BEST FOR: Filling out your quiver * LENGTHS: 166, 176, 186 * RADIUS: 16@176 * SIDECUT: 126-73-103 * $800

Fast thoroughbreds are not easy to ride and neither is the Bangtail, a slang term for a horse bred for racing. This asymmetric ski model (dedicated left and right) is a stiffer version of Meier's standard poplar-and-pine core wrapped in fibreglass. The tails especially take effort to flex. But once on edge, the ski was impressively stable, railing huge turns at high speeds without a flutter of chatter. In fact, the faster testers went, the livelier the ski felt. "Very stable at high speed. It liked to be on edge and carving," said Mike Dempsey. Despite a fairly GS-sized radius—14m for the 166-cm length to 18m for the 186—the Bangtail seemed to prefer big turns. Groomers were its preferred playground, but when in the bumps, it bounced around predictably. Testers agreed that the Bangtail demands attention; you couldn't lazily cruise on this wild stallion. But if you like to drive a ski in big, fast arcs and like a stiff tail to save you when things get a little wild, this one is worth lassoing.
KÄSTLE LX73
BEST FOR: Improving intermediates * LENGTHS: 140, 148, 156, 164, 172 * RADIUS: 17@172 * SIDECUT: 115-73-99 * $1,189*

Testers are always excited to get on a pair of Kästles. Somewhere between a micro-brand and the big boys, Kästle puts a lot of man-hours into its boards and they tend to ski like it, with a smooth, damp and powerful feeling no matter what they're designed to do. Even though the LX73 and LX85 are intermediate frontside skis, meant for cruising around the mountain on moderate terrain at moderate speeds, our testers found they offered plenty of performance, too. "Lovely, easy turn initiation," said Ian March of the LX73. "Carves progressive turns and round arcs, finishing the turn with ease. Very responsive and surprising power for such an easy-feeling ski." Under the simple green on white topsheet is a silver fir and beech wood core, a Titanal sheet, fibreglass layer and a protective topsheet. Kästle cuts out an oval shape at the tip to lighten the feeling of the ski in the turn. The 73mm waist model is more suited to harder-snow areas, while the 85 is more versatile. In both models the turn radius varies hugely, depending on ski length. For instance, in the LX73 it ranges from 9m in the 140-cm model to 17m in the 172. So before buying, consider what size turn shape you prefer as well as which ski better suits your location and preferences. All that said, March found the LX85 was happy to mix it up: "It carves easy short turns or you can lay it out for some longer turns, where its solid edge grip gives confidence to push." A good choice for intermediates looking for a ski to progress on or for anyone who mostly skis the frontside on cruise control but every now and then wants to hit the gas.
K2 iKONIC 80 Ti
BEST FOR: Ripping groomers * LENGTHS: 156, 163, 170, 177, 184 * RADIUS: 15.9@170 * SIDECUT: 129-80-108 * $849*

These days K2 is loved as a soft-snow brand, synonymous with progressive all-mountain and powder boards, often a first choice for people who ski in the west. But not so long ago, K2 was all about racing so it's not surprising that designers and athletes dug deep into that heritage to produce the five-ski Konic line, a family of frontside-focused skis that K2 describes as the most technologically advanced skis it's ever produced. Testers noticed. "Super grippy and very stable at speed," said Mike Dempsey. Paul Cunnius was more effusive about the 80 Ti: "Quick edge transitions and a lot of power to draw from in every situation. Shape and sidecut provides dependable grip. A solid layer of strength and supportive flex lies underneath its friendly initial turn qualities." The Konic skis share the same design: a dual-density wood core with a Titanal topsheet focused under the boot of the ski. This takes mass away from the tip and tail to reduce swingweight, while increasing torsional rigidity underfoot and power transfer to the edges. Two higher-end models, the iKonic 80 Ti and iKonic 84 Ti, get more Titanal, a carbon spine, a slightly different sidecut and a more durable sidewall. Compared to the regular 80 and 84, the additions add performance, and are best for the skier with strength, technique and weight to drive them. "Stay on top of this ski—it asks for some power, rewarding the stronger pilot with a fast and fun ride," said Ian March of the 80 Ti. More finesse, lighter and intermediate-advanced skiers should choose the non-Ti versions, while higher-end experts, power and heavy skiers should opt for the Ti.
FISCHER CURV GT
BEST FOR: Ski instructors and technique geeks * LENGTHS: 168, 172, 182 * RADIUS: 16@175 * SIDECUT: 129-80-112 * $1,300*

Fischer introduced the Curv skis last year. Developed as the tool of choice for ex-World Cup racers, with input from a few former pros, they are on-piste monsters designed to give great skiers an accomplice in carving like crazy. This season Fischer added the GT model, a ripping 80mm-waisted version. Like the other Curvs, the GT is a system ski with an included binding mounted on a two-piece plate for more leverage to dig in edges. The ski has three radii shaped into it—tip, tail and centre. Because the ski flexes at different amounts in each area, together the arc actually smoothens out. Inside the ski is titanium and Diagotex, a diagonally weaved carbon fibre. The result is a lot of fun for skiers who spend time honing their carving skills. "A lively ski that loves speed," said Mike Dempsey. "Give everything you've got to this ski and it will give it back equally and beautifully," wrote Paul Cunnius. "Align your body into the proper power stance and let balance and alignment generate all the power and precision you need. Best in the hands of an expert instructor or former racer who practices precision."
ATOMIC REDSTER G9
BEST FOR: Masters racers * LENGTHS: 165, 171, 177, 183 * RADIUS: 18.4@177 * SIDECUT: 110-68-96.5 * $1,099*

"The best masters GS ski ever! This ski is the Holy Grail I've been searching for my whole post-bunny-slope ski career." Those are the words of praise for the G9 from Whistler's Bob Brett, one of several smitten testers. The Redster line encompasses almost all of Atomic's carving skis that are just slightly detuned from the ones Atomic athletes use on the World Cup. They come in three families, G, S and X, and are numbered 5, 7 and 9, going up in performance. The G skis like GS turns. The S are tighter turners. And the X are more recreational. All of them use a rod-
elastomer system mounted on the front of the ski. When the ski is flexed, the rod extends to help flex the ski more. As pressure is released and the flex diminishes, the elastomer pushes back, flattening and dampening the ski. "The result is a perfect combination of predictability and power," said Brett of the X9. "Once you find the sweet spot (a little heel pressure at the end of the turn), your arcs and transitions will never feel smoother than on this ski. Equally fun in bumps and high-speed short- and long-radius turns." Of the G9, he said it made him a better skier: "The tip effortlessly engages at the top of the turn so you can confidently move inside and complete more of the arc above the fall line." Ian March also tested the S9 in Whistler: "A superlative carving ski. Energy, edge hold and acceleration were all fantastic. Powerful yet with ease. It has the unique ability to change radius mid-arc." The Redsters demand energy to perform at their best, though the X models were easier to ski than the more race-oriented G and S lines.