Test 2018 – Frontside Women Specific models
---
Test 2018 – Frontside Women Specific models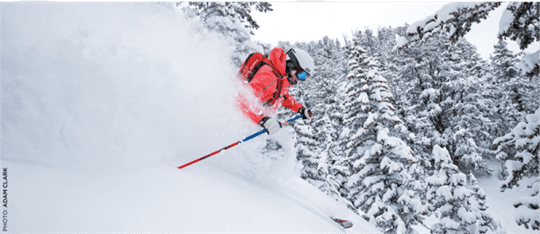 * price includes binding
VÖLKL FLAIR SC E
BEST FOR: Ex-racers * LENGTHS: 150, 155, 160, 165 * RADIUS: 13.1@160 * SIDECUT: 122-72-105 * $1,049*

The E is key. That stands for efficiency and translates to 200 grams less per ski compared to the plain old SC model. The difference is in the wood core, which is quite a bit lighter than the ones found in the other Flair models, a family of groomer-ripping skis. The SC E is the highest-performing member of the bunch and also the lightest, a reversal of the usual trend. It weighs in at the low end and despite the UVO, a vibration-dampening puck that attaches to the ski in front of the binding. The puck helps smooth out the inevitable chatter experienced at high speed on firm snow. With just a little tip rocker and carbon in the construction, the result is a ski that hooks into a turn easily and won't let go, no matter how hard it's pushed or how icy the snow. "Quick edge-to-edge," noted Valerie Cahill. "This ski felt very stable on icy hardpack conditions and I can only imagine its performance on fresh groomed trails." It's a sentiment echoed by our other testers, including Anik Gaumond: "This light ski was a little gem and an overall pleasure to ski on in very challenging icy conditions. It was responsive from tip-to-tail, with lots of grip at the tail. Very impressed with this ski's versatility." This is a high-performance shredder best left to aggressive skiers, but doesn't need to be caged on the groomed.
ROSSIGNOL FAMOUS 10
BEST FOR: Eastern carving * LENGTHS: 149, 156, 163 * RADIUS: 12@156 * SIDECUT: 127-73-109 * $849*

Like the men's-equivalent Pursuit, Famous is Rossi's lineup of women-specific groomer-carving specialists, ranging from an easy-turning intermediate ski (Famous 2) to a trench-laying missile (Famous 10). Unlike a lot of ski families, the three models share nearly identical dimensions, including a 73 or 74mm waist. Leaning toward the tight-turning side—the 156-cm length's turning radius is 12m. Technology is similar in all three models: a little bit of tip and tail rocker to ease turn initiation, punch-outs in the tip and tail to lighten swingweight, stabilizers in the front of the ski to smooth out bumps and increase edge contact, and tons of sidecut. Precision princess Anik Gaumond tried both the Famous 6 and 10 on an icy day at Blue Mountain: "The 6 would be best for intermediate skiers at medium to slower speeds. Definitely better edge grip as you slow down. As you increase speed, you lose a bit of stability and edge performance. The 10 was more stable at high speed. Excellent for groomed trails and for women who are not afraid to use those edges at high speed." Blue-square skiers should try the Famous 2; intermediates and advanced skiers will find forgiving performance and room to improve on the 6; and advanced and expert skiers should look to the 10 for a carving partner.
HEAD EPIC JOY SLR
BEST FOR: Light and fast * LENGTHS: 148, 153, 158, 163, 168 * RADIUS: 11.9@163 * SIDECUT: 120-65-100 * $940*

The general rule is that lighter is less stable at high speed. It holds true in most speed sports and is almost law with skis. The Epic Joy challenges all that. At about one kg per ski, the same as a super-light touring ski, this is one of the lightest on-hill-intended skis on the market. But testers didn't find it skittish or scary at speed. "Maintained great performance at higher speeds," reported Valerie Cahill who was putting in some fast laps at Blue Mountain. It's constructed much like the new Head Kore all-mountain freeride skis, with a graphene, Koroyd and carbon construction, and no topsheet. All those composite materials translate to a lightweight core, and one less layer cuts a couple of hundred grams. The Epic Joy is skinny compared to the Kore skis, only 65mm at the waist and 120mm at the tip; less material, less weight. So why does light matter? Not only are svelte skis easier to carry to the slopes, they require less energy to move around, whether that's sidestepping into line or turning them across the slope. That translates to less fatigue through the day. And when there's little downside to losing hundreds of grams, why not? "A fantastic carver that performed very well on groomed trails and all over the mountain," said Cahill. "A great ski for the lightweight advanced to expert skier on which to continue progression of her carving and technique."
ATOMIC CLOUD 12
BEST FOR: Getting better at ice and racecourses * LENGTHS: 147, 154, 161, 168 * RADIUS: 15.3@161 * SIDECUT: 112-70-97 * $899*

Let's face it, most people care what their gear looks like. It matters. Luckily, there's more and more gear that looks good and performs well, too. An example of a ski that can go both ways is the Cloud 12, a top-of-the-line on-piste ski. A new model in the line ranging from intermediate cruisers right up to this hard-snow missile, it has a black, distressed leather-looking topsheet that caught the eye of just about every tester—right before the ski's performance caught their imagination. "Easy turn initiation and edge-to-edge, making it a very enjoyable ski," said Valerie Cahill, testing it on a blue-ice day at Blue Mountain. "This ski held so well in the icy conditions and performed consistently." In similar conditions Andi Ciotti was also impressed. "This ski was very responsive," she noted. "Super-easy to initiate. Really lively and fun. It had great support and quickness underfoot." In Whistler, Donie Blunden summed up her thoughts this way: "A tank that will go through anything." Atomic uses Servotec, the same World Cup trickle-down technology that's in the men's Redster series. This rod and elastomer mounted on the front of the ski chips in to help flex the ski during a turn. When the pressure is released, it rebounds, unloading the energy smoothly for the next turn and smoothing out any vibrations. A good choice for hard-chargers who used to race, still do or just like to lay trenches.

Tags: Atomic, ATOMIC CLOUD 12, Head, HEAD EPIC JOY SLR, Rossignol, ROSSIGNOL FAMOUS 10, Ski Canada Test, ski reviews, ski test 2018, ski tests, Volkl, VÖLKL FLAIR SC E