Reading Time:
5
minutes
It was about this time last year when our middle-child, Meg, then in her final year of high school, decided our upcoming, and "last-ever," March Break trip to France wasn't ambitious enough and suggested we head across the pond early for a few extra days—in Turkey.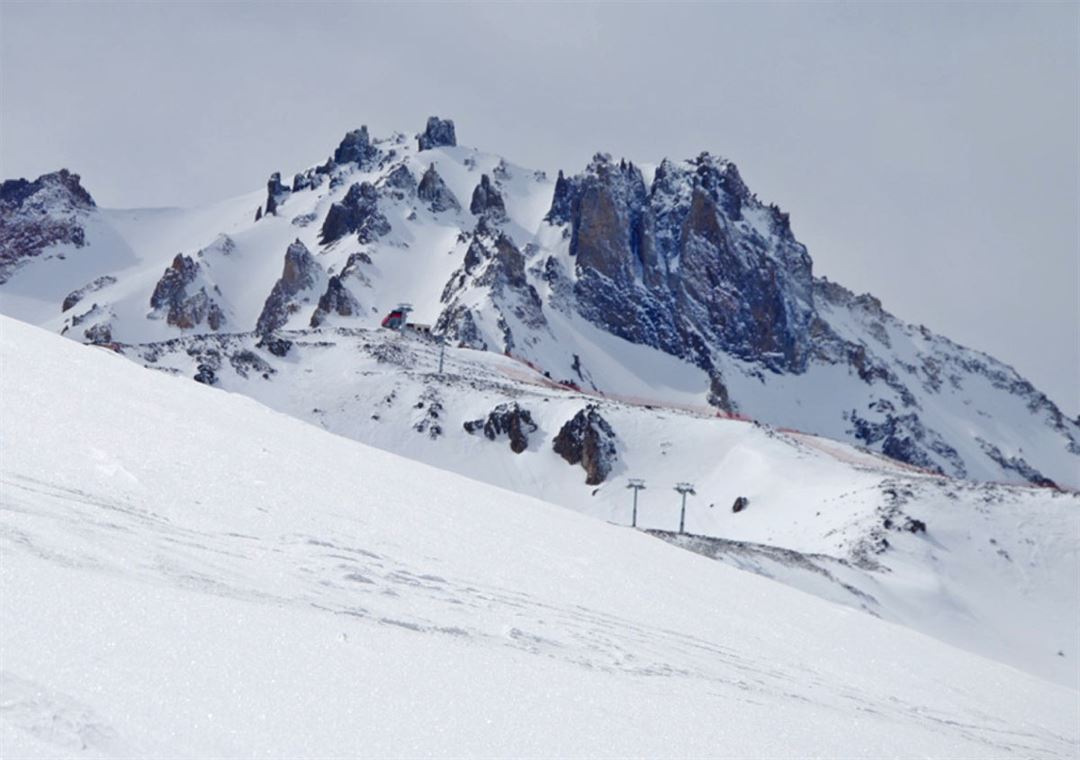 Surprised that she knew Turkey was more than a Thanksgiving feast, I played along until I discovered that non-stop flights to Istanbul, then onward to Geneva on outstanding Turkish Airlines (and home again), weren't much more than a flight to the B.C. Interior.
And so, a few months later, with an 18-year-old now firmly in charge, we found ourselves in ski boots on the flanks of a stunning stratovolcano, Mount Erciyes, in Anatolia, Turkey—about 300 km north of Aleppo, Syria.
Erciyes, near the fascinating 6,000-year-old city of Kayseri, is also less than an hour's drive from Turkey's Cappadocia region, known for its mystical fairy-chimney cave-homes and spectacular scenery that's been attracting tourists since before St. John (you know, James's younger bro…disciple of JC…) cruised through the region spreading the gospel. From original Byzantine ceiling frescoes in cave-churches, to mysterious underground cities that once held tens of thousands, to neck-craning geological wonders, the region is worth several months of exploration, not several days. Consequently, we scheduled only one day to ski Mount Erciyes.
I'd read about a recent and massive development of this "local" resort, where skiing has been a winter oddity since the 1930s, but I was still surprised on arrival. Though travelling in mid-March, our previous day was spent hiking valleys in unseasonably warm 20-degree sunny weather where apricot trees were in full bloom. Driving up to the mid-mountain base at around 2,100 metres, however, quickly brought us back to the edge of winter. But before we got our lift tickets (adults, about $18), I hunted down the resort's chairman to drop off a copy of Ski Canada.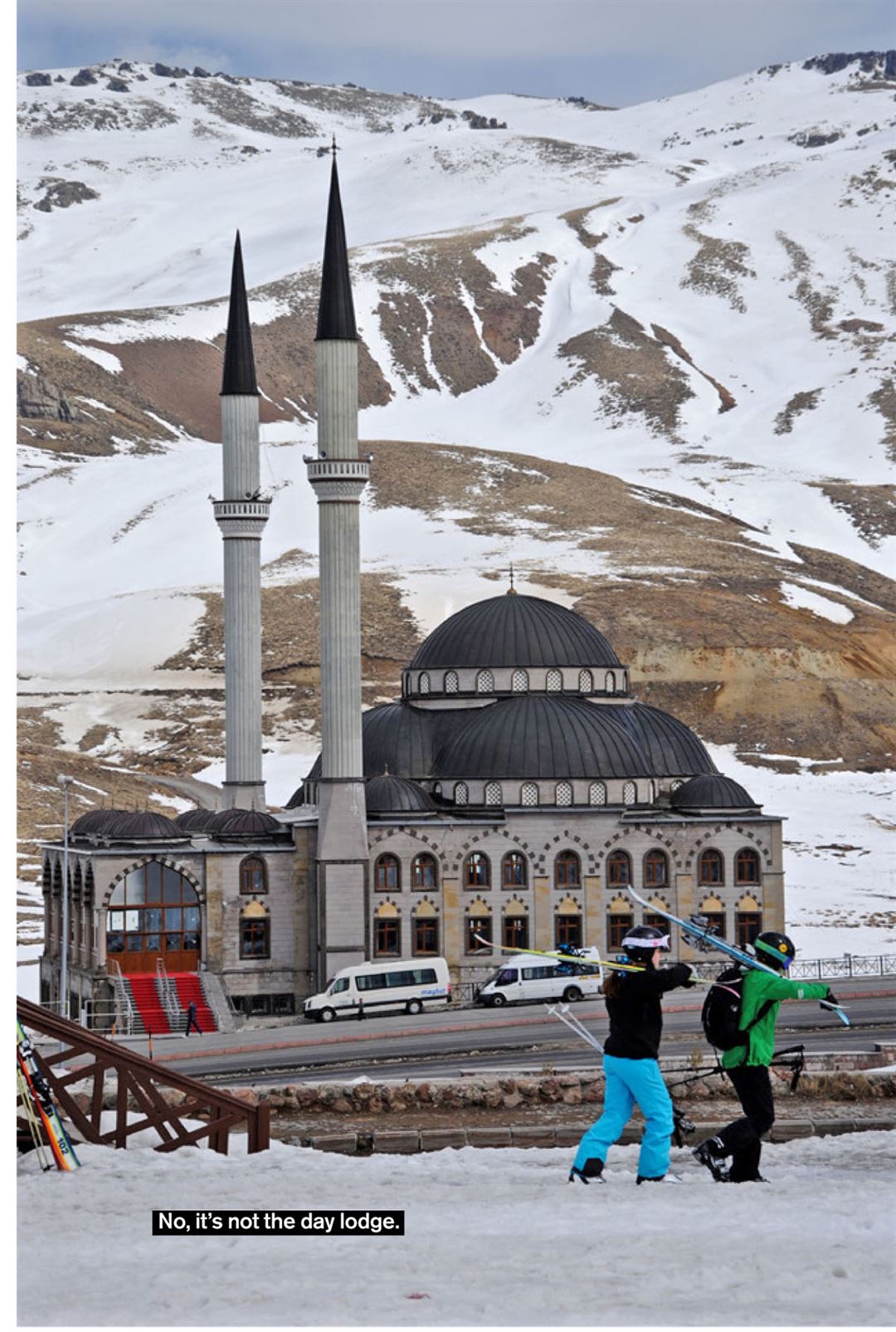 Next to a minaret wailing one of five daily calls to prayer in a brand-new slopeside mosque stood a gleaming glass and marble office tower like nothing I've seen at a ski resort. On the top floor, we were ushered into an equally impressive lair that could have been a Bay Street bank CEO's office. Dr. Murat Cingi, sort of a smiley, welcoming version of Mike Myers's Dr. Evil, immediately came to mind to both Meg and me as we sunk into enormous white leather-and-chrome furniture in our posh surroundings. Immediately, his keen-to-please manservant, also apparently from Central Casting, offered us requisite mint tea in small ornate glasses.
With a tremendous view up the conical volcano behind him, Dr. Cingi plucked several tangerines from the tree growing beside his desk for us while I waited for a fluffy white cat to jump onto his lap. I avoided making eye contact with Meg, knowing one of us would sooner or later put a pinky finger next to our lips for emphasis—and then totally lose it in giggles. Despite the surreal scene I was able to take in a few facts on our impressive surroundings.
"In a short time, more than €200million [$290 million] has been invested in Kayseri-Erciyes," said Cingi, noting the subsidies from the nearby municipality that owns and operates the resort. The cost is closer to €350million including hotel investment. "We presently have 11 new Leitner and Doppelmayr high-speed six- and four-person chairlifts [some bubbled and with heated seats], two gondolas and three Magic Carpets." Erciyes's master plan, created with plenty of Austrian help, is for 20 lifts in total and 200 km of groomed slopes, about double what was in operation last winter.
From what we could see just from his office views, it was more than impressive. The volcano's many eruptions (which stopped thousands of years ago) have left its treeless slopes gentle and open near the base, while farther up, deep crevasses and undulating shapes resembled an enormous and endless terrain park. After a storm, skiing virtually anywhere appears possible, a freerider's dream.
Until five years ago, skiing on Erciyes was limited to a few ancient lifts run for winter-sports keeners from the nearby city of Kayseri and the occasional ski-tourer/mountaineer. The massive development has boosted Erciyes into the country's number-one ski resort, something to rival destinations in the Alps.
"Last year [2015] Erciyes organized the Europe Cup. And in February [2016] we successfully hosted the FIS Snowboarding World Championships with more than 100 athletes," said Cingi proudly, "and we will again in 2017."
With a brand-new uphill arsenal already the envy of many North American ski areas, Erciyes has also built a massive snowmaking system. The current nine hotels will increase to 20 at build-out. On busy Sundays "the resort has 50,000 [day] visitors," said Cingi, but from what we saw on our visit in March, and read online, the majority spend the day exploring on foot or dragging sledges and picnic baskets, leaving slopes, especially on advanced and expert terrain, nearly vacant.
"The Ottoman chairlift reaches almost 3,346 metres," said Cingi when we pored over the trail map and I asked about the resort's highest-elevation lift. "But it's not open today," he told us to huge disappointment. Up the mountain later, it was easy to see that some incredible terrain awaits discovery for those who make the trek.
Our time spent on the advanced upper lifts was in wintry dry wind-swept conditions, a world away from spring at the base and summer a 15-minute drive away. We saw only a handful of skiers all day, with most of the lifts we used seemingly running just for us.
At 3,917 metres, Mount Erciyes is the highest in Anatolia (Ararat, in eastern Turkey near the borders with Armenia, Iran and Azerbaijan, is the country's loftiest at 5,137, and located in a part of Turkey, thanks to the PKK, where a visit would be pushing it for safety). There's more than enough adventure in Central Turkey, where we felt just as safe as in Europe or the U.S.
Experts with skins and touring gear could keep themselves well-occupied and rewarded for more than a week here. And if you're caught in inclement weather above the lifts, ancient caves and temples once used as prayer rooms for Byzantine priests at Erciyes's imposing summit are now used by climbers.
Maybe not this winter, but we will be back.
IF YOU GO…
For a cultural, historical and ski trip you'll never forget, Ali from Nevsehir, Cappadocia, is an indispensable history and culture guide. anahitatravel.com
Ski Turkey's best: kayserierciyes.com.tr or tourismturkey.org
Our $70 return flights (regularly priced) between Istanbul and Kayseri included ski bags, a meal—and, to our delight, scrambles for the business-class seats just after takeoff. Service on international flights was outstanding: turkishairlines.com