---
Where does a Utah-based backcountry skier head to for his early-season powder fix?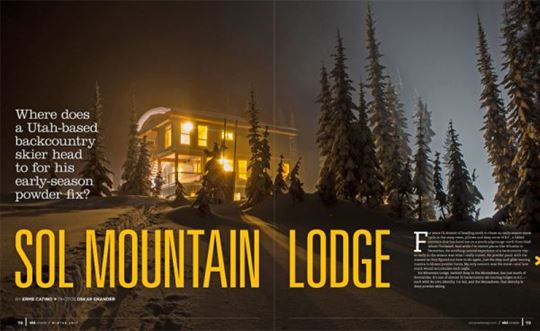 BY ERME CATINO Photos OSKAR ENANDER in the Winter 2017 issue
For years I'd dreamt of heading north to chase an early-season snow cycle in the steep trees, pillows and deep snow of B.C., a fabled province that has lured me on a yearly pilgrimage north from Utah where I'm based. And while I've visited places like Whistler in December, the soothing natural experience of a backcountry trip so early in the season was what I really craved. No powder panic with the masses as they figured out how to ski again, just the step-and-glide touring mantra to blower powder turns. My only concern was the snow—and how much would accumulate each night.
Sol Mountain Lodge, nestled deep in the Monashees, lies just south of Revelstoke. It's one of almost 30 backcountry ski-touring lodges in B.C.—each with its own identity. For Sol, and the Monashees, that identity is deep powder skiing.
Sol's tenure stretches across 12,000 hectares and some of the most accessible out-the-door skiing. Short skins from the lodge position skiers for whatever suits the day. If you want to hang in low-angle trees with an easy out when you're cold and tired, perfect. Conversely, if you want to drop down into a valley and begin skinning up adjacent ridges to steep lines with cliffs, you'll find that, too, as well as high-alpine bowls. However, if you travel to the Monashees in December, well, you'll start your season with an unadulterated gluttonous powder fix. It's Revelstoke's local surf break for early-season conditions. Like visiting Japan in January, it's a gamble worth betting on.
I booked the trip in the summer while co-ordinating a film trip for DPS Cinematic's online video series, The Shadow Campaign. The plan was to get the sponsored athletes together with renowned cinematographer Ben Sturgulewski and photographer Oskar Enander, and stash them all in the powdery setting of a quintessential backcountry lodge. When we left Salt Lake City in early December, the first storm had already dropped more than a metre of snow. It was the first wave in a series of storms, and I was giddy with the promise of nuclear powder skiing for a week while hunkered down at Sol Mountain Lodge.
————
Aaron Cooperman, owner of the lodge, and I contoured around abutting knobs of terrain surrounded by tall fir trees caked in marshmallows of snow straight out of a Dr. Seuss book before de-skinning on top of a perfectly spaced tree run. We dived into a sea of white with powder clouds cresting over our shoulders on each turn. Just the day before, we'd barely made it to the hut; the weather windows were so few and far between for the helicopter to fly in. It was snowing then—and it hadn't stopped since.
The next day, Cooperman and I skinned toward Banana Belt gully, a north-facing line across the valley from the lodge. He was stoked to show off more of his backyard. The snow was silky smooth as it rose up from the surface when we cut into it. We both opened it up, rolling through glades as we approached the horizon before the start of the tree chute. I followed Cooperman's tracks before he pulled to the side for a photo as I centre-punched the line, cackling and sending it to the bottom.
We slapped skins back on and I caught a glimpse of the southwest terrain across the flats and trickling stream, an avalanche path zone called Crystal Vision. "Hey, it might be good to go this week," Cooperman said, as we adjusted our track home for the day while hearing someone radio over the frequency to the lodge: "Is the sauna fired up for après?"
Sol Mountain Lodge, founded by Cooperman in 2004, is more akin to a backcountry palace than mountain hut. For starters, there's hot running water along with several bathrooms. No outhouses. It's well heated via woodstoves, and uses hydropower from a nearby stream with supplemental energy derived from a generator. It's incredibly comfortable and cozy with its exposed beam interior, comfy couches, a bar, and plenty of space to relax and hang after a day of skiing, where board games and Farkle are played roaring into the evening. Additional features include WiFi (for those who make the conscious choice to stay connected) and a ski-tuning room. To top it all off, there's a Finnish-style wood-fired sauna and stretching room—sublime after touring all day.
At times, I had to remind myself that I'm deep in the backcountry. It was an entirely different experience from other B.C. huts and yurt trips, where I was fending for myself. For our group, the modern amenities created a laidback go-getter vibe, where, following a catered breakfast, we headed out first thing in the morning and arrived home via headlamp for dinner and beers—maximizing the available pow with every drop of light we could squeeze out of the short December days. Even with the lodge close to full—it holds 18 guests—between a collection of small groups it still felt intimate and quiet. A ski holiday at your home away from home, only this one had bottomless blower out the back door.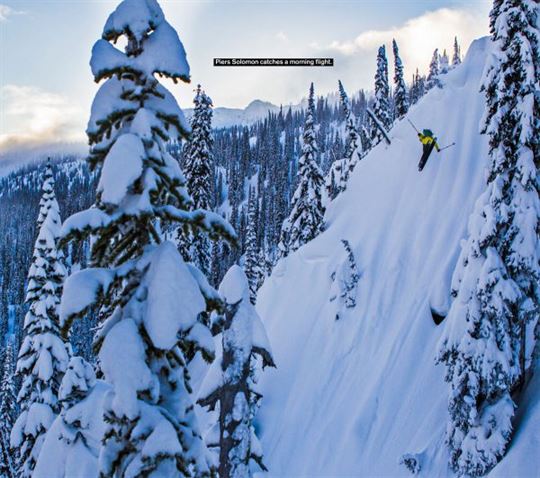 With two full days left in the week-long trip, I awoke to a deep blue sky. Holy shit! For the first time I could see the entire Monashee range. Snowcapped peaks, ridges and chutes were eye candy in the window. It was our first and subsequently only clear day of the week, though nothing to complain about considering it snowed every night, but one worth taking advantage of nonetheless.
Diamond dust sparkled in the air and along the snow surface while touring toward Crystal Vision. The clear, cold night had sucked the available moisture from the storm's final centimetres, leaving an airy surface atop the velvet cream conditions.
We arced onto the slope, where a swath of stable powder awaited below, bisected by the occasional fir tree. I let my skis run, turning only when something was in the way or when I felt the need to get a faceshot. The steep slope ran approximately 400 metres and was absurdly good. Our group of four, two of whom I'd just met, were ecstatic by the time we reached the bottom. We applied skins and energy bars and began setting the track back up, eventually laying down three runs on Crystal Vision, with only deep powder in our sights.
The final day followed along the same lines, with beautifully contoured skin tracks—unlike my home in the Wasatch Range, where skin tracks tend to go straight up to powder-filled stashes. Beginning the day with a short skin toward a mellow glade out of the lodge, to descending a much lengthier one to Bill Frasier Lake, our group played roulette with the morning cloud cover, climbing and skiing by braille down a line called Tunnel Vision. Our plan was to make a circle tour from the lodge, working various aspects and drainages on our final day. Next up was Blind Faith, a steep, north-facing powder heaven where my skis spent as much time skipping in the air as on the snow making turns.
Arriving at our skin track from yesterday's assault on Crystal Vision, we eyed up a steep and fluted tree chute still devoid of tracks as the weather began to clear. The day was a perfect blend of matching similar vertical from previous days—around 2,000 vertical metres travelled and skied—with seeing more of the tenure in one swoop.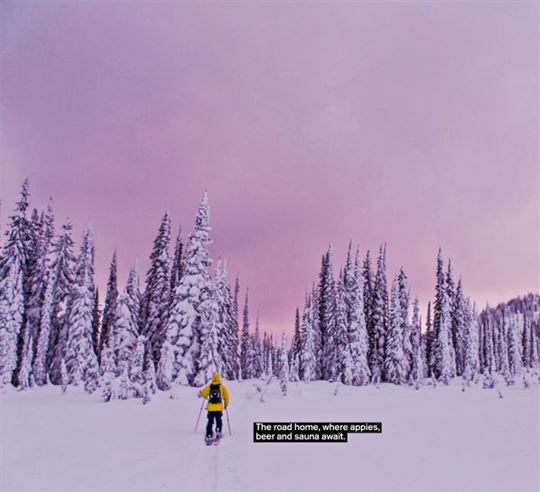 Taking in the final rays of sunlight at dusk, with the rare light of oranges and blues bringing a feeling of calm to the air that only emerges as the winter solstice nears, I slapped skins back on. It was getting dark, yet we pushed on for a quick headlamp shred down West Bunny, a mellow hill seen from the front porch. The lodge's yellow lights were glowing in the distance below, and with a finicky headlamp, I chased my new friends' tails as their white headlamps glowed down the slope.
I tuned into my feet and the feeling of the snow rushing up against my boots as my skis sliced into the downy snow, skiing as if it were day. It was one of the most magical runs I'd ever experienced and the final one of the trip—checked out from the world, yet tuned into everything around me.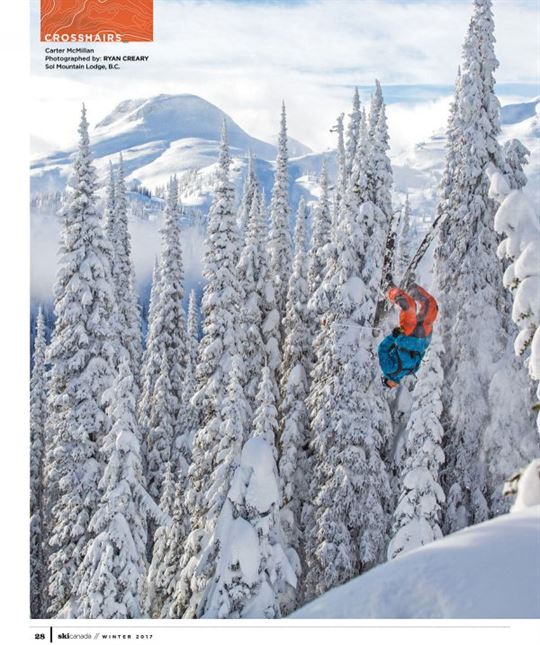 POWDER TO GO
Sol Mountain Lodge allows for either four- to eight-night trips, ranging from $1,525 to $2,725. The fare includes guides (averaging one per 4–6 guests), heli transfer out of Revelstoke or Cherryville, B.C., and all meals. There are also weeks that allow for self-guided and self-catered options. Sol Mountain Lodge also has an honour bar, where you keep your tally for the week. Bringing your own beer and wine is allowed, just be mindful of luggage weight restrictions.

Tags: backcountry, British Columbia, Featured, Revelstoke, ski touring, Sol Mountain Lodge