---
Alex Bilodeau's gold medal in Vancouver four years ago generated new interest in non-traditional Olympic ski events. Vicki Hall offers insight into the athletes of the five freestyle disciplines who could become the next Lords of the Rings.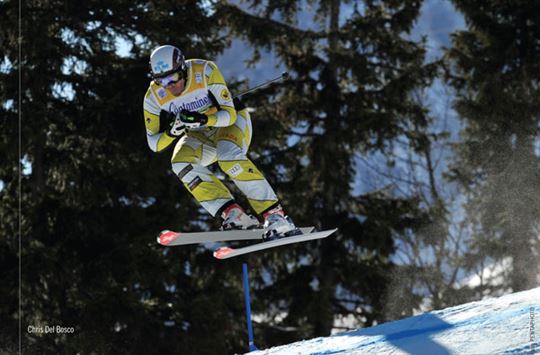 Chris Del Bosco failed to win a medal at the 2010 Winter Games, but the Canadian ski cross racer delivered a real-life lesson in striving for excellence on the ultimate stage. In Del Bosco's high-adrenalin world, good is truly the enemy of great.
Arriving in Vancouver as the reigning X-Games champion, Del Bosco gave up a sure bronze medal in the Olympic final with a risky pass in a daring push to the front of the pack. He crashed and settled for 4th place.
"It just didn't work out for me," an unapologetic Del Bosco said in the mixed zone on Cypress Mountain. "Third, I guess, is all right for some people, but I wanted to give 100 per cent for my sport, my country."
Barring injury, Del Bosco—a transplanted American—will have the chance to rewrite his Olympic story, this time with a golden ending—provided he qualifies for one of the 26 spots in Sochi on the Canadian Olympic freestyle team  (consisting of athletes from ski cross, aerials, moguls, halfpipe and slopestyle).
In terms of ski cross, Alpine Canada's target is two Olympic medals in Sochi—one each for men and women. With seven legitimate podium contenders, the goal hardly seems out of reach.
At 31, Del Bosco is one of the most decorated athletes in the sport. Perhaps lesser known, Calgary's Brady Leman was the top-ranked Canadian ski cross racer for the last two years and narrowly missed out on the 2011-12 Crystal Globe. Forced to withdraw from the Vancouver Olympics due to injury, cagey veteran Dave Duncan is back in the mix for Sochi along with promising newcomer Tristan Tafel of Canmore, Alberta.
On the women's side, Vancouver Olympic gold medallist Ashleigh McIvor retired (and recently wed Vancouver Whitecaps captain Jay DeMerit). Kelsey Serwa, the 2011 World Champion, came back from a knee injury last year and won two World Cup events before re-injuring her knee. When healthy, the Kelowna, B.C., native is the woman to beat.
But don't discount Marielle Thompson of Whistler, the 2012 World Cup Crystal Globe winner and 2013 World Championships silver medallist. She's the only Canadian ski racer to have pre-qualified for Sochi based on her performance in 2012-13.
Georgia Simmerling of West Vancouver is Canada's dark horse to watch. Only 23, the Grouse Mountain daredevil finished the 2012-13 season ranked 8th in the World Cup standings.
---
Tags: Alpine Canada, Brady Leman, Chris Del Bosco, Dave Duncan, Georgia Simmerling, Kelsey Serwa, Marielle Thompson, ski cross, Sochi 2014, Tristan Tafel