Reading Time:
2
minutes
The longest average life expectancy in the U.S., at 87 years of age, can be found in Colorado ski country. Counties in other parts of the country have averages as low as 66 years. Could skiing be the magic elixir?
While we can't draw a direct line between skiing and a longer life, there is convincing data that suggests a strong link. Income, education, rates of smoking, diet and access to quality health care obviously play large roles in longevity. Interestingly, physical exercise, particularly high intensity interval training, such as skiing, is felt to be more beneficial than aerobic exercise alone for improving life expectancy.
Aerobic exercise is important for the health of your heart but does not do much to build muscle mass. As we age, we can lose as much as 10 per cent of our muscle mass per decade after the age of 40. And preserving muscle mass while aging is at least as crucial to longevity as maintaining cardiovascular health. Interval training activities, such as skiing, preserve both muscle mass and heart health.
What are some other potential benefits that skiing could have on your health as you age? Falls (not on the ski hill) account for one of the top five causes of death in the elderly. Ask anyone with a relative who has sustained a hip fracture. Activities that preserve balance and lower body strength, such as skiing, directly reduce the risk of falls.As well, the link between mental health and physical health and longevity is very strong.
Not surprisingly, time spent in the great outdoors improves mental health. Ditto for having activities that involve social interactions. Skiing (and even the associated après-ski activities) are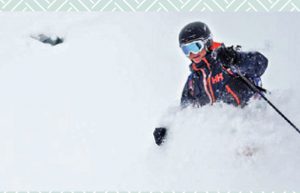 inherently social ones.
Hopefully, the above arguments will encourage you to ski into your 80s—and beyond. Who would have thought that a ski bum could outlive a triathlete?
Dr. John Foote is an emergency room physician at Toronto's Mount Sinai Hospital and a Devil's Glen skier.