Ski Canada @ 50 – Style Icons: Canadian Classics
---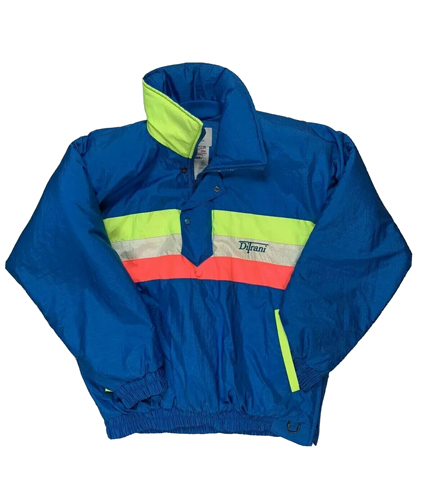 DAVID S. REID DOWN ERA: A staple in the winter Eaton's catalogue as well as skiing specialty shops across Canada, David S. Reid was synonymous with skiwear in the 1970s, especially the iconic quilted, tapered pullover jacket filled with premium-quality down. His clothing line supplied Canada's national ski team for many years, winning the endorsement of a young Olympic gold and silver medallist named Nancy Greene.
SUNICE CALGARY OLYMPIC UNIFORM: In 1988 Calgary hosted the country's first Winter Olympics. From a sartorial standpoint, the Games were "peak SunIce"—the Calgary-based skiwear company was literally everywhere. Their geometric logo was stitched into the collar of jackets worn by thousands of Games volunteers. SunIce is still around, though its focus is primarily golf apparel.
KOMBI'S CANADIAN ALPINE SKI TEAM GLOVES: Canada's distinctive Maple Leaf flag was less than a decade old when Kombi, a long-time supplier to Canada's national ski team, came out with what was arguably the coolest pair of gloves worn by any team. At a time when Canadian nationalism was starting to flourish, these badass white-and-red full-grain leather gloves were most notably on the hands of our Crazy Canucks.
ARC'TERYX SIDEWINDER SV JACKET: In the early 1990s, an industrial designer from North Vancouver named Michael Blenkarn figured out a way to make jackets from Gore-Tex that didn't leak through the stitching. From the very beginning, Arc'teryx was firmly focused on function over fashion, aimed at mountain guides, ski patrollers and adventurers who thrived in the backcountry environment. For over a decade, the indestructible Sidewinder SV jacket was at the top of its resort-oriented Whiteline collection. Alas, the Sidewinder is no more—perhaps that funky offset zipper was too far out there.
RESURGENCE OF CANADIAN-MADE SKIS: Thanks to an abundance of hardwood forests, Canadian-made skis dominated mid-century storage closets and garage rafters. Beginning in the mid-'60s, superior-performing and more durable fibreglass and metal skis were imported from France (Rossignol, Dynastar), Austria (Fischer, Atomic), the U.S. (Head, Hart), Germany (Völkl) and even Japan (Sohler, Yamaha). For a time, the Karhu factory in Cowansville, Quebec, churned out telemark skis and were subcontracted to make Burton snowboards and Line skis "from" the U.S.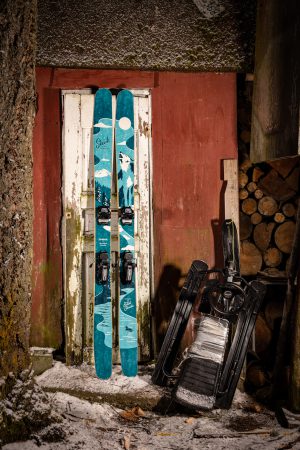 While Canadian ski shops are still dominated by brands with European or American heritage (not to mention manufacture), the past 20 years has seen a mini-resurgence of Canadian ski companies. Some (the original Fels ski, and K3 in the Kootenays) have come and gone. The most notable success story is Whistler-based Prior Ski. Company founder Chris Prior (who passed away in 2017) used his technological expertise gained from making snowboards for Canada's top Olympic athletes and expanded into ski manufacture in 2003. Other small lot Canadian ski companies have, literally, crawled out of the woodwork, like Foon, Kye Shapes, Raccoon, Instinct, Paranormal, Skevik, some models of G3 and others.

INTUITION LINERS: Using differing densities of closed-cell foam throughout the boot liner, Intuition Liners were such an improvement on the stock liners supplied by many manufacturers that brands such as Scarpa and Raichle/Full Tilt have spec'd them on their own boots. What's almost as ingenious as the blended density foam is the fact that just about anyone can cook their liner and come out with almost perfect custom-fitted boots.

HELLY HANSEN LUMBERJACK SKI CROSS UNIFORM: In recent years, Canada's ski cross athletes have been known not only for its many Olympic medals and World Cup podiums, but for competing in Helly's version of the "Canadian dinner jacket," a righteous red and black plaid number that pays tribute to Nik Zoricic, who died at a World Cup event in 2012.

QUEBECOIS STYLE—THE OUTLAW
HORS LA LOI

Back in the mid-2000s, the Quebec company Hors La Loi put its unique spin on the neck tube fashions of the day by designing a fleece bandana that wrapped around the face à la outlaw. It proved effective against -30C wind chills and morphed into us adding fleece and leather-shouldered vests to our on-slope and après-ski ensembles for the first time.

WHERE ARE THEY NOW? Designing, marketing, distributing and selling ski apparel is not for the faint of heart. For every Helly Hansen or Arc'teryx, there are literally dozens of Canadian designed or made brands that once flew with the eagles, only to eventually fizzle out on the Sally Ann rack. A social media roll call from some of Canada's top ski historians came up with some favourite blasts from the past: David S. Reid, Couloir, DiTrani, Murray Merkley, Alpine Joe, Jones (owned by Jones Tent and Awning), Pedigree, Cooper Cole, Images in Flight, Sprung, MayWest, Far West and Deacon Brothers. Did we forget the unforgettable FitzWright neoprene pants?

50th, Arc'Teryx, David S. Reid, Helly Hansen, Hors La Loi, Intuition liners, Kombi, Skevik, Ski Canada @ 50, SunIce