Reading Time:
6
minutes
When it comes to Banff's Big 3, some questions are best left unanswered.
by RYAN STUART photography BY REUBEN KRABBE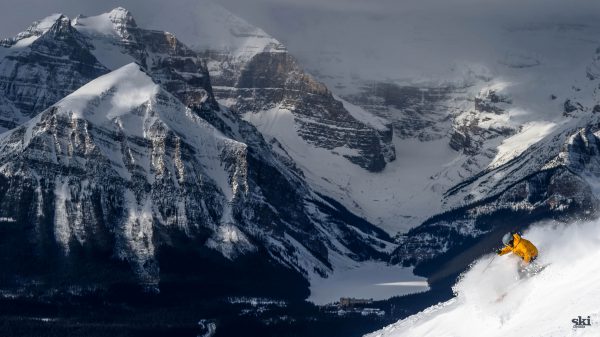 The conversation starts gently enough. I've just shuffled onto my flight home after three days of skiing in Banff National Park, stepped from the aisle where I'd stowed my bag in the overhead bin and my ski boots under the seat in front of me—like a good airline passenger—when the guy in the window seat lands the loaded question: "Where've you been skiing?"
"Sunshine, Norquay and Lake Louise. I did a day at each," I reply, too quickly to realize I've just stepped into the trap.
"So, which one did you like best?"
Now, that's a dangerous question to answer around Calgary. Albertans know how to hold an opinion and argue it fiercely. Skiers, even more so. All Cow Town shredders and pretty much anyone who's ever lived in the city, as I did growing up, have a favourite of the Big 3 Banff hills. And I can tell this guy does, too.
My mind does a quick recap of the trip. Lapping runs at Norquay like it was my private resort. Cranking big turns through the wide-open terrain at Sunshine. Burning my quads on Louise's fall-line vertical. It's hard to pick a winner, which is a funny feeling.
It used to be no question. I grew up a Lake Louise skier. My dad preferred The Lake because it had a longer, more consistent fall line than the other two. Plus, the sprawling steeps of the Back Bowls were a playground for a teenager aspiring to ski like Scott Schmidt. My best friend was a Sunshine skier. He and his family argued that Sunshine got more snow and was a shorter drive from Calgary, as well. My uncle and his family on the other hand chose Norquay for the convenience—closest to Calgary and Banff—and easygoing nature.
But all of this was more than 20 years ago. Since then, Sunshine has added some of the steepest fall-line skiing around with Goat's Eye and Delirium Dive, shaped skis made groomers a lot more fun and my skiing interests have diversified beyond teenaged interests of linking air time.
When I visited Banff last winter I purposefully ignored my prejudices, opened my mind and tried to take in the three resorts like a virgin.
NORQUAY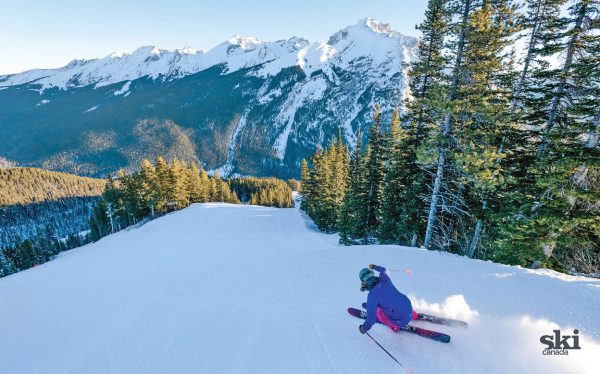 "It's rare to find a ski resort with so few signs of human presence," says Simon Moffatt, Norquay's sales and marketing director. "It's what sets Banff apart as a ski destination."
We're standing at the top of the North American Chair at Mount Norquay enjoying the view, but we could be anywhere in Banff. Being a national park there's no logging, no mining, no snowmobiles, and few helicopters and airplanes. Just rugged mountains disappearing in every direction.
Norquay is a fitting place to begin a ski trip in Banff. It was the first place people skied in the park and the North American was its first chairlift. The bullwheel started turning in December 1948, about a year after Red Mountain opened western Canada's first chairlift. A lot has changed in 70 years.
Today Norquay is the smallest of the three hills in pretty much every way: runs, area, vertical and snowfall. It's easy to overlook, yet has a charm, like a small town with a lot of history, and some of the most underrated terrain in the West.
"They called it the North American because at the time it [serviced] the hardest terrain in North America," Moffatt says with a smile. The Lone Pine was the first double-diamond run in North America and it remains a test piece. "It's still pretty hard to name a run with a longer, steeper or more consistent fall line," argues Moffatt.
It plunges, uninterrupted, all the way to the tube park before flattening out at the bottom of the lift. Moffatt and I break the nearly 500 vertical metres into two chunks, leap-frogging down through the nicely shaped bumps. There's no one in line when we get to the bottom, so we take another lap before moving over to the groomers off Mystic Express.
It's mid-February, the heart of the ski season, and we're ripping up unblemished corduroy. I follow Moffatt onto Crazy Canuck, trying to keep up as he transitions from tight slalom turns to GS and then super-G. The run pitches steeper and steeper as we descend, and we pick up speed accordingly. It's a rush that I would never have appreciated 20 years ago—when I only skied groomed to return to a lift. But today, at Norquay, I can't get enough of the Mystic roller coaster. I let my edges bite, push against the forces, feel my skis whip across the face and then release the energy into a feeling of freefall before doing it all again. Empty runs, grippy and consistent snow—it's perfect carving.
SUNSHINE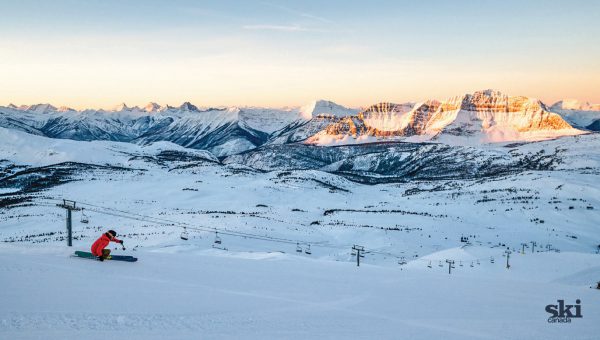 Where Norquay lays down a thick coat of man-made to keep its runs pearly white, Sunshine Village farms its snow. Every autumn crews set up rows of fences on the treeless faces and ridges to slow the wind enough to dump its catch of snow as it tumbles through the alpine. As the drifts grow crews move the fences, gradually building a snowpack where bare rocks might exist otherwise. Combined with the deepest snowpack in Banff National Park, my welcome return to Sunshine is through its wide-open, ski-anywhere feel that the other two resorts lack. Plus, all that powder that never went through a snowgun.
I ramble through the wide-open off the Divide chair, straying from Alberta into B.C. and back again. The runs on the map feel more like suggestions than actual routes; I can ski almost anywhere. It's not that different on Standish, even though it's below treeline. Here the gnarled alpine forest patches are more landmarks to help me find the pitch I spied from the lift.
Sunshine Village remains proud to offer the only on-slope accommodation in Banff. It's in the hotel's restaurant that I meet Curtis Hiller, a local ripper. He grew up racing but, like many of his ilk, shifted to freeskiing in his teens. He's now a top big-air and slopestyle rider at Sunshine.
"I ski at Sunshine because it has the best park in the park," he says. "It goes on and on." He also lives in Calgary and Sunshine reminds me of the shorter drive than Louise.
LOUISE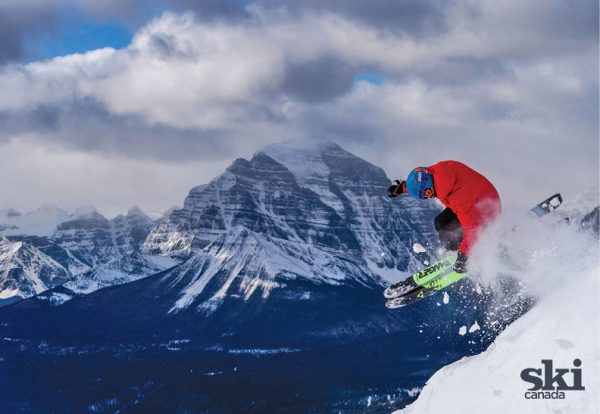 I leave the extra half-hour in the car getting to Louise for my last day. Rather than revisit my past I'm going to ski with Cole Richardson, a teenage freeskiing phenom. He started skiing at The Lake at two, raced for years (his dad is a coach), quit to "ski the rest of the mountain," did time in the park and is now focused on big-mountain riding and securing spots in ski movies.
He guides me up to Top of the World and then down the other side. Despite flat light and a firm landing, he casually throws a huge 360 off the first jump we see. I watch.
We tour Louise's famous Back Bowls, memories rushing by in this ever-impressive collection of sprawling chutes and open terrain, before ending up on Ptarmigan, a long fall-line groomed expert run. When I take my first break, a quarter of the way down, I see Richardson is already waiting at the bottom.
The rest of the morning continues like this: me chasing Richardson around the mountain, the big vertical off every lift steadily crushing my quads. We race from open bowl to narrow chute, tight tree runs to the park. How had I forgotten how much variety there is? Just after lunch Richardson leaves to preview the venue for a freeskiing competition he will go on to win the next day. My legs are toast, so after an obligatory "one more" I head back to Banff. My ski trip over.
Too soon I'm on a plane heading home, pondering that loaded question. What resort did I like best? "Honestly, they're so different I don't have a favourite," I finally reply. "What's yours?"
That was my second mistake.


Ski the Big 3 with ACV
Do you like having someone else do all the organizing when it comes to a ski holiday?
Whether it's Whistler, B.C., Marble Mountain, Newfoundland, or eight ski areas in between—including Banff Norquay, Sunshine or Louise—Air Canada Vacations has something to offer.
Flights from 63 cities in Canada, airport transfers, lift passes, a choice of 30 hotels and condos (nine just in the Banff/Sunshine/Louise area), bonus Aeroplan points, standard seat selection, future travel credits…it's all in.
You can even pay for your ski trip in Aeroplan points!
All stays are 3, 5 or 7 nights.
aircanadavacations.com or 866/529-2079