Reading Time:
4
minutes
Given Ryan and I hadn't actually skied together for a while, we decided to look for some powder somewhere between Denver and Geneva. We ended up in Japan.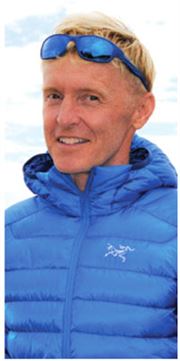 Late last January Technical Editor Ryan was hard at work playing kid in a candy shop at the Ski Industries of America show in Denver. Chatting with manufacturers about what we'd be seeing this autumn in ski shops across Canada, Ryan poked, prodded and pestered until he fleshed out the best of what's new for 2018. The tantalizing result is finally in your hands.
While Ryan was wrapping up at this eminent ski dog and pony show, I was helping hungover readers onto a Geneva airport bus after the first all-inclusive Alps Readers' Trip of the season at Club Med Tignes wrapped up. Given Ryan and I hadn't actually skied together for a while, we decided to look for some powder somewhere between Denver and Geneva. We ended up in Japan.
I arrived quite comfortably in Tokyo. Unfortunately, my bags didn't. In fact, Aeroflot didn't produce them until I was back in Tokyo almost a week later and ready to return to Canada. I'd spent my entire time in waist-deep, feather-fluffy Japow wearing Ryan's underwear—and on rental gear.
It's one thing to have your bags delayed in, say, Switzerland—even if you're not put on a pair of top-of-the-line Stöcklis, gear you'll rent at any Swiss ski shop is almost certainly newer and much better tuned than what your airline is holding somewhere undisclosed. And most Canadian shops near resorts are not far behind now.
But Ryan and I were not skiing Hokkaido, the Verbier or St. Moritz of Japan; together with buddy Matt from Britain, ours were the only Western faces we'd see for the whole stay. Renting ski kit was a step back in time with plastic, metal, fibreglass and other bendy bits and pieces—an experience I will never forget.
As disappointed as I was with the rental clothing (Ryan and Matt were both hoping to see me in some retro Japanese '80s Descente number with poorly translated random English written all over in lamé), the boots and skis were fascinatingly abysmal. As I disappeared into another bottomless powdery run, I kept asking myself: "Did people ever buy boots and skis this bad!?"
I tightened my buckles enough to press my arches flat, as well as cut off all circulation below my shins, yet my toes and heels slid about in corresponding opposite directions to each turn. Even with my peanut-like weight, I was bending my skinny skis like a sumo wrestler. It felt like a whole new sport, skiing on bizarre equipment in almost immeasurable dry, light powder, by far the best of last winter.
Although skiers flying overseas on Star Alliance airlines (Air Canada, Swiss, Lufthansa, Turkish…) continue to enjoy free carriage of skis, boots and snowboards when crossing the pond, there are lots of skiers who can't be bothered schlepping their gear to the mountains these days, especially when they're charged for the hassle. I have friends who are happy to try a different ski each day on their week holiday west or abroad before they buy their favourite from their own personal demo-week.
Prolific ski writer and long-time contributor to Ski Canada Leslie Woit often rents when she can't find someone to carry her bags. She shared her most frightening moments when renting ski equipment while we were discussing the subject recently. "They ask out loud, right at the counter, in front of everyone! 'How old are you?' and 'How much do you weigh?' recalls a clearly traumatized Woit. "Where else could women be treated like that!?" Woit's advice on renting? "Try not to think about whose feet were in the boots before yours."
Long-time Mike Wiegele heli-ski guide, international zipline whiz, SC regular and bon vivant Ron Betts can muse poetic about pretty much anything, including multi-passenger ski equipment. "When there's 20 feet of bare parking lot pavement between you and your car—and you're on rentals—you don't have to think about it much," explains Betts, "you just give 'er!"
Betts admits to learning many of his naughty jokes from gap-year Brits or blokes from Down Under working in countless rental shops in Western Canada, then drifts off into another nostalgic moment. "When I was a fledgling ski instructor at Ben Eoin, on Cape Breton Island, one of our duties was to help school groups get fitted for rentals. To this day, the aroma of Lysol makes me think of skiing."
And if you find yourself without your own equipment, either through spontaneity or a bad airline, Betts offers a staid reminder: "You'll definitely have more fun skiing in rentals than not skiing at all."