---
Ron Betts, a heli-guide at Mike Wiegele's, never misses a chance to talk proud about his early ski days on Cape Breton Island.
Mountains divide us, and the waste of seas— / Yet still the blood is strong, the heart is Highland, / And we in dreams behold the Hebrides: / Fair these broad meads—these hoary woods are grand; / But we are exiles from our fathers' land. —Excerpt from the Canadian Boat Song, early 1800s, Author Unknown.
from Winter 2013 issue
There aren't many places where the scent of clean mountain air mingles with smells of the sea. Then again, there aren't many places like Ski Cape Smokey. In the village of Ingonish on the north shore of Cape Breton Island there's a ski area that refuses to roll over in the face of economic hardship, a challenging location and aging equipment. Smokey remains a phoenix of the ski industry, a metaphor of the Cape Breton story. Continuing to rise from the brink of permanent closure, due in large part to the dedication of a few passionate volunteers and skiers who know what they've got, it's arguably the best terrain—and certainly the best views—of any ski area in the province.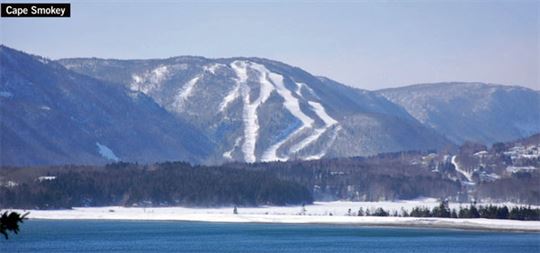 It isn't easy to be a skier in northern Cape Breton. There's always the uncertainty of snow, and without the aid of permanent snowmaking that means relying on Mother Nature.
Larry Dauphinee, chairman of the non-profit Ski Cape Smokey Society, knows the challenges as well as anybody. "It's a tough situation. In the past we've had to decide whether or not to sell season passes because the snow might not come. This year we think we'll sell them with a refund in place if need be."
No Nova Scotia skiers want to be refunded. What they want is to show up with their families and enjoy a day of skiing. With an annual snowfall of nearly four metres, Smokey rarely disappoints in that category, but as any Maritimer knows, weather is anything but predictable.
Smokey has been mostly dormant for the past four years, yet the local ski population refuses to hang up their gear and go quietly. For the last two seasons, a group of volunteers was able to keep the Poma lift running, while the quad chair sat idle due to the cost of insurance and inspections. The surface lift gave local riders 150 vertical metres, or roughly half of the mountain to play with. Dauphinee stressed how important it was for the community, and for local school kids in particular, to get their first taste of skiing or snowboarding. "It's a long winter here without the ski hill open. It was great to see families come together and be able to enjoy the mountain."
If the winter weather for 2013 would only co-operate, the outlook is promising. The quad passed inspection, the groomers have packed the first snowfalls and the lodge kitchen is ready to start feeding hungry skiers. Cooks from the world-renowned Keltic Lodge and other local restaurants count on the work to carry them through the winter.
Ingonish is essentially a summer and fall resort town, welcoming tourists who want to experience the Atlantic coastline or the beauty of the Cabot Trail. After the autumn leaves are gone, so too are the tourists that many of the local businesses rely on. There's no question that a steady stream of skiers would be a boost to the local economy, but that depends on the snow. Dauphinee and the rest of the Ski Cape Smokey Society hope it comes, and brings with it enough skiers to fill a chairlift queue.
A little farther south on Cape Breton Island, on the shores of the Bras D'Or Lakes, lies Ben Eoin (pronounced Ben Yawn). It seems as though Nova Scotia ski areas have a proclivity for stunning water views—and Ben Eoin is no exception. The founders recognized the potential of the area, and the Cape Breton Ski Club was formed in 1968 with assistance from the Cape Breton Development Corporation and the hard work of a local group of dedicated skiers, some of whom are on the board to this day. From those early days the ski club has grown and prospered, and countless skiers from nearby communities such as Sydney, Glace Bay, Sydney Mines and North Sydney have become lifelong enthusiasts on the slopes of Ben Eoin. Not bad for a hill that rises just 150 metres from its base area.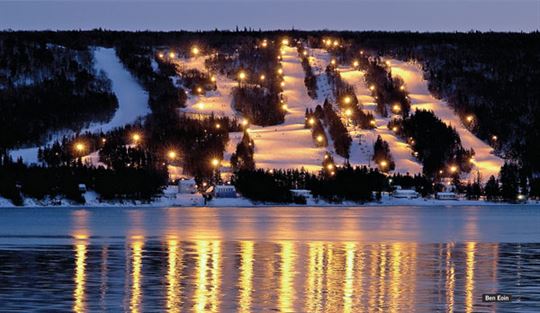 Realizing there was a market for other activities and usability in other seasons, a group of local investors opened the Lakes Golf Club in 2010, partly on Ski Ben Eoin property and partly on surrounding land. This laid the foundation for a four-season resort development that, upon completion, will include an 83-berth marina, currently under construction by Ben Eoin Marina Ltd.
The recent activity in the area is being helped by the announcement of a $4.7-million grant, to be channeled to the marina and Ben Eoin ski area through Enterprise Cape Breton, a federal Crown corporation offering programs in support of commercial development, community development, environmental stewardship and real property development on Cape Breton Island. Defence Minister Peter MacKay announced the federal money at a ceremony on October 26. In a press release MacKay said, "This investment is part of a long-term vision that will result in the development of a four-season recreation complex in Ben Eoin that will attract visitors and serve as a catalyst for further economic development activities."
Ski Ben Eoin's share of the grant amounts to $695,000, which will help fund a $900,000 upgrade to its existing snowmaking, the addition of a new novice run and carpet lift, and a new grooming machine. All of this ensures that skiers on the east side of Cape Breton will be enjoying the sport for generations to come, something their northern counterparts can't be as certain of.
One thing that sets Smokey apart from Ben Eoin, and its one true competitive advantage, is its terrain. Ironically, it's this same terrain that has made it harder for skiers to access Smokey. There's a reason they call it The Highlands. Anyone other than true Ingonish locals have to navigate mountain roads to arrive at the doorstep of what is considered the best ski terrain in the province. From the south the road climbs over both Kelly's Mountain and Cape Smokey proper, both of which are stunningly beautiful, but winter storms can make driving a challenge to all but the most determined and devoted skiers and boarders. From the western part of the island the trip is no less arduous, where the road climbs the French, MacKenzie and North mountains and crosses the barren Highland Plateau.
Clinton Desveaux, who grew up in the village of Cheticamp, did that drive nearly every weekend with his father, who introduced him to skiing as a child in the late '70s. They would spend nearly two hours, each way, dodging ice, blowing snow—and moose—all for the thrill of sliding downhill on a pair of skis. He's a devoted skier to this day, sharing the sport with his own family from his home in Halifax. He's one of the many people who grew up skiing at Smokey and hopes it will be there for his children to enjoy one day. "It has some amazing black-diamond glade runs, fantastic headwalls and, on days when the snow is falling, you can have deep-powder skiing in the east!" says Desveaux.
Every few years there are rumours of investors who want to buy Smokey, and groups have done their diligence, but as of yet none have opened their chequebooks and given Smokey what it really needs—an infusion of capital. For now the mountain marches on, as it always has, on the backs of its locals, devotees and diehards, all willing to do whatever work is necessary to keep the dream alive in the north.
For the foreseeable future there will be skiing on Cape Breton Island, but only time will tell whether that future includes one ski area or two. This is a place famous for the resiliency and tenacity of its people in the face of hardship. Capers don't lie down and they don't shy away from hard work, so if I were a betting man, I'd put my money on two. After all, this is the island that inspired Alexander Graham Bell to say, "I have travelled around the globe. I have seen the Canadian and American Rockies, the Andes, the Alps and the Highlands of Scotland, but for simple beauty, Cape Breton out-rivals them all!" Bell would have loved skiing.
Ron Betts, Ski Canada's test editor, is a native of Sydney, Nova Scotia. The magazine's managing editor, Anne Slade, hails from Glace Bay.
---
Tags: Ben Eoin, Cape Breton, Nova Scotia, Ski Cape Smokey