---
LOST & FOUND DEPT.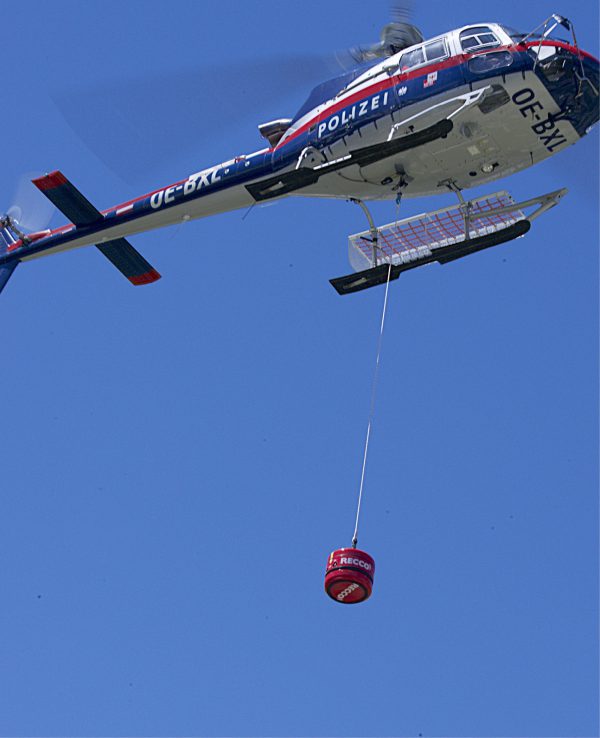 Traditionally, Recco technology has been used by ski patrollers searching for buried avalanche victims. Following the death of his skiing partner in Åre, Sweden, in 1972, Recco founder Markus Granhed developed what he felt was a faster way to search for buried skiers than using rescue dogs. Truth be told, Recco's early receivers were clunky and hard to use. Even now, with respect to avalanches, Recco technology is more helpful in recovering bodies than revivable victims. Where Recco does shine, however, is in search and rescue.
This season, teams from Vancouver to Whistler will have some intriguing new Recco technology to find lost skiers, boarders, snowshoers and hikers venturing into the North Shore Mountains. The SAR Helicopter Detector is a high-powered antenna and radio transmitter housed in a metal canister slightly larger than a barbecue propane tank. During search and rescue missions, the Detector is attached to a six-metre-long cable clamped to the belly of a rescue helicopter.
To understand how the Recco system works, imagine shining a narrow flashlight beam on a dark, forested mountain. If the beam hits a mirror, the light will be reflected up to the viewer. The Recco system is the audio equivalent of a flashlight and mirror. Electromagnetic signals transmitted from the Detector are reflected back as pulses of sound if the lost skier or hiker is wearing a piece of clothing or carrying a backpack that's equipped with a Recco reflector.
Like the older style of avalanche beacons, these aerial searches are conducted by repeatedly sweeping back and forth over an area, following a grid pattern to ensure that every piece of ground is effectively covered. The "cone" or diameter, of the Recco beam is approximately 100 metres wide. The Detector picks up signals from a hundred or so metres above the ground. The SAR Helicopter Detector shows considerably more promise in finding lost or stranded skiers who might have run out of daylight. Since a lot of mountainous terrain in Canada has no cell service, and phone batteries drain quicker in cold weather, Recco's unique technology has its place here.
Chances are, if you own a premium backcountry jacket or pants like Mountain Hardware, Arc'teryx, Helly-Hansen and Salewa, or gear like boots by Scarpa and Tecnica, an MEC pack, harnesses, helmets and more, you're already equipped with a built-in Recco reflector. Another solution, however, might be to simply purchase the reflector as a stand-alone item that can be transferred from one pack or pocket to the next. Recco's Backpack Rescue Reflector is widely available in Europe and could possibly appear on store shelves and online in North America as early as next year. Likely in the $50-$90 range, it's a small price to pay for another backup strategy in case things go south with your cell phone.
Recco