Reading Time:
7
minutes
Quebec vs. Vermont: whether or not the border is open this season, you can still weigh in on who's the best in the East.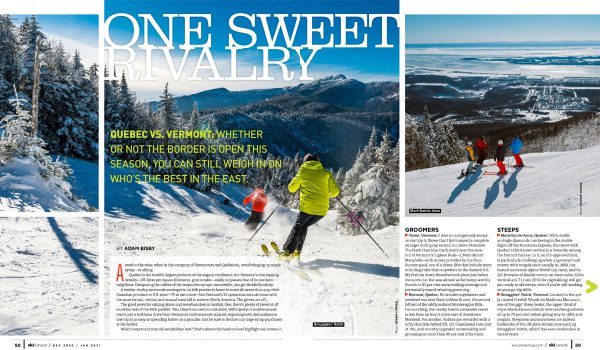 A word to the wise: when in the company of Vermonters and Québécois, avoid bringing up maple syrup—or skiing.
Quebec is the world's largest producer of the sugary condiment, but Vermont's tree-tapping density—135 litres per square kilometre, give or take—easily surpasses that of its northern neighbour. Comparing the calibre of the respective syrups, meanwhile, can get decidedly sticky.
A similar rivalry surrounds snowsports. La belle province is home to more ski areas than any other Canadian province or U.S. state—79 at last count—but Vermont's 25 operations include those with the most terrain, vertical and annual snowfall in eastern North America. The gloves are off…
The good news for visiting skiers and snowboarders is twofold. One, there's plenty of sweet stuff on either side of the 45th parallel. Two, there's no need to take sides. With Quebec's southernmost resort just a half-hour drive from Vermont's northernmost outpost, exploring both destinations in one trip is as easy as spreading butter on a pancake. Just be sure to declare any large syrup purchases at the border.
Which resorts suit your ski sensibilities best? That's where this head-to-head highlight reel comes in.
GROOMERS
Stowe, Vermont: It was so outrageously snowy on my trip to Stowe that I fist-bumped a complete stranger during my second run down Nosedive. The black then blue track starts near the summit of Vermont's highest Peak—1,340m Mount Mansfield—with access provided by the Four-Runner quad, one of a dozen lifts that include more mile-long rides than anywhere in the eastern U.S. My first run down Nosedive took place just before the storm hit, but was almost as fist bump-worthy thanks to 83 per cent snowmaking coverage and perennially award-winning grooming.
Bromont, Quebec: No wonder nightskiers and weekend warriors flock to Mont Brome, the second loftiest of the oddly isolated Monteregian Hills. For one thing, the nearby town's namesake resort is less than an hour's drive east of downtown Montreal. For another, visitors are rewarded with a nifty chondola hybrid lift, 101 illuminated runs (out of 141), and recently upgraded snowmaking and grooming on more than 90 per cent of its trails.
STEEPS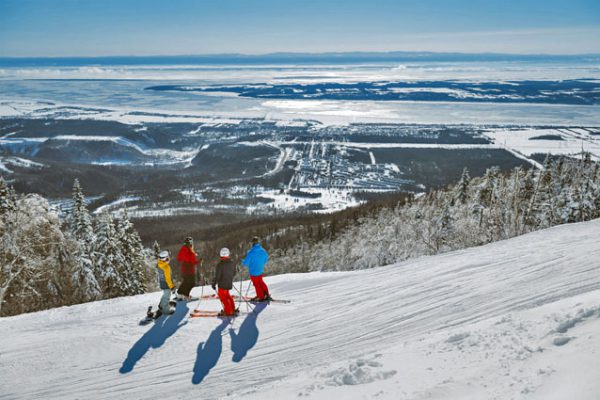 Mont-Sainte-Anne, Quebec: With double or single diamonds numbering in the double digits off the Panorama Express, the resort with Quebec's third-most vertical is a favourite among the fast and furious. La S, an FIS-approved trail, is particularly challenging when ungroomed and strewn with moguls (as it usually is). MSA has hosted numerous alpine World Cup races, and its 221 hectares of skiable terrain on three sides, 625m vertical and 71 runs (19 lit for nightskiing) will get you ready to ski steeps, even if you're still working on your go-big skills.
Smugglers' Notch, Vermont: Located in the aptly named Freefall Woods on Madonna Mountain, one of Smuggs' three peaks, the upper third of triple-black-diamond Black Hole reaches gradients of up to 70 per cent before giving way to cliffs and moguls. Steepness and snowiness are indeed hallmarks of the off-piste terrain surrounding Smugglers' Notch, which has seen avalanches in recent years.
GLADES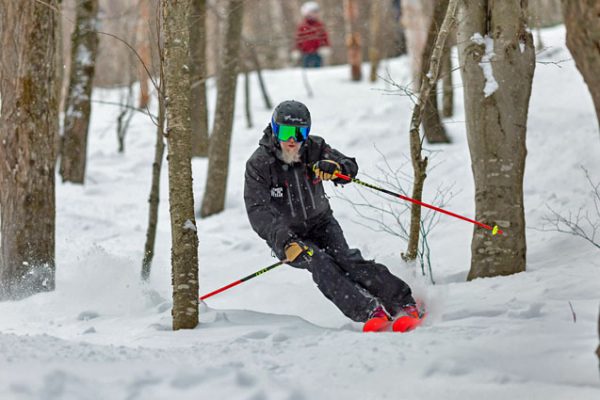 Sugarbush, Vermont: With about 20 per cent of its almost 200 in-bounds hectares devoted to wooded slopes such as Deeper Sleeper and Gangsta's Grotto, it's no wonder the state's second-largest ski area is named after a stand of maples. Sugarbush takes tree-skiing to the next level between the main summits of Lincoln Peak and Mt. Ellen, where the 405-hectare Slide Brook area is skiable only with guided tours.
Sutton, Quebec: No ski resort has staked its reputation on glade skiing to the extent that Mont Sutton has. A five-minute drive from its adorable namesake town in the Eastern Townships southeast of Montreal, almost half of Sutton's 63 runs are glades spanning black, blue and green terrain. These trails intersect 204 times, meaning a top-to-bottom run can encompass as many as seven different trails and offer some stunning arboreal variety. Just be sure to keep your head up.
TERRAIN PARKS
Stratton, Vermont: The southernmost resort on this list makes the most of the four-hour drive from Montreal with four six-pack lifts, more than any other resort east of the Rockies. Stratton also has an unrivalled abundance and variety of terrain parks, with the five set-ups ranging from a beginner-friendly progression layout and the East Byrnes Side top-to-bottom boardercross course, to Suntanner—home to the annual Vermont Open—and Big Ben, a smorgasbord of flowing rollers, money-booters and everything in between.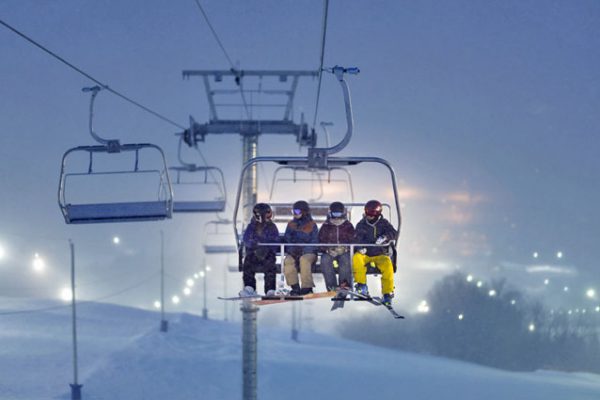 Stoneham, Quebec: Home to the province's only Olympic-sized halfpipe—a night-lit monstrosity used by the National Training Center—Stoneham lures tricksters out of nearby Quebec City in droves day and night, thanks to some of the most extensive nightskiing in North America. Beyond the 19m-wide pipe, its Park XL 418 is littered with jumps, stairs, rails and a wall-ride, while intermediate and intro parks let guests hone their skills before hitting the big time.
WILD SIDE
Mad River Glen, Vermont: What's in a name? With a beloved single chair (and three doubles), a longstanding ban on snowboarding, co-op ownership, and a dearth of snowmaking and grooming, this resort does seem a bit mad (in that fun, magazine kinda way). Combine all this with 620 vertical metres covering predominantly black-diamond terrain and a network of uphill skinning trails, and expert resort and backcountry skiers will appreciate how little has changed at MRG since 1948.
Mont-Édouard, Quebec: This under-the-radar powder utopia overlooking the distant Saguenay Fjord offers 460 vertical metres of both resort skiing and alpine touring. Its annual snowfall of more than five and a half metres compares with many ski areas in western Canada. The former encompasses Quebec's only certified super-G course, while the latter is made up of two zones spanning 47 hectares and accessed via $89 guided packages or $29 unguided passes.
APRÈS
Tremblant, Quebec: The province's most complete ski area ticks most of the boxes—pleasingly varied terrain, top-notch mountain maintenance and infrastructure, next-level poutine, the list goes on—but its prowess becomes especially notable after the 14 lifts stop turning. Actually, make that after most of the lifts stop turning, what with a free open-air gondola carrying revellers to the myriad pubs and clubs of the resort village, and a glitzy mountainside casino served by a dedicated quad chair.
Killington, Vermont: The "Beast of the East" earns its nickname with six interconnected peaks, the most vertical in New England (930m), and more skiable area than any other resort in the eastern U.S. Winding between the Beast and its namesake town, Killington Road is lined with après options ranging from the Wobbly Barn steakhouse and nightclub to Preston's Restaurant, which specializes in local farm-to-table fare.
SNOW
Jay Peak, Vermont: The last time I visited Jay, half the mountain was closed for a day because there was too much snow. Thankfully it soon became fully operational, allowing me to snorkel down slopes that receive an average of 912 cm of snow a year—more than any other resort in the Eastern U.S.—and make full use of its 155 hectares and 656m vertical, much of which is reached via Jay's iconic 60-passenger aerial tramway.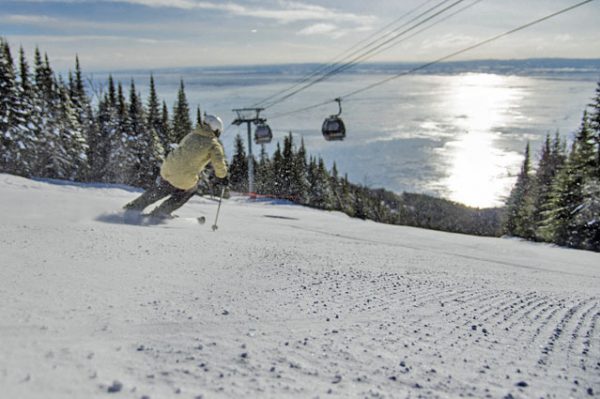 Le Massif, Quebec: Going big at breakfast is one way to stretch powder days at Le Massif, which receives more annual snowfall than any other Quebec ski area (630 cm on average). Pancakes and powder, together at last! It also boasts the biggest vertical in the east (770m). No surprise that Club Med chose Le Massif for its only North American village (opening December 2021), between the snow, stellar views of the St. Lawrence, the vertical  and choice of distractions in genuine Baie Saint Paul or historic Quebec City, you'll need more time here than a long weekend.