Putting on a New Face – Panorama BC
---
The opening of Panorama's monstrous freeride terrain adds to its well-known cruising reputation.
Three turns in The Monster rears its head. The boot-top fluff is so good, so predictable, I start opening up the speed. By turn three, I'm mach-cruising, floating on top in wide-open terrain, feeling so confident I take my eyes off the snow and look across the valley at the rest of Panorama Mountain Resort.
On turn four my eyes return to the path ahead and my brain does a double take. What had been a steadily steepening slope is now a cliff. I crank a hard turn to avoid the abyss and slam on the brakes. I look over the lip.
Patroller Pete skids up next to me and the two of us admire a playground of cliffs, pillows and drops. It's early January and Panorama had a great beginning to the season, but there's not quite enough snow to play in this mini-freeride zone just yet.
"With a bit more snow it will be awesome in there," I say, pointing out a line with my pole.
Pete nods. "Yeah, it's going to be amazing," he says, his eyes scanning around the empty basin. "And there's never anyone back here. It's like an inbounds backcountry area."
It's true. "The Monster" is Panorama's newest terrain addition, four double-black-diamond runs encompassing 50 hectares of forest and open alpine terrain. It's a huge area to explore, and with each turn it's reinventing my perception of this ski resort in the Purcell Mountains near the Alberta border.
Nearly a week after the last storm and we have our choice of untracked lines. The terrain is steep and gnarly. In my mind this is not Panorama, which is better known for good snowmaking, great grooming and long cruisers. But, as I'm about to discover, Pano is not content to rest on its rep.
"What got us here is not going to get us there," says Steve Paccagnan, the resort's CEO and president. "We're trying to anticipate what people will want, improve our weaknesses and at the same time, own what we're good at. We're refreshing the resort experience more than anywhere else in Western Canada."
Since 2013, the resort's small group of private owners invested $25-million in everything from expanding snowmaking to new terrain for beginners and experts. They're not done yet.
Along the way they're shattering misconceptions about skiing and about Panorama. Here are a few obvious ones I noticed exploring the resort over a couple days last winter.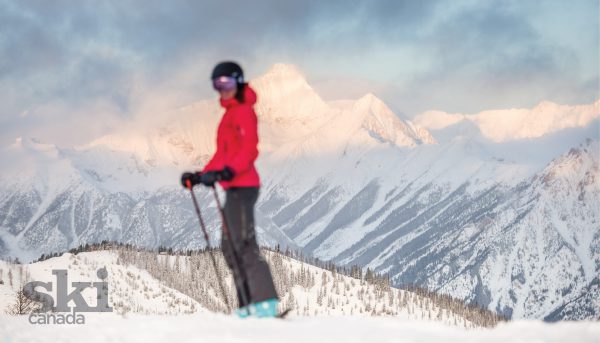 IT'S ALWAYS COLDER AT THE TOP?
I head to Panorama with my daughter, Paige, at the beginning of January. It's icy cold on our first day, at least at the base shrouded in fog. But a sign as we load promises a whopping 20-degree inversion. My frozen toes don't believe it's nearly zero at the summit, so we head up the chain of lifts to prove it.
Before we're halfway up the Mile 1 Express, a long high-speed quad, we're in the sun and the temperature is climbing. By the time we unload, three lifts later, at the 2,365m summit I'm thinking of shedding a layer. People are sunbathing on the deck of the snack hut. Apparently, it's not unusual for it to be warmer at the summit when it's really cold at the base, where the colder air gets trapped in the valley.
Basking in the warmth it's hard to want to go anywhere, but Paige is getting antsy. We opt for a warm-up on a Panorama classic, Top of the World, a fall-line groomer right from the summit.
PEOPLE CAN'T CHANGE?
One of Paccagnan's first goals when he became CEO and president of the resort was to own their reputation. "I wanted us to be the 'best Panorama' we could be," he says. Investing in grooming and snowmaking first, he and his team then looked around at their assets and weaknesses.
Their beginner experience was lacking. Panorama had good, never-ever terrain and all kinds of intermediate runs, but not the right stuff for progressing between the two. So they cut some runs and put in a new lift. Likewise, the resort is full of steep terrain but it was mostly covered in trees. Even Taynton Bowl, former heli-ski terrain, was good, but it could be better. Paccagnan started an aggressive glading program to open up the skiing. And then came The Monster.
The Monster is the obvious extension of Taynton Bowl. The area now encompasses almost an entire drainage on the east side of the resort. It's nearly all double-black-diamond terrain.
"We're not known for our expert terrain, but we have a ton of it," Paccagnan says. "You can put most of Whitewater in Taynton Bowl—and there's almost nobody back there."
DON'T GO TO PANORAMA FOR POWDER?
While Panorama doesn't get as much snow as say its Powder Highway neighbours, the chances of skiing untracked inbounds are better. At Panorama there are fewer people competing for its five metres of annual average snowfall. And its reputation as a cruiser hill doesn't attract the storm chasers who flock to Fernie and Kicking Horse every time snow-forecast.com predicts a few flakes.
So a week after a storm, there's not only plenty of untouched in The Monster, but also lower-hanging fruit such as B-1st in Taynton Bowl. Later on our first day Paige and I find ourselves pushing across the cat track to the top of the run. Right from the top there are open lines to choose from. We drop in, spraying fresh snow around, enjoying the floaty rush. Whenever the terrain funnels and the tracks start closing in, we traverse away to find another fresh line. It never takes much searching.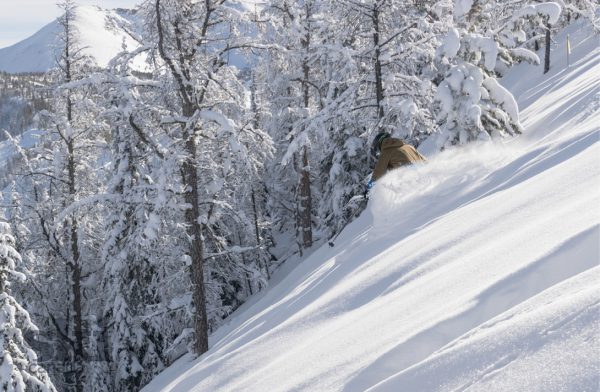 IT'S ALL BEEN DONE BEFORE?
Beyond the lack of powder and double-diamond skiers, there are two other reasons the fresh lasts so long here. First, accessing most of Taynton Bowl is work. To get all the way around to the top of The Monster requires a 40-minute bootpack along a cat track. The rest of the runs in Taynton are shorter to access, but most still require some skating if not hiking, which scares off crowds. The second reason is that it includes a long run-out. Skiing anything in Taynton Bowl means heading all the way back to the bottom of the mountain.
Panorama is working on fixing both. This season, they're starting up a snowcat shuttle that will run from the Summit Hut area all the way out to the Goldie Plateau at the top of The Monster. It will be kind of like cat-skiing inbounds. And the resort plans to add a new lift to make it easier to ski laps in Taynton.
It's all exciting stuff, but for a guy who's always thinking about his next meal, it's another development for 2018-19 that's got me planning a return to Panorama even before I leave. For this season, the resort's debuting its roving "food-cat" snowcat with a kitchen onboard.
PANORAMA IS ALL EASY?
After the long ski out from Taynton Bowl, Paige and I shuttle the lifts back up the mountain to explore some more terrain. The trail map shows 75 per cent green or blue runs, so we anticipate some cruising. Instead, a few turns down View of 1000 Peaks I spy a nice-looking bump line and drop left onto Trigger. Paige follows. At first it's moguls the size of cars, but slowly the terrain spreads out. The snow gets soft and easy to ski. As we crank our way down, the angle keeps getting steeper, until the run chokes between rocks. An hourglass a couple of ski lengths wide blocks our way. With no way out but down I commit, make a couple of quick turns and come hauling out the bottom grinning. I'm not sure how Paige will handle it. I stop at the bottom expecting some yelling or even tears, but she slays a jump turn and comes out smiling.
The terrain eases up a bit, but not a lot. More steep trees eventually spit us onto a cat track and then we're on groomers to the bottom of Champagne Chair. We move on to more expert terrain off the Summit Chair and a long, endless burn all the way to the bottom of Sunbird. Only 25 per cent of the 129 trails are black or double black, but area wise it must be much more. Everything is fall line. And anything groomed is fast and fun: the runs are wide and empty.
THE VILLAGE IS BUILT OUT?
Panorama's 1,300m vertical cooks our legs. We call it a day before last chair and retreat to our condo. After a hot tub, I'm rejuvenated enough to head out to explore the village. Spread along the valley and right up around the base area, it feels mature, like a little mountain town. Intrawest did most of the village development when it owned the resort in the '90s and early 2000s. But again, the resort's new owners aren't content with the status quo.
Last winter they announced a partnership with Replay, a resort planning firm full of ex-Intrawest employees. The company will bring expertise, knowledge of emerging trends and fresh eyes to what the village can become, says Paccagnan. "People are more into authentic experiences today. They want the whole package, more than skiing. Replay is going to help us create a vibrant experience in the village. And not just for today, but anticipating what people will want in the future, too."
That will likely include the resort's first true hotel, a micro-brewery, bowling alley, marketplace and, built within it, integrated and innovative housing. To me, the village already has everything a skier could need. Paccagnan points out that most people park their car when they arrive and don't drive it again until they leave. With a shuttle to the Calgary airport, even having a car seems redundant. Heli-skiing, snowmobiling and cross-country skiing are all right in the village. A shuttle goes back and forth to the nearby town of Invermere.
TAYLOR SWIFT IS JUST FOR TEENAGERS?
We're following the shuttle the next afternoon. After another long day of destroying our legs in powder, bumps, groomers and endless vertical, Paige and I are heading back to Calgary. I feel anxious about all the untracked snow I left behind, but we've got a plane to catch.

As Panorama disappears behind me, I wonder why I let reputation keep me from spending more time here over the years. For a decade I lived in Calgary and Banff but only skied Panorama once. I missed out because I let misconceptions blur the reality staring back from the trail map.

"I'm sorry, the old Taylor can't come to the phone right now."

"Why?"

"Oh, 'cause she's dead!"

The lyrics to Taylor Swift's song, "Look What You Made Me Do," pulls me out of my thoughts. Paige has taken over the music choice and is singing along in the passenger seat. I might be humming the chorus. It's a fitting anthem to our trip.

The song, Paige explains when it's over, is Swift mocking her various reputations: greed, self-obsession, a bitch, her career being over… Whatever the deep meaning is, the tune is catchy and an apt anthem for Panorama Mountain Resort.

Its reputation for excellent snowmaking and groomers sure isn't dead. But for me, its reputation as a freeride destination is just beginning to emerge.

Tags: BC, British Columbia, Featured, Panorama Resort, Taynton Bowl, The Monster