---
They have travelled different roads, but Para-Alpine skiers Kimberly Joines and Mac Marcoux hope to arrive at a similar destination during the 2014 Paralympic Games in Sochi March 7-16.
Joines and Marcoux are the bookends on a Canadian Paralympic ski team that will combine youthful enthusiasm with veteran savvy. Even though they're separated by 17 years, both are looking to prove something at the Rosa Khutor Alpine Resort. Joines, a 33-year-old sit-skier, is hoping her less-is-more approach helps erase the frustration of missing the 2010 Paralympics in Whistler due to injury. The 16-year-old visually impaired Marcoux refuses to be intimidated by the "big learning curve" he'll face at his first Paralympics.
The Canadian Paralympic Committee plans to send a team of 13 skiers to the 2014 Paralympics. Coach Jean-Sebastien Labrie says Joines, Marcoux and veteran sit-skier Josh Dueck are all medal threats. And he likes the team dynamics created by mixing youth and experience. "It's been a positive thing," said Labrie. "You have younger athletes who are eager to learn and to push, to get better and improve their ranking and get on the podium. It brings a good energy for the preparation of the whole team."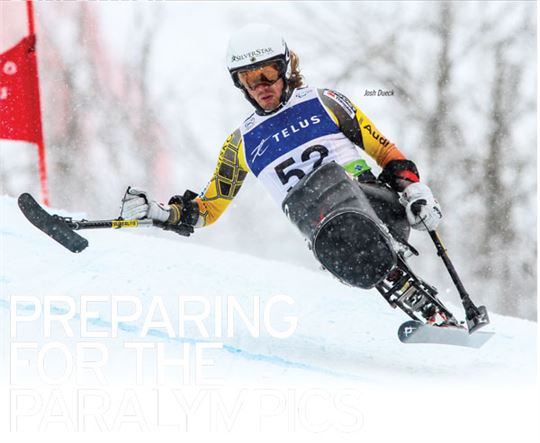 Dueck, who is preparing for his second Paralympics, likes the team atmosphere. "The chemistry we have right now is probably the best I have seen in my career with the team," said the 33-year-old Vernon, B.C., resident.
Joines spent five days in a Russian hospital last spring after a horrendous crash while training in Sochi. She eventually was flown back to Canada for surgery on a broken collarbone and treatment for a third-degree separation of her opposite shoulder. Joines mulled retirement, but decided instead to abandon racing downhill and super-G so she could concentrate on slalom and GS.
"I've been hospitalized in crashes a lot," said the Rossland, B.C., resident who has the self-explanatory nickname Crash. "Just that fact alone has made me think more about some of the decisions I make. Just for the sake of my career continuing into the future, I need to be a little more proactive in injury prevention. That would be the impetus in my making that decision to concentrate on the technical events."
During her career Joines has been a two-time International Paralympic Committee (IPC) World Champion, has won 22 IPC World Cup races and was a bronze medallist in the super-G at the 2006 Paralympics in Turin, Italy. She's a fearless competitor, and giving up the speed events was like Jacques Villeneuve walking away from Formula One racing.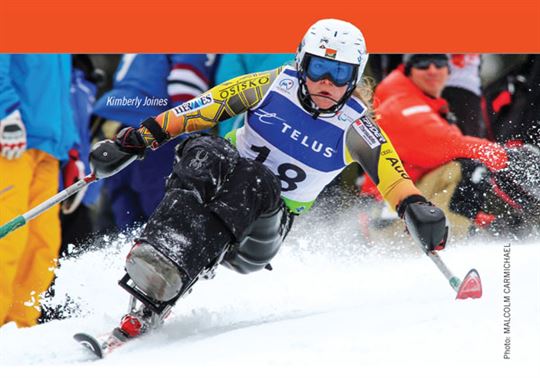 "I've always been naturally inclined and fairly good at the speed events," said Joines. "It certainly is difficult to remove those opportunities for success from my plate. I think having 10 more years of success in the technical events will probably balance out the time away from skiing that I have while I'm injured."
Labrie supports Joines's choice. "She's had some big crashes," he said. "She's recovered from a lot of injuries. The last few years we were trying to chase too many things. It put stress on her, on the program. We've decided to target those two events. Right now that's been paying off. She really is skiing well and strong. Everything is really positive."
Joines had planned to be a snowboarder until she suffered a spinal cord injury in a terrain park accident in 2000. Since then she's established herself as one of the world's top women sit-skiers, but success has come at a price. She's suffered several serious injuries, including a broken hip that prevented her from competing at the Whistler Paralympics. "My heart shattered at the same time as my hip," she said.
Concentrating on the technical events has been a bonus physically and mentally. "The improvement that happened in my technical skiing, even the weight off my shoulders of the fear of injury, it really frees up my mind to focus on different things," she said. "It was a positive effect that I wouldn't have anticipated."
Marcoux of Havilland Bay, near Sault Ste. Marie, Ontario, was just 15 when he exploded onto the international scene in 2012, claiming three IPC World Cup podium finishes and collecting a silver medal in GS at the World Championships. He continued his momentum this year by winning a World Cup super-G in New Zealand.
"It's been a big learning curve, learning all the tricks of the trade," said Marcoux, who began losing his sight at age nine due to Stargardt's Disease, a degenerative condition. "Every time you go to a bigger, more important event, all the pre-race nerves come back and everything gets 10 times scarier."
Any anxiety Marcoux might feel before a race is eased by knowing his competition guide is older brother Billy Joe. "I've grown up with him. I know exactly who he is as a person," said Marcoux. "He knows how I ski and I know how he skis. We know exactly pretty much everything about each other."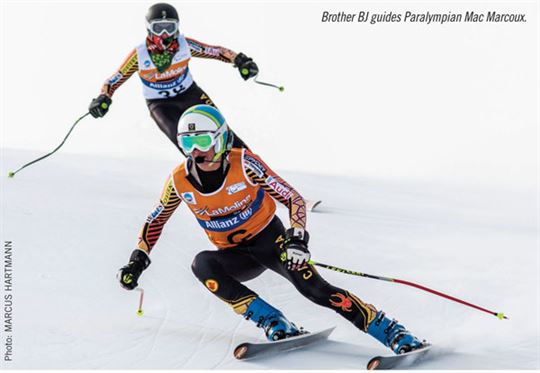 Comfortable skiing all disciplines, Marcoux believes his best medal chances are in GS and slalom. "I would definitely want a gold medal," he said. "I'm not just going [there] to come 2nd or 3rd or 5th. I want to strive for the top."
Labrie said Marcoux has the ability to win a medal in Sochi, but won't reach his full potential until the 2018 Paralympics. "We do have expectations for him, but at the same time we realize he's really young, he's learning," said Labrie. "Every race we go, he's learning how to race. I think he's just a sponge right now. We have to put him in a good situation."
Dueck gained international recognition last February when he became the first sit-skier to complete a backflip on snow. His racing has suffered the last couple of seasons as he struggled to perfect the adjustment of his sit-ski. The final pieces of the puzzle fell into place during a September training camp in Switzerland. "Literally everything came together at once," he said. "In 12 days of skiing we made eight big strides. It was unbelievable. It felt like a miracle, but I think it was a product of years of hard work coming together at the right time."
Labrie likes Dueck's podium chances. "If you had talked to me six months ago, I wouldn't think that Josh had any chance," he said. "With what I've seen in the last month or two, I'm pretty confident Josh will be in the game."
Para-Alpine skiers contributed 11 medals to the 19 Canadian athletes won at the 2010 Paralympics. Lauren Woolstencroft won five gold, Viviane Forest had a gold, three silver and a bronze, while Dueck earned a silver in slalom. Both Woolstencroft and Forest have retired.
Leading up to Sochi, the Para-Alpine goal was eight medals. That number may be hard to achieve following Forest's sudden retirement last year, Joines's decision not to race the speed events, and questions about veteran visually impaired racer Chris Williamson's recovery from a broken leg.
"At this point we would need all the planets to align to get eight medals," said Labrie. "It's still possible, but I think once we know…who is healthy and who is racing what, I think we'll have a clearer picture of our chances of medals. At the moment we don't focus too much on that. We are focused on the preparation and doing our best every day to be prepared."
---
Tags: Jean-Sebastien Labrie, Josh Dueck, Kimberly Joines, Lauren Woolstencroft, Mac Marcoux, Para-Alpine, Paralympics, Rosa Khutor, Sochi 2014, Viviane Forest