Reading Time:
2
minutes
50th Anniversary looking back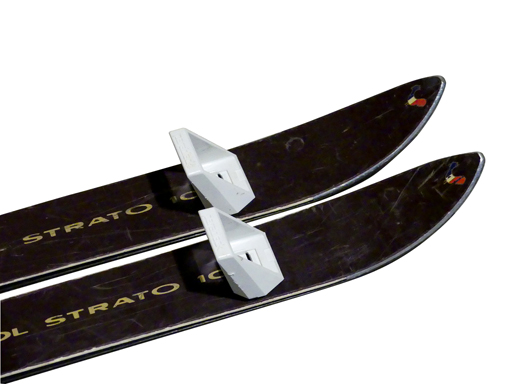 Back in the day, when the epitome of style was skiing with feet and legs glued together as one on skinny, unshaped 207s, there was an increased risk of crossing one's ski tips. The solution, we were told and sold, was a clever little accessory called Parablack, which consisted of a plastic barrier affixed near the tip of each ski. The problem was that if you were unlucky enough to cross your tips in spite of the Parablacks, it was difficult to uncross them. Maybe that's why they never caught on. Or perhaps because you looked like a wanker.
Attached via metal plates glued to the skis, each Parablack was connected to the plate with a plastic wedge so they could be easily snapped on and off for transportation and storage.
It's a little known fact that Parablacks played a minor part in the illustrious history of the Canadian Ski Instructors' Alliance (CSIA). In 1979, for the CSIA Demonstration Team's final run at Interski in Zao, Japan, it was decided that the Canadian team would swoop down the slope performing synchronized magic—with smoke flares (sourced from the skydiving community) attached to their skis. The metal attachment plate was already bonded to each demonstrator's ski so a Parablack, with a smoke flare taped on, could be quickly added.
As the team assembled at the top of the slope for the final run, assistants scurried out, snapped on the pyrotechnic accessory—and lit the fuse. Onlookers saw a cloud of orange smoke billow up from the start area and then we set off, streaming brightly colored smoke.
Fortunately, few photos from that spectacle have survived. It sounds a bit crazy now, but it seemed like a good idea at the time.
by MARTIN OLSON in Buyer's Guide 2022 issue
The Good the Bad and the Ridiculous