Reading Time:
2
minutes
Pangea Pod Hotel – not great for sleepwalkers
If you equate affordable Whistler with living in your van, think again. Pod-dwelling is the Coast Range's most gabbed about cheap (relatively) and cheerful billet, a capsule concept just a few minutes' walk (or stumble) in ski boots from the gondola and every bar, boutique and beauty salon ready to accept your leftover cash.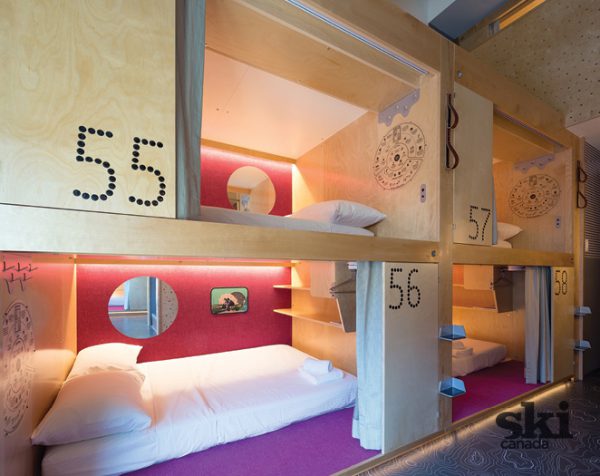 With surge pricing from $50 to $200 in high season, Pangea Pod Hotel offers 88 sleeping cabins (think comfy train berth with all the trimmings), each equipped with loads of clever design features and surprisingly high levels of privacy and comfort. Ideal for solo skiers and fun-lovers keen on socializing, suites are co-ed and female-only with six to 18 pods and a spotless shared loo. Upper pods are accessed by rungs (not climbable in ski boots), and a large window lets natural light into the suite.
Go doggy-style to clamber onto your memory foam mattress dressed with soft pillows, white all-cotton sheets and duvet, and a fresh towel. The bed takes up nearly the entire pod, my spread-eagle arms just grazing the walls on either side. It's ample room for one sleeper (sharing is permitted but not encouraged, probably as much about luggage than evening shenanigans). About a metre near the bed is sufficient for a suitcase, with hangers, good lighting, speedy WiFi and bespoke lockbox with USB for a laptop and valuables. A heavy curtain provides some privacy, and an optional fan switch creates a white noise hum and regulates pod temperature.
A magic wristband opens doors and pays for food and drinks—and they all rock. The Living Room's excellent menu includes warm, house-made flatbread and charcuterie, pizzas and yum salads like butternut squash, feta and eggplant. A fab coffee and eggs Benedict breakfast is equally delish. Craft beers, wines and cocktails accompany seriously groovy tunes that pulse among long shared tables and intimate twos and threes—a funky place to make mountain friends, not heaps of debt. pangeapod.com