Reading Time:
3
minutes
"There's no other sport that competes with skiing when it comes to doing it in a group.''
After taking several harried-sounding phone calls on the chairlift, Axel, our French ski instructor-guide at the Swiss resort of Crans-Montana, announces that he has to cut short our time together. "I must service another client." He tells us about the British woman twice his age who always asks for him. "She is very demanding."
I immediately tease him about being a "kept man" but the term is lost in translation. Holly, my ski-buddy sitting on Axel's other side, chimes in to offer a more international metaphor, "So, you're her boy toy!"
"Yes, I am French," says Axel stoically, "but it's better to leave them with anticipation than act on your impulses…"
I make a mental note for a possible story idea.
Following an energetic Ski Canada Readers' Trip to Disentis last February, Holly, Trevor and I extended our Swiss sojourn for a few days and hopped on the train to scout out a destination for one of 2018's group trips. The moment we arrived, Crans-Montana felt fancy. With five five-star hotels and plenty of shopping and dining distractions, spas and nightlife, the resort is built on an enormous plateau (Crans on the west side, Montana on the east) with impressive peaks and monstrous alpine scenery that stretches from the Rhone Valley (500m) to the Plaine Morte Glacier (3,000m).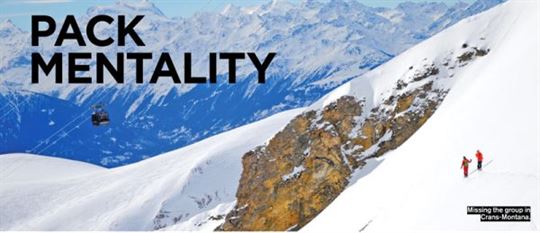 "Lots of terrain, lots of money," muttered Trevor when we arrive. Given its reputation for sun, it's difficult to imagine eating any lunch indoors. The oldest lift here is nine years.
We've arrived during the craziness of World Cup, and as much as I like group trips, big crowds can do me in. So, with all the cowbells, cheering, flag waving and blimps hovering above the racecourse down below, Axel has led us to the resort's highest lift on Plaine Morte. A few minutes later we doff our skis for a 90-second bootpack to get around the backside of Mont Bonvin. We're rewarded with a lovely north-facing, powdery, hour-long run only slightly off-piste that eventually returns us to the ski area's slush bumps and lowest point, Aminona, just in time to catch the bus back to the busy resort's centre.
It was a strange feeling going from 40 boisterous readers ranging in age from teens to 70s only days earlier, to now just the three of us. Over figure-eighting a pot of bubbling fondue at the very Swiss Le Chalet restaurant, we admit to missing the group chaos somewhat. Skiers can be social beasts.
One of my favourite group trips was three families piled into a beautiful slopeside chalet at Big White several years ago. The cousins and friends entertained each other on- and off-slope, while the parents snuck off on their own to Snowshoe Sam's. My earliest memories of skiing involve rumbling down the highway heading to Quebec in a convoy of family station wagons.
In 2017, travelling ski clubs are seemingly as popular as they've ever been. From school age to seniors, from the chairlift to the hot tub, après-ski, hotel, condo or backcountry cabin, there's no other sport that competes with skiing when it comes to doing it in a group. Hope you meet or meet up with friends this winter on skis.
************************************************************************************************************************************************************************
At press time it appears the 2018 Crans-Montana Readers' Trip (our seventh to a Swiss resort) is full, however, several rooms were still available for March Break at Club Med Les Deux-Alpes in the French Alps. While the all-inclusive concept is appreciated by Canadians, the association with Club Med ski holidays is still relatively unknown. Curiously, though, with all the wonderful food and "free" drinks during the week, what trip vets repeatedly praise most is the organized group instruction and guiding, also included in the price. The key is that your chairlift mates quickly become friends for après-ski, dining and nightclubbing.
For more on Ski Canada Readers' Trips, e-mail: