---
Local boy Joss Advocaat takes on the world at Sun Peaks in the fastest non-motorized sport on earth.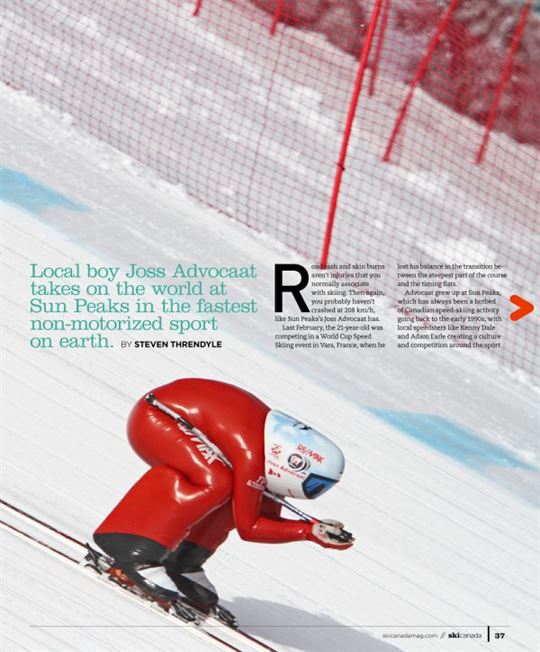 by STEVEN THRENDYLE in the Winter 2017 issue
Road rash and skin burns aren't injuries that you normally associate with skiing. Then again, you probably haven't crashed at 208 km/h, like Sun Peaks's Joss Advocaat has.
Last February, the 21-year-old was competing in a World Cup Speed Skiing event in Vars, France, when he lost his balance in the transition between the steepest part of the course and the timing flats.
Advocaat grew up at Sun Peaks, which has always been a hotbed of Canadian speed-skiing activity going back to the early 1990s, with local speedsters like Kenny Dale and Adam Earle creating a culture and competition around the sport fuelled by its popularity in Europe (Les Arcs) and in Colorado (Silverton Mountain's Velocity Peak). The sport's high point occurred in the 1992 Albertville Olympics, where it became a demonstration sport—alas, one that was never accepted into the Games.
In speed skiing, every item of gear must be specially designed to reduce drag. The skis—specifically made only by Atomic now—are a mind-boggling 238 cm long and, for all intents and purposes, have no sidecut and are therefore pretty much impossible to turn. The speed suit is so tight that most competitors require the help of two people to get fully "wrapped." Poles are curved to wrap around the contours of the body, and the helmet resembles some kind of miniature space capsule, aerodynamically shaped to knife through the air.
Competitions are run by making progressions up the mountainside and eliminating slower racers. Needless to say, waxing your skis in order to decrease friction and improve glide is very important and can often be the margin of victory in a race. While holding a tuck looks easy, the gravitational forces in the transition zone can be brutal.
"A knot formed in my stomach the first time I saw the course," says Advocaat of Vars. "I definitely realized that this was a huge step up from any other course I had ever skied on before. It seemed like I would be falling off a cliff. The top of the course is equivalent to the height of the CN Tower, and I was there to ski off it. Even today, thinking about it gets my palms sweaty!"
Perhaps that's because Advocaat's run soon turned into a nightmare; he lost his balance in the transition between the steepest part of the course and the timing flats.
''Faster, Faster, Faster Until The Thrill Of
Speed Overcomes The Fear Of Death.''
He describes it in detail: "I got past the first timing light near the bottom of the track and all I could see was the inside of my helmet as it pushed up over my line of sight. It honestly took me a while to understand that I had just fallen. I felt an intense burning sensation on one arm because I was sliding on my side."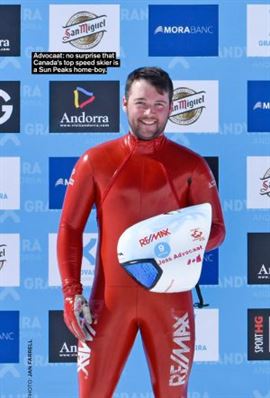 Advocaat struggled to realign his body position so that he could slide on his back protector and not his arm, but "this proved to be too difficult. I could literally feel my skin melting off of my arm. I finally came to rest near the bottom of the finish area, burnt, battered but mostly disappointed in myself. I remember looking up and seeing a French ski patroller come to my aid. He gave me a rapid body survey and before you knew it, I was on a snowmobile heading to see a doctor. At this point I didn't really know how badly I was hurt. Once they got my suit off and cut away my baselayers, I heard a few gasps followed by the snap of a few pictures. I guess they had never seen burns from skiing."

The cause of the crash was simple: the gravitational force generated as he went through the compression zone was just too great. "My weight was forced back behind my bindings and my legs buckled, slamming me to the ground. My skis were bent and delaminated, giving me a clear indication of just how much energy was let out when I crashed.

"There's a bumper sticker that says, 'Faster, Faster, Faster Until The Thrill Of Speed Overcomes The Fear Of Death.' And that's a pretty good description. Your fight or flight instinct definitely kicks in when you find yourself skiing at more than 200 km/h. I still have some scars from the fall, but it's a good reminder of the experience."

Advocaat will be back flaunting gravity again this season, competing in three World Cup races at Sun Peaks from March 5-8. In the spirit of the original Velocity Challenge, amateur skiers wishing to try speed skiing will be able to test their mettle on the Sun Peaks track at a pre-event on March 4. Go fast at velocitychallenge.com.

No Speed Limit_
.

Tags: B.C., British Columbia, Featured, Joss Advocaat, Sun Peaks, World Cup Speed Skiing