Havin' a Time – Marble Mt. Newfoundland
---
Nobody said skiing The Rock was easy, but it's definitely worth the adventure.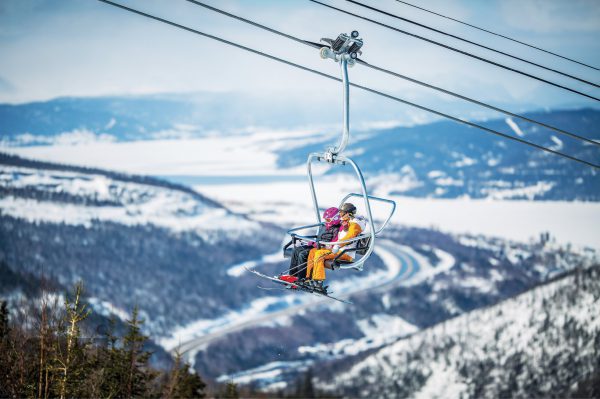 The last time I skied Newfoundland was 1989. Back then, Marble Mountain had a slightly mythical reputation in Eastern Canada. Essentially, it was a local ski hill servicing the small town of Corner Brook and surrounding communities. What made it sparkle was its size. The vertical was a legitimate rival to the mountains of Quebec, Vermont and Maine, and it was easily the biggest terrain east of Quebec. The downside was that it involved a bit of a mission to get there. Access to the island involved either catching a plane from Halifax or a ferry from North Sydney, N.S. The North Atlantic in winter? I don't think so, buddy. I saw the movie Titanic.
Marble's resort facilities in the late '80s were humble, to say the least. The rental shop, restaurant, bar and changing areas were in trailers at the bottom of the mountain. It only added to the mystique. Europe could have its fancy chalets; Marble had Château ATCO. What brought a crew of fellow ski instructors and me to Marble Mountain was the Captain Morgan Cup, a ski race sponsored by a rum company. What could possibly go wrong? Details of that first trip are a bit fuzzy, but what I do remember is the award ceremony being hosted by a person dressed as Captain Morgan himself. I also recall a pretty steady stream of the Captain's finest being passed around—no shot glasses needed, take a swig, pass it on, repeat.
Afterward, we stumbled out into the winter night and found ourselves in a Corner Brook bar called the Rock Garden. There was a pub game that involved riding a tricycle around some pylons before rescuing a mannequin from behind a door. The game then moved outside where the mannequin got tossed from a fire escape and loaded onto a toboggan. Next, it was pulled around an outdoor portion of the course, all presumably being timed, and broadcast via CCTV to monitors inside the bar. What happened next still makes me cry with laughter when I think about it. One of our crew was a little too fired up on the Old Black Rum and had to leave the bar. The bouncers escorted him to the door and out he went. Unfortunately, his exit coincided with a free-falling mannequin. He got flattened like a professional wrestler. The sight of him flailing around in the snow, trying to defend himself from the unseen aerial attacker, is seared into my memory. It remains the funniest thing I've ever seen on TV.
Fast forward nearly 30 years and a few things have changed. My après drink of choice is now tea, and most evenings finish before 10:00 p.m. and rarely in a raucous nightclub. In spite of my surprising maturity, Newfoundland remains one of the most fun ski destinations I've ever visited. The ATCO trailers have been replaced with an impressive, architecturally designed ski lodge. The main lift is now a state-of-the-art high-speed quad, appropriately named the Lightning Express because the previous lift was, you guessed it, struck by lightning. And the mountain? Well, it's still one of the best-kept secrets in skiing. Long runs, consistent quality snowfalls and some of the friendliest locals you'll ever meet. It's hard not to love Newfoundland.
I arrived in early March wishfully dreaming of sunshine and spring conditions. The reality was a weather map that had three nor'easters spinning in the North Atlantic, all ready to pounce. I'd made it onto The Rock; the weather would decide if I was going to make it home. I wasn't concerned. If you're going to be stuck somewhere, Marble Mountain is a pretty great option.
If I was going to be weather-bound, at least I was going to ski pow with one of my best buds. Joining me on this Newfoundland excursion was one of my oldest friends, Brian MacCormack. Indeed, it was his father, Jim, who took me skiing my very first time, and this was my chance to repay a huge debt of gratitude.
Brian made it to Deer Lake, which is the nearest airport to Marble, by the skin of his teeth. The day he flew in, his was the only flight to leave Halifax. I drove to the airport to pick him up with a sense of pessimism, fully expecting that his flight would need to turn back to Halifax. Somehow, though, the pilot found the runway through a fog so thick you could be shingling a roof and end up 10 feet out in midair, still nailing shingles to the mist, it was that thick. After Brian got off the plane and kissed solid ground, we loaded up and headed back to our home for the weekend, the Glynmill Inn, a building constructed in the 1920s. If those walls could talk, they'd probably have a really thick accent and you wouldn't understand a word, but the history of the place wasn't lost on us. I love a place with a story, and this place likely had some good ones.
When you've put the effort in to ski in a place like Newfoundland, it would be a crime to skip out on some of the things that make the place unique. I wanted to try it all. First up was soaring with the seagulls, so the logical choice was Marble Zip Tours. While I was getting harnessed up, I mentioned I owned a zipline operation. There's a certain camaraderie among people who make a living getting people out of their comfort zone. It's also fair to say that I'm a bit harder to impress than someone who's never been on a zipline. The scenery and site were great, and the highlight for me was flying over Steady Brook waterfall. The falls were mostly frozen and the line across the canyon gave plenty of time to check out the views that stretched all the way to the Humber River.
The offices for Marble Zip Tours are located in the main lodge, so after zipping it was as simple as trading a climbing harness for skis. I went for a lap in the beginner area to meet a local ski instructor who has a certain amount of notoriety. Leo Joseph was in the thick of a novice lesson with some of the local school kids. Normally, that wouldn't be an unusual occurrence, except it was Leo's birthday, his 88th to be exact. Leo has been teaching at Marble since before the ATCO days, and has no plans to slow down. One thing I did notice about most of his students was that they were wearing winter clothing with more snowmobile logos than I was used to, sledding being as big a winter activity in western Newfoundland as skiing—maybe bigger.
In order to see what all the fuss was about, we needed to jump on some machines and get out there. The crew at Rugged Edge Outdoor Emporium provided the horsepower and pointed us in the right direction. The scenery, rugged old mountains worn by time and the elements, is stunning. We were able to access a high plateau called Lewis Hills. Renowned for summer hiking, it's become a snowmobile playground in the winter. If the snow conditions had been a bit more favourable, there would have been enough chutes, lines and cornice drops to keep a skier busy for days. We were left to mind-ski all the sick lines and plan for a return trip when the snow was a little better.
Our guide, Mike Normore, wanted to make sure that we got the full Newfoundland experience though, so on our way home we stopped our sleds in a shiver shack, a trailside warming hut, and were treated to sandwiches made from an incredible moose roast that he'd prepared for our lunch. The only thing that would have made the experience better was if Great Big Sea had popped out from behind a snowbank and serenaded us with traditional jigs and reels.
With one day of skiing left, the forecast was calling for snow, so the plan was a nice dinner at Sorrento, a fantastic local Italian restaurant, followed by an early night. That was the plan anyway, until we heard about the March Hare. When Brian and I got back to the hotel, the parking lot was full. There was a fella on the steps of the Glynmill having a smoke. His look was unique, somewhere between Derek Zoolander and Sid Vicious from the Sex Pistols. We didn't know who he was, but he was obviously somebody. We asked what was happening and he replied simply, "It's the March Hare." He was a man of few words so a few follow-up questions gave us our answer. The March Hare is an eclectic gathering of musicians, authors, poets and sundry artistic types. So much for an early night. We paid the entry and joined the audience.
The first act was gusle player Miljan Vujovic from Serbia. If you're asking yourself what a gusle is, you wouldn't be alone. A gusle, as I learned, is a two-stringed instrument that sounds a bit like a kid in grade three learning the violin, mixed with a car alarm. It's accompanied by singing that wasn't like anything I'd ever heard on top-40 radio. It might be big in Serbia but the effect in downtown Corner Brook was a bit different. While I appreciate most opportunities to experience other cultures, the sight and sound of the gusler in full regalia was a bit too much. I've known Brian my entire life and I knew that if I even glanced at him, it was game over. Unfortunately, it was too late. I could feel myself losing it, and when the giggles hit there was nothing to do but bite my tongue hard and ride it out.
Luckily, the gusle was followed by some really great poetry, book readings, local musicians and traditional storytelling. It was one of those unexpected experiences that happen when you're open to them, and they sometimes make trips special. That's Newfoundland—you never know what you're going to get, but it's going to be something memorable. And our mystery man on the hotel steps? It turned out that he was a local author and actor named Joel Thomas Hynes, nephew of the great Newfoundland songwriter Ron Hynes and star of the CBC TV show, Little Dog.
After our cultural awakening, all I could think of was how good the skiing was going to be the next morning. It had been snowing all evening and the cars in the parking lot had turned white. I felt like a kid on Christmas Eve. We weren't disappointed—we scored a solid morning of over-the-boot freshies. With no lift lines and a crowd that seemed to be searching for the groomers, there was no shortage of stoke. Powder rules were in full effect. I got to ski some of the classics, runs like Boomerang, Blow Me Down, OMJ, Ugly Stick and Tuckamore Tangle. I can honestly say that Marble has the best run names out there. When we'd had our fill, and found every last stash of fresh snow, it was time for a pit stop in the Knotty Pine Lounge.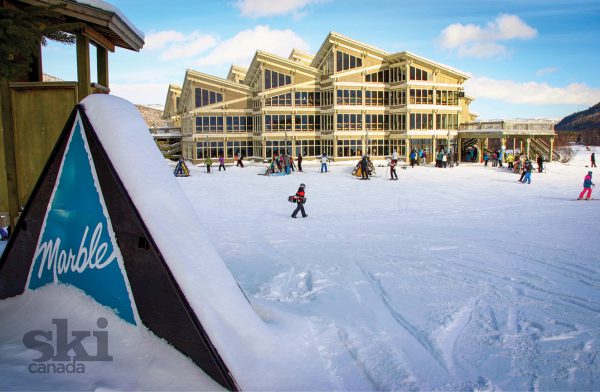 Most of the amenities at Marble are located in the main lodge. Looking out the expansive windows, it's easy to forget that you're on the west coast of Newfoundland. The timber-style building would be at home in the Rockies or the West Coast of B.C. When it was built in 1995, the base lodge was intended to bring resort facilities on par with some of the more established resorts in Quebec. The result was impressive, but the more difficult challenge remains: how to fill that lodge. With a provincial population of around half a million and the city of Corner Brook at 20,000 people, the success of Marble depends on destination traffic from surrounding communities, the mainland and abroad.
The conundrum is this: what makes Marble Mountain unique also makes increasing the number of skier-visits challenging. The reality is coming from away isn't easy, and the competition in the marketplace is intense. When faced with the cost of airfares to Newfoundland, compared with travelling to other established winter resorts, many skiers head west. Marble has combatted this trend with annual top-ups from the provincial government to offset the operating costs of keeping the mountain open.
The current government, however, is reluctant to be involved in the ski industry. In late June the government issued a Request for Proposal, seeking private-sector interest in taking over the operation of the ski area. In the press release announcing the RFP, Finance Minister Tom Osborne said, "Our government recognizes the value of the Marble Mountain Ski Resort as a strategic asset for tourism on the province's west coast. Through the participation of the private sector, and government's continued efforts to market the tourism industry in Newfoundland and Labrador, the Marble Mountain Ski Resort has potential to be a profitable, multi-season tourism destination in Eastern Canada."
Resort Marketing Manager Richard Wells commented that, as of press time, the resort had not been notified of a deal pending between an interested party and the province. The resort will be streamlining operations this season by closing on Tuesdays to reduce costs. My prediction is that if Murphy's Law is in effect, all major snowfalls this season will hit on Monday evenings. The upside might be an increase in the sale of ski touring equipment in Corner Brook.
Whatever the future holds for Marble Mountain, one thing is clear. Newfoundland skiers are a hardcore and loyal bunch. There is a resiliency that exists in the Atlantic Provinces, and a sense of optimism. The question remains: Should Newfoundland be on your list of places to ski? The answer to that is a resounding "Yes, b'y!" All it takes is a sense of adventure, a love of new experiences and the willingness to be open-minded about why we travel to ski in the first place. Just don't be surprised if someone asks, "Who knit you?" After all, your accent makes you a come from away.
''The North Atlantic in winter? I don't think so, buddy. I saw the movie Titanic. ''
Drop over 'round by and by
• Air Canada has year-round service to Deer Lake via Halifax.
• Snowmobile rentals and guiding: Rugged Edge Outdoor Emporium. ruggededge.ca
• Zipline and snowmobile distractions: marbleziptours.com
• Best bets for food in Corner Brook are Newfound Sushi (newfoundsushi.com), Madison's at the Marble Inn (marbleinn.com) and Sorrento (sorrentorestaurant.ca).
• Sleep well at the Glynmill Inn: steelehotels.com
• More info: skimarble.com or gowesternnewfoundland.com




Tags: Marble Mountain, Newfoundland