Reading Time:
2
minutes
"No beginner terrain off this lift" the redundant sign at the bottom read. It didn't matter if it was read before a liftee offered the cold plastic circle to put between your legs—no beginner would make it to the top of the Summit Platter anyway.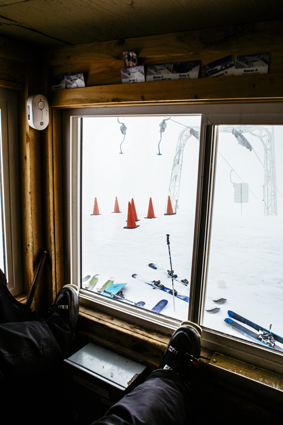 Rising to the peak of Lake Louise Ski Resort, the one-person surface lift, at one time a T-bar, has been a right of passage at The Lake since 1976. The tricky track could knock experts to the snow and lift light skiers off their feet. The stubborn and foolish would get dragged. The crux, a 40-degree uphill headwall, tested arm and leg strength. And with a constant wind, arriving at the summit with white patches on the cheeks was common.
Even getting off wasn't easy. Let go too early and the respooling line would whip around the cable, stopping the lift. The verbal assault from the lift attendant and stink eye from every person still riding the platter was enough to make many think twice about Summit laps.
Ah, but the rewards. First, just making it up the lift. Second, the view: one of the greatest in skiing. And then there was the terrain. It has the steepest runs and deepest snow at The Lake, and some of the most consistent fall-line turning in Canada. For this winter that includes West Bowl. The 200 hectares of former backcountry is now patrolled and avalanche controlled.
But the Summit Platter is not how people will access it. Over the last couple winters, the nostalgic lift had more and more mechanical issues. "It wasn't reliable enough for the increased traffic we expect with the opening of West Bowl," says former marketing manager Dan Markham.
Over the summer, the platter was quietly replaced by a quad chair, the first investment in the resort's 20-year, $200-million improvement plan. Instead of earning every metre, skiers will now relax their way to the top of the mountain. The snow will be the same. The terrain will be even bigger and the vertical longer. But some of the accomplishment and satisfaction of Summit laps disappeared along with the platter.
by RYAN STUART