Reading Time:
< 1
minute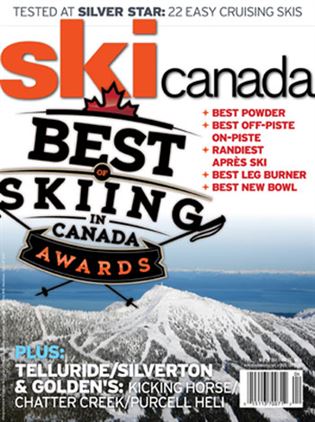 Published week of January 10, 2011
On the cover – Where: Mount Washington
Photo:Wally Randall – skier: Paula Steinheber – where: Kicking Horse
FEATURES
Ski Canada's annual look at the people, places and things that make skiing at home so great. Compiled by Leslie Woit
For hardcore skiers, this BC town offers a tasty triple scoop of cat, heli and resort skiing. by George Koch
Both the similarities and contrasts of Telluride and Silverton in southern Colorado are what make them so perfectly complimentary. by Iain MacMillan
Freeride skis have come a long way in the last decade. by George Koch
SKI CANADA TEST: PT.4 EASY CRUISING
These skis offer excellent value, but also strong performance at intermediate to advanced speeds on groomed slopes By Ron Betts, Test Editor
REGULARS
When was the last time you put your skis on the wrong feet? This is what happened when I tested Elan's new Amphibio line in Slovenia. by Iain MacMillan
Our readers write. * Boomers Rock! * Cover-Up * Anyone Missing a Kilt? * Look, Ma – It's Me! * Throw the Book at 'Em * Gone But Not Forgotten
Where eagles fly; Stars on ice; New skiers; Simon St-Arnaud; Skican; 'White Planet', 'Total Skiing'; Mons Hut; Swiss Snowtrain; how deadly is skiing?