Winter 2010: Olympics Ski Guide
---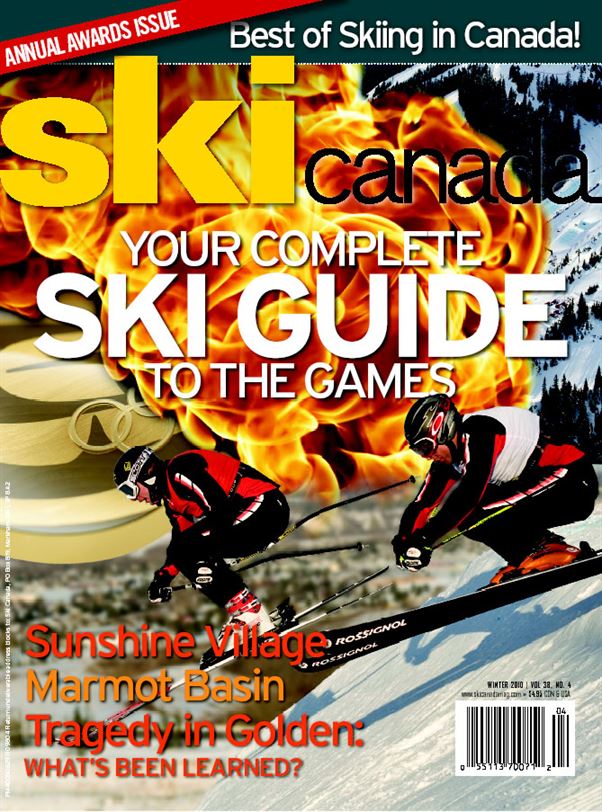 Published week of January 11, 2010
On the cover – Photo: JOHN EVELY
2010 Olympic Preview
ALPINE
It's anybody's game at the races in Whistler—but hopes have never been higher for Canadians to medal. by James Christie
FAST FACTS ON ALPINE RACING GEAR
By Steven Threndyle
MY 28-MINUTE DOWNHILL
Women's head coach Rob Boyd helped Leslie Woit cut her time in half on Whistler's Dave Murray Downhill.
Q&A
Heading to Whistler? What to know before you go.By Steven Threndyle
SKI CROSS
Making its debut at the Games, the newest medal event is generating more than its share of excitement. By Ian Merringer
FREESTYLE
Cypress Mountain is primed to showcase who's hot in moguls and aerials.By Glenn Cullen
CHARTING BIG-MOUNTAIN ATTITUDES
By Steven Threndyle
THE QUEBEC CONNECTION
by Marie-Piere Belisle-Kennedy
Features
BEYOND THE ROPES
Last winter's tragedy at Golden, where a Quebec couple disappeared off-piste at Kicking Horse, will have a lasting impact on search-and-rescue operations.
By Monica Andreeff
BEST OF SKIING IN CANADA 2010
Each year Ski Canada collects kudos and accolades from across the country about what makes us the best. Compiled by Leslie Woit
UP HERE ON MY OWN
Solo dawg Pat Lynch found what he was looking for, and more, at Sunshine. By Pat Lynch
Regulars
FIRST TRACKS
Best buns on the hill. By Ian MacMillan
SHORT TURNS
Slide of the century at Rogers Pass; Fanning the flame – Peggy Austin carries the torch at Tremblant; The Winners' Circle – Ski Canada Awards 2010; Book reviews: The Swiss Cookbook by Betty Bossi;Ultimate Skiing by Ron LeMaster; Winter winners of free skiing all winter at Sun Peaks and Powder Highway.