Annual: 2011 Buyer's Guide
---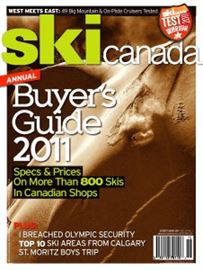 Published week of August 30, 2010
On the cover – Photo: Grant Gunderson – Skier: Cody Barnhill – Where: Mount Baker WA
BUYER'S GUIDE 2011
VOL. 39 NO. 1
Features
NEW & IMPROVED
A George Koch roundup of 10 top resorts on the road from Calgary.
THE OTHER SIDE OF THE ENGADINE
Switzerland's unique valley holds much more than St. Moritz .. by George Koch; photos: Sven Brunso
CROSSING THE LINE
There's $50 in my ski pants that says we can beat the $1-billion Vancouver-Whistler Olympic security dragnet. by Andrew Findlay
Regulars
FIRST TRACKS
Life on K2. Fredrik 'Frippe' Ericsson's attempt to climb – but more fantastically, ski – K2 this summer was part of a mountaineering hat trick. by Iain MacMillan
SHORT TURNS
News, gossip and racy photos.
CROSSHAIRS
Guest Photo Editor Jordan Manley picks his favourites for our skier's gallery.
STYLE FILE
Chris Lennon explains how to make Air Turns and Hop to Recover.
LETTER FROM THE ALPS
High tech ski huts. by Doug Sager
CAUGHT AND SHOT
by John Evely