---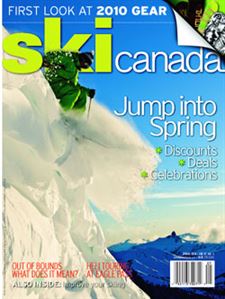 SPRING 2009 VOL. 37 NO. 5
Published February 23, 2009
On the cover: Chris Eby on Blackcomb Mt. Photo: ERIC BERGER page image: Photo: PATRIK LINDQVIST
FEATURES
FOUR FACES OF SKIING
It takes a cast of characters to make an industry interesting. Meet Eddie the Eagle, Rudi Gertsch, Michael "Pops" Stockton and Mélanie Turgeon.
NIGHT MOVES
Listening to the mountain after dark. By Ian Merringer
WHIRLWIND TOUR
For those who don't want to work too hard, Eagle Pass Heliskiing is happy to give you a boost into the backcountry. By Andrew Findlay
SNEAK PEEK 2010
If you just can't wait for the Fall Annual Ski Canada Buyer's Guide, Technical Editor Marty McLennan offers a look at what's coming down the pike.
SPRING HAS SPRUNG
With the change of seasons, the best is yet to come in ski country with plenty of events, discounts and deals.
REGULARS
FIRST TRACKS
The editor has his run. By Iain MacMillan
SHORT TURNS
News, gossip and racy photos.
2010 COUNTDOWN
By Kim Thompson
CROSSHAIRS
The best of ski photography: Pascal Lebeau at Tignes, Jordan Manley at Nelson BC, Ryan Creary at Rogers Pass, BC, Martin Soderquist at Davos, Ken Gallard at Taos NM
SEEN @ WHISTLER
Something for everyone.'Skiing is life,' a poetic Dean Cummings once told me when I first met him almost a decade ago. By Chris Lennon
WESTERN VIEW
Getting the message across. "If people understand what boundaries are, versus closed areas, versus avalanche warnings, they should be able to make an informed decision." By George Koch
RACELINE
Lead by example. By James Christie
STYLE FILE
Tips on technique. By Chris Lennon and Martin Olson
CAUGHT & SHOT