December 2010: 2011 Travel Guide
---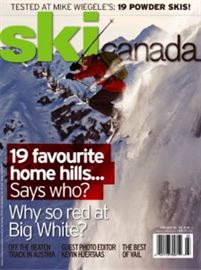 Published week of November 15, 2010
TRAVEL GUIDE 2011 VOL. 39 NO. 3
On the cover – Photo: Ryan Creary – Skier: Brent Firminger – Where: Kicking Horse backcountry
FEATURES
Ski Canada chatted with some passionate locals who have had a longstanding love affair with their
home hill. By Leslie Woit
THE GREAT UNKNOWN
Serfaus, Austria, isn't a popular destination for N orth Americans, but after days of powdery
surprises George Koch and friends think that should change.
POSTCARDS FROM VAIL
A few days at Vail and Beaver Creek will have you writing home about the best parts.
By Iain MacMillan Photos by Marty McLennan
SEEING RED
A trip to sample Big White's early-season snow paired nicely with the best from more than 30
Okanagan wineries. By Andrew Findlay
SKI CANADA TEST: FUN ON FATS
Ski Canada asked the guides at Mike Wiegele's to put 19 powder skis to the test.
By Ron Betts, Test Editor
REGULARS
FIRST TRACKS
One tear in the lederhosen, and something always seems to happen when you're bent over in leather pants and trying to raise a Maypole in February. by Iain MacMillan
SHORT TURNS
Louise Plus Card, Ski More Card, another Marmot quad coming, Tommy & Lefebvre, Over the Hill Downhill, Georges Salomon, no more Miller time, Ski ChicChocs
CROSSHAIRS
Guest Photo Editor Kevin Hjertaas picks his favourites for our skier's gallery.
STYLE FILE
Chris Lennon demonstrates the strong arm of the pow.
SEEN@WHISTLER
Making the move. Quit your job and move to a ski town. A few pointers from a skier who did just that. by Chris Lennon
RACELINE
Inside the Canadian ski teams. by James Christie
TECH TALK
Ski Geometry 101. Sidecut, radius, camber & rocker. by Marty McLennan
GEAR & GADGETS
Helly Hansen Mission Down Jacket; Woodys Austrian shoe; MuscleCare topical pain reliever; Phenix Norway Collection; Bollé Simmer Goggle; Contour HD GPS camera; Mountain Hardwear Typhoon Glove
CAUGHT AND SHOT
Now, swing your left tip to the right. No, your other right. No, no, no, your back tip. That's it! Now, bend up as you push more down. More! Hey Paul, did you know you're flying low?