Reading Time:
2
minutes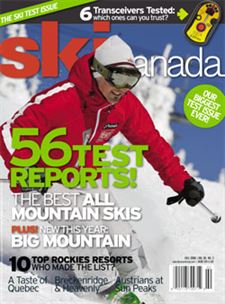 FALL 2009 VOL. 38 NO. 2
Published week of October 12, 2009
On the cover: Ski Canada tester Paul Oulette at Big White, BC. Photo: JOHN EVELY page image: SKIER: David Teichrob PHOTO: NICOLAS TEICHROB
SKI CANADA TEST 2010
PART 2: BIG MOUNTAIN, EXPERT ALL-MOUNTAIN AND ADVENTURE ALL-MOUNTAIN
Big White played host to North America's longest-running ski test.
Written by Keith Harradence
FEATURES
CALGARY ROUNDUP
10 great ski areas tempt locals and visitors alike with all that's new and improved.
By George Koch
THE HILLS ARE ALIVE… WITH THE SOUND OF RACING
The Austrian national ski team chose Sun Peaks years ago to kick-start its season.
By Andrew Findlay
QUEBEC À LA CARTE
Leslie Woit set out to establish her own priorities by eating and skiing her way through the
Laurentians and Eastern Townships.
FAMILY TIES
Breckenridge and Heavenly may share a lot in common with their sister resorts of Vail, Beaver
Creek and Keystone, but they can quite happily stand alone.
By Iain MacMillan
TRANCEIVER TEST
The Canadian Ski Patrol System and Canadian Ski Guide Association compared the
new three-antenna avalanche beacons with existing technologies.
By F. M. Swangard MD, Bob Sayer, Steve Gunderson
HIGH ON ZERMATT
Skiers of all ages enjoy being overwhelmed by the legendary Swiss resort.
By Iain MacMillan
REGULARS
FIRST TRACKS
The editor has his run. 'Is that your final answer?' By Iain MacMillan
YOUR RUN
Opening our mail bag. This issue: Whatever happened to …? It's taken us a while to find enough space to print the cascade of letters that flowed into Ski Canada's mailbox after Marty McLennan wrote about lost ski areas ("Closed Runs") in the Winter 2008 issue. No doubt there are still some grown-over runs and rusty equipment bits of ski areas that have been missed but the response from readers clearly proves a nostalgic passion is alive and well.
SHORT TURNS
'80 Years of ski pants'; World's best para-alpine ski team; Weather Alert! winter, coming soon; 40 years of Wiegele Heli-skiing; 'My brush with Toni Sailer; 'A right Royal rip-off'; 'Rippin' it up at The Peaks – tornado in ski country; Island Lake Lodge; Fit2Ski; Black Diamond AvaLung; and much more.
SEEN @ WHISTLER
Olympic misconceptions. Another misconception that seems to be gaining momentum as February 2010 gets closer is the notion that this winter will be one to avoid visiting Whistler. I believe that this will be the year to come. by Chris Lennon
2010 COUNTDOWN
Aleisha Cline in skiercross; Jennifer Heil in freestyle; Emily Brydon & Kelly Vanderbeek in alpine. by Kim Thompson
CROSSHAIRS
The best of ski photography
Patrik Lindqvist, Stef Godin, Nicklas Blom, Ryan Creary, Doug LePage, Grant Gunderson
LETTER FROM THE ALPS
Switzerland on a budget. 'There are plenty of high-altitude, low-budget alternatives – even in some of the most chic resorts.' by Doug Sagar
RACELINE
Nice n'icy please. 'Canadians like their speed courses to live up to the description of being lightening fast.' by James Christie
GEAR & GADGETS
A little something to add to your collection. By Ray O'Reilly
CAUGHT & SHOT by Henry Georgi