---
Vol 44 #3
published week of November 23, 2015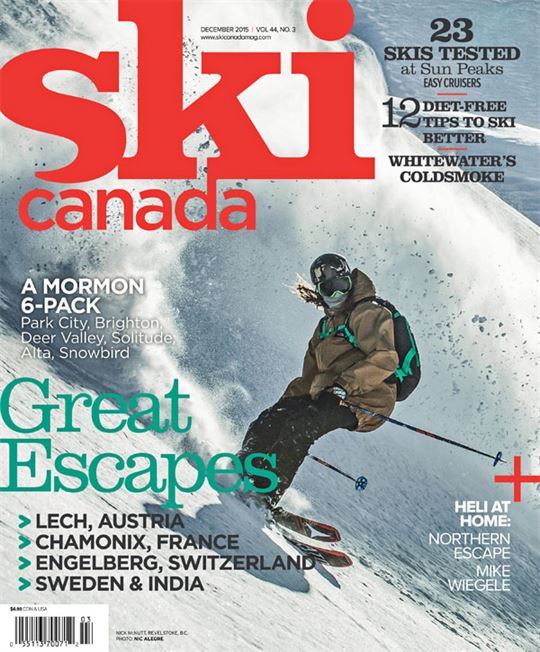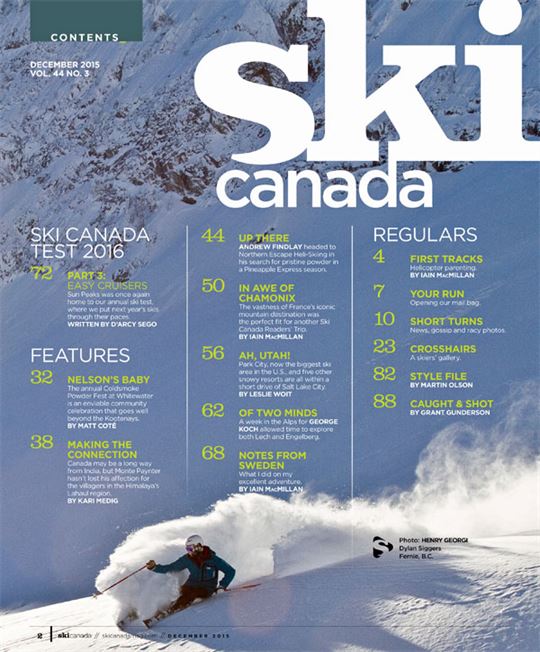 photo: HENRY GEORGI * skier: Dylan Siggers * snow: Fernie, BC
SKI CANADA TEST 2016
 PART 3: EASY CRUISERS – Mid-range performance in long and short turns
Don't be fooled by the "easy" in this category title. It doesn't refer to "easy terrain" but to "easy cruising." The category is all about effortlessly travelling across the slope on a smooth, surefooted ride, one that delivers the assurance and confidence needed to explore all the possibilities in front of you. These fun, intuitive and engaging skis provide a positive all-day experience, allowing a skier to relax in comfort and enjoy the snow. Easy Cruisers burst with operational simplicity as you discover new potential. Sun Peaks was once again home to our annual ski test, where we put next year's skis through their paces.
WRITTEN BY D'ARCY SEGO
FEATURES
 NELSON'S BABY
The annual Coldsmoke Powder Fest at Whitewater is an enviable community celebration that goes well beyond the Kootenays.
BY MATT COTÉ
MAKING THE CONNECTION
Canada may be a long way from India, but Monte Paynter hasn't lost his affection for the villagers in the Himalaya's Lahaul region.
BY KARI MEDIG
UP THERE                   
ANDREW FINDLAY headed to Northern Escape Heli-Skiing in his search for pristine powder in a Pineapple Express season.
      
IN AWE OF CHAMONIX
The vastness of France's iconic mountain destination was the perfect fit for another Ski Canada Readers' Trip.
BY IAIN MacMILLAN
AH, UTAH!
Park City, now the biggest ski area in the U.S., and five other snowy resorts are all within a short drive of Salt Lake City.
BY LESLIE WOIT
OF TWO MINDS
A week in the Alps for GEORGE KOCH allowed time to explore both Lech and Engelberg.
NOTES FROM SWEDEN
What I did on my excellent adventure.
BY IAIN MacMILLAN
REGULARS
 FIRST TRACKS  Helicopter parenting.
 BY IAIN MacMILLAN
 YOUR RUN Opening our mail bag.
 SHORT TURNS
 CROSSHAIRS A skiers' gallery.
 STYLE FILE  * Be your own coach * Bend the inside leg  * Anatomy of an expert turn  * Why skis turn
* Anti-rotation  * Anatomy of an advanced transition
 BY MARTIN OLSON
 CAUGHT & SHOT