Reading Time:
3
minutes
Vol. 40 #1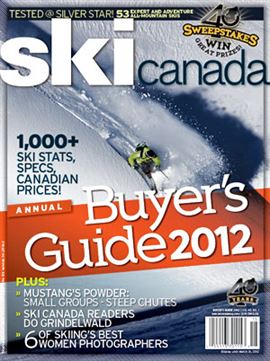 Published week of August 22, 2011
Subscriber copies deliver August 31 to September 12
Newsstand copies display starting September 7
BUYER'S GUIDE 2012
THE INDUSTRY SHOWS OFF
THE BEST OF THINGS TO COME
By Marty McLennan, Technical Editor
SKIS 2012
What's your category?
Frontside: those who dream of sugar-coated waffles – corduroy bathed in a shimmering layer of fresh flakes. Their playground lies under and near the lifts, where access is best and fall lines are guaranteed.
High Performance: the industry knows you're a carving, frontside ripper; they've identified you as a connoisseur; and they've broken all the rules to please you: deconstructing geometry, reengineering light and redefining absorption. Gentlemen (and ladies), start your engines.
All Mountain: Versatility is the name of the All-Mountain game. These skis must perform everywhere under all conditions. Competition is steep—one of the most contested areas of the ski world. The biggest manufacturers are putting their R&D dollars here, while boutique ski makers tap into the domain. Wider underfoot than Frontside skis for better off-piste float, most are now mixing rocker, to ease turn initiation, and camber, for on-slope stability. Expect wood cores and titanium layers for solidity. Garage brands cite underfoots well into the three digits, while the mainstream typically hovers between 80-90mm. With that much real estate below, look for weight-saving technologies.
Big Mountain: Size matters in the domain of the Big Mountain—and it doesn't get any bigger than here. Big Mountain means big snow, air, tricks and glory. It starts around a century underfoot and translates into something beautiful. These are the best-looking boards in the industry, with international artists penning their signatures left, right and centre. But there's more to fine art than the topsheets. Engineering and design play a huge roll. This is the domain of surf-inspired engineering, add-ons and packaging. Big Mountain skiing implies non-lift service, so expect tantalizing pairings with ski-specific skins, packs, bindings and boots.
WHAT ELSE IS IN STORE?
Pushing the boundaries with accessories.
BOOTS 2012
These boots were made for skiing.
SKI LISTINGS
Data on more than 1,000 skis.
SKI CANADA TEST 2012
PART 1: EXPERT ALL-MOUNTAIN
AND ADVENTURE ALL-MOUNTAIN
Silver Star Mountain Resort once again played
host to our annual on-slope ski test.
Written by Ian March
Recommendations Expert All Mt. category
FEATURES
THE CAT, THE GUIDE
AND THE SCHOOL BUS
A return to Mustang Powder brings
a Narnia-like alternative reality of endless
steep runs and breathtaking vistas.
By George Koch
GROUP ON!
Ski Canada's first-ever readers' trip headed to
Switzerland's Grindelwald and the Jungfrau.
By Iain MacMillan
THE WHISTLER CUP'S
KILLER KINDER
No driver's licence required.
By Tobias C. van Veen
A 40th LOOK BACK
Gear that made a difference.
By Martin Olson
REGULARS
FIRST TRACKS
The editor has his run.
By Iain MacMillan
YOUR RUN
Opening our mail bag.
SHORT TURNS
Beaver Valley, Jimmie Spencer, Skoki Lodge, Marmot Basin, 40 Years, Stephanie Jagger, Pyeongchang South Korea, AJ Roberts, Vernon Ski Club, Le Massif de Charlevoix
GEAR & GADGETS
By Ray O'Reilly
CROSSHAIRS
A skiers' gallery.
By Bonny Makarewicz