Reading Time:
3
minutes
These exercises place emphasis on strengthening muscles that may not be used often enough preseason but are crucial for balance and strength. They will help both prevent injury and prepare you for the demands of skiing.
by MARCY VERBURG * Photos Wally Stemberger * Fall 2018 issue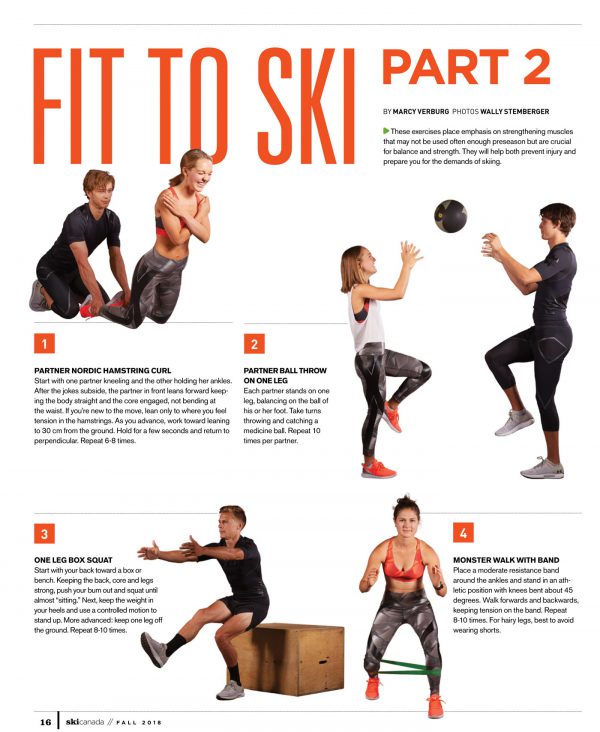 1. PARTNER NORDIC HAMSTRING CURL
Start with one partner kneeling and the other holding her ankles. After the jokes subside, the partner in front leans forward keeping the body straight and the core engaged, not bending at the waist. If you're new to the move, lean only to where you feel tension in the hamstrings. As you advance, work toward leaning to 30 cm from the ground. Hold for a few seconds and return to perpendicular. Repeat 6-8 times.
2. PARTNER BALL THROW ON ONE LEG
Each partner stands on one leg, balancing on the ball of his or her foot. Take turns throwing and catching a medicine ball. Repeat 10 times per partner.
3. ONE LEG BOX SQUAT
Start with your back toward a box or bench. Keeping the back, core and legs strong, push your bum out and squat until almost "sitting." Next, keep the weight in your heels and use a controlled motion to stand up. More advanced: keep one leg off the ground. Repeat 8-10 times.
4. MONSTER WALK WITH BAND
Place a moderate resistance band around the ankles and stand in an athletic position with knees bent about 45 degrees. Walk forwards and backwards, keeping tension on the band. Repeat 8-10 times. For hairy legs, best to avoid wearing shorts.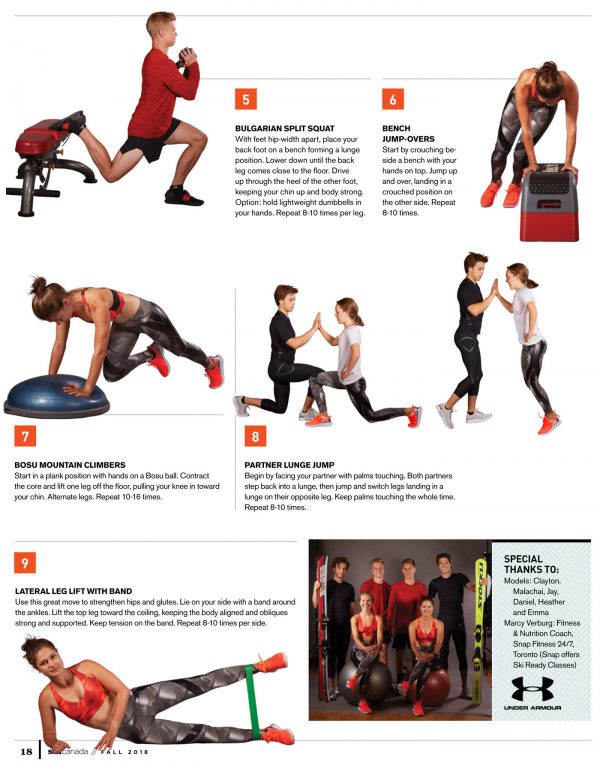 5. BULGARIAN SPLIT SQUAT
With feet hip-width apart, place your back foot on a bench forming a lunge position. Lower down until the back leg comes close to the floor. Drive up through the heel of the other foot, keeping your chin up and body strong. Option: hold lightweight dumbbells in your hands. Repeat 8-10 times per leg.
6. BENCH JUMP-OVERS
Start by crouching beside a bench with your hands on top. Jump up and over, landing in a crouched position on the other side. Repeat 8-10 times.
7. BOSU MOUNTAIN CLIMBERS
Start in a plank position with hands on a Bosu ball. Contract the core and lift one leg off the floor, pulling your knee in toward your chin. Alternate legs. Repeat 10-16 times.
8. PARTNER LUNGE JUMP
Begin by facing your partner with palms touching. Both partners step back into a lunge, then jump and switch legs landing in a lunge on their opposite leg. Keep palms touching the whole time. Repeat 8-10 times.
9. LATERAL LEG LIFT WITH BAND
Use this great move to strengthen hips and glutes. Lie on your side with a band around the ankles. Lift the top leg toward the ceiling, keeping the body aligned and obliques strong and supported. Keep tension on the band. Repeat 8-10 times per side.
SPECIAL thanks to:
Models: Clayton, Malachai, Jay, Daniel, Heather and Emma
Marcy Verburg: Fitness & Nutrition Coach, Snap Fitness 24/7, Toronto (Snap offers Ski Ready Classes)