Reading Time:
13
minutes
ALL-TERRAIN CRUISING, LONG AND SHORT TURNS
Expert All-Mountain skis are designed for proficient skiers who like to rip groomers, float through powder and slash through the trees. Their amplified performance and all-terrain arrogance allow riders to push in all conditions and fully experience the mountain with a hard-charging attitude. Their functional versatility defines the rules of how you're supposed to play outdoors. Some of the skis in this category have limits, while others continue to squeeze the unexplored capabilities resting beneath your insole. When you're hot, you're hot…so buckle up and let 'er rip. Our test team skiers consistently challenge the boundaries of this class to uncover your perfect match for an all-mountain experience.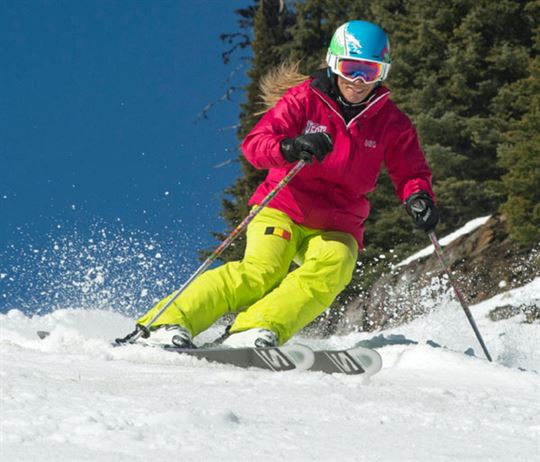 Atomic | Blizzard | Elan | Head | K2 | Kastle | Line | Nordica | Salomon |Stockli | Templar| Volkl
HOW TO USE THIS GUIDE
There's no one ski that's perfect for every skier. There's not even one perfect ski in any one category. That's why Ski Canada doesn't bestow awards and declare "winners." Instead, we break our ski reviews into categories and then for each ski, highlight what kind of skier each ski will appeal to best. To help you match yourself to those two variables, read the descriptions of the different ski categories: What kind of ski do you need? Check out our graphic: What kind of skier are YOU?
Next, check out the profiles of our Test Team and match yourself to ones most like you. Their favourite skis in each category are listed under their bios. Once you've done all that, also try out our app and online tool SkiFinder at skifinder.com to rank test skis based on your personal skiing characteristics. All test skis are scored using the following criteria: Edge Grip, Stability, Agility and Versatility. Read more: skicanadamag.com/test.
Take your best matches and head to your favourite ski shop. Since every ski has a unique feel and personality, try to demo the models you're most interested in. Ultimately, it's the best way to know which one is right for you
FIND SKIS using Ski Canada's interactive ski test tool – SkiFinder. Also available as a free app from the iStore for iPhone & Google Play for Android.
ATOMIC CRIMSON Ti
$999
LENGTHS: 170, 178*, 186  *  SIDECUT: 132.5/86/115.5   *  RADIUS: 16.1 @ 178
BEST IN: EDGE GRIP      OVERALL SCORE: 7.3
MEN: The Crimson Ti is a solid, responsive, smooth-flexing machine that handles well in all conditions and turn shapes with superior versatility and carving ability. Tester Dave Gollogly liked how easy it was to ride: "What an experience! Big cruisy turns for the advanced-expert wanting performance." Open the throttle, balance and enjoy this push-button navigator, as Christopher Nicolson did: "Fantastic! I shouted out 'Yahoo' after my first three turns. It's stable and effortless over firm ungroomed snow, and likes moderate to long turns at speed." Those looking for frontside precision in a variety of snow conditions should put this one on their wish list.
ATOMIC AFFINITY STORM
$799
LENGTHS: 151, 159*, 167  *  SIDECUT: 127.5/84/107   *  RADIUS: 15.2 @ 159
BEST IN: EDGE GRIP    OVERALL SCORE: 8.2
WOMEN: The Affinity Storm was smooth and exciting with a shine for bumps and short-radius turns. "You definitely don't have to work hard to get a thrill from it," commented Ally Wagorn. The ski is lightweight with a floaty all-mountain design to cut the crud, boost your confidence and allow you to take charge. Anne Terwiel found that "it's not a speed demon, but more of a precision tool; great for enabling your technical development." In softer conditions athletic riders will enjoy the "zipability" of this little beauty. A concrete commitment gets this peppy puppy on edge nice and quick, with a consistently stable carving ability at higher speed.
BLIZZARD POWER X8
$950
LENGTHS: 160, 167, 174*, 181  *  SIDECUT: 125/81/108  *  RADIUS: 16 @ 174
BEST IN: STABILITY      OVERALL SCORE: 8.5
MEN: This highly manoeuvrable all-mountain showboat is ideal for launching into big turns without missing a beat. Tester Erin Keam found this rock-solid machine "super lively with a big sweet spot for the most exciting skiing." The Power X8 offers dynamic versatility ideal for both the heavier and lighter technical chargers looking to rip an arc and leave thin lines in the ice. This frisky little rocket comes with a solid attitude, a touch of fire and sting in the rear. Fritz Stephenson wrote: "It's quick to initiate and as you build pressure throughout the turn, you find a nice kick from the tail."
BLIZZARD VIVA X8
$950
LENGTHS: 146, 153, 160*, 167  *  SIDECUT: 124/81/107  *  RADIUS: 13.5 @ 160
BEST IN: EDGE GRIP      OVERALL SCORE: 8.2
WOMEN: A smooth and influential powerhouse, the Viva X8 has a fabulous feel and a jolly-good attitude. It doesn't matter if you prefer hard groomers, soft snow or a varied expansion of terrain, testers felt the ski was easy to handle and suitable for any rider. Barb Kupferschmidt found a favourite on her run: "It did everything I wanted with lots of energy. It's fun and exciting." Our female testers found this ride was dependable, predictable and instils all the confidence skiers need to increase speed and go everywhere. Britta Gretzmacher commented, "I just love the agility and edge grip—there's a perfect combination underfoot."
ELAN AMPHIBIO 88 XTi
$699
LENGTHS: 170, 176*, 184  *  SIDECUT: 135/88/116  *  RADIUS: 17.2 @ 176
BEST IN: LONG RADIUS      OVERALL SCORE: 7.5
MEN: With 88mm underfoot, Elan created a ride that delivered in all snow conditions. Happy anywhere on the mountain, the Amphibio 88 XTi likes to grip hard on the groomers and party through the bumps. For experts looking for one device that does it all, this all-terrain 4X4 should not be overlooked. George Terwiel liked that it was "easy to operate, with good performance in short and long turns, and soft and hard conditions. No surprises with a big sweet spot and solid grip." Guy Paulsen added: "Simple, powerful and versatile. Loved it! This ski offers stability at both medium and higher speeds, and has great progressive flex."
ELAN TWILIGHT 90 CARBON
$549
LENGTHS: 155, 164, 173*  *  SIDECUT: 129/90/114   *  RADIUS: 16.7 @ 173
BEST IN: INITIATION        OVERALL SCORE: 5.5
WOMEN: This delightful performer eats Jell-O on Wednesdays and puffs of powder on the weekends. With a smitten Dutch love for those adventurers seeking a freeride performance, the Twilight 90 Carbon sparkles from every angle. Gillian Browning commented, "It would be at home exploring the trees, and held its own on steep terrain." Lusting short turns? This light and airy ski pivots easily with minimal edge engagement to make smear-turns a breeze. As Jill Sagan noted, "If you love short turns and soft snow, this is your ski. It's a light-hearted cruisy ski that will shine on powder days."
 HEAD MONSTER 88
$699
LENGTHS: 163, 170, 177*, 184  *  SIDECUT: 133/88/114  *  RADIUS: 17.4@177
BEST IN: STABILITY      OVERALL SCORE: 7.4
MEN: This is a big-mountain beast with an uncanny ability to charge hard and let you throw all your creative frustration and power into arcing fun, elasticized turns. Ian March "just let 'em ride. It cut through the crud with precision." Solid underfoot, predictable and secure, the ski holds tight and likes to go fast. Heavier, commanding guys will likely prefer the freight-train experience more. Like a five-ton truck, it's solid and able to bash and blast through the craziest gibbery terrain. Heavyweight Mark Stein agreed: "A silky-smooth ride for the entire mountain. The huge sweet spot on this ski makes for a great ride in all conditions. Category-defining ski."
HEAD TOTAL JOY
$749
LENGTHS: 148, 153, 158, 163, 168*  *  SIDECUT: 134/85/114  *  RADIUS: 14.5 @ 168
BEST IN: STABILITY      OVERALL SCORE: 7.3
WOMEN: The Total Joy was just that, with its easygoing attitude and a twist of fun. It delivered a consistent ride through a variety of terrain. The ski was "simple, obedient, and reliable in all conditions," commented Katie Joyce. This is a friendly feline best suited for the lighter finesse rider working her technical strengths. And like any happy kitty, when the game is on everything comes alive. It's trustworthy and entertaining so you can kick it up a notch for all-day shredability, which is just what Wendy Lumby did: "It's smooth and easy in any turn shape. This baby knows how to rip."
K2 iKONIC 85Ti
$950
LENGTHS: 163, 170, 177, 184*  *  SIDECUT: 126/85/114    *  RADIUS: 17 @ 177
BEST IN: INITIATION      OVERALL SCORE: 7.0
MEN: Smooth and stable, the iKonic 85Ti floats and slices through bumps and soft snow, and delivers consistent snow contact and maximum edge grip. It's versatile enough to punch the sidecountry and slash around in your Superman suit. When it pukes, don't be shy—go tear the mountain apart on the iKonic 85Ti. As Kristian Armstrong wrote: "With more snow, I could see this ski coming into its own. Long turns were very smooth and required constant input." Christopher Nicolson felt it was "an easy cruising ski for pistes all over the mountain. It favours a relaxed skier looking for easy initiation and a consistent turning radius. A fun ski for soft conditions."
K2 OOOLALUV 85Ti
$900
LENGTHS: 156, 163, 170*  *  SIDECUT: 126/85/114   *  RADIUS: 14 @ 170
BEST IN: LONG RADIUS      OVERALL SCORE: 6.9
WOMEN: This laid-back, feather-light cruiser is a rocket with a friendly Ferris wheel attitude. The nice big sweet spot and love for steep terrain make this a perfect choice for anyone looking to cut slushy bumps, smooch the fresh powder and nip into the hardpack. Shelley Johnston said, "It's surprising and good, and easy to maintain a steady cadence through the turn." Nice and wide underfoot and delivering a progressive blend of fun and excitement, this ride was summed up as "just plain silly fun." Sandra Haziza found it "very versatile and easy to manage in all conditions. What a sweet ride!"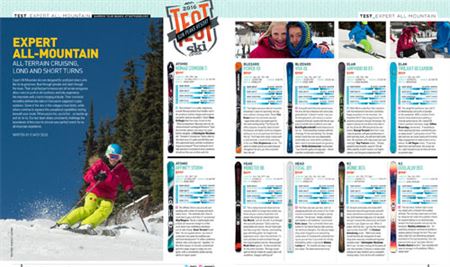 KÄSTLE MX88
$1,299
LENGTHS: 158, 168, 178*, 188  *  SIDECUT: 128/88/113  *  RADIUS: 20 @ 178
BEST IN: INITIATION      OVERALL SCORE: 7.8
MEN: This dark horse will appeal to the expert ripper looking to keep Justin Bieber off the charts forever. The light, floaty ride is capable of hauling huge turns in enormous open bowls with a phenomenal big-boy attitude. Justin Terwiel commented that this was "an absolute dream—so easy in all conditions and very responsive when pushed to perform." Confident pilots wanting versatility and an ability to easily initiate and engage precise edge perfor-mance will love the MX88. Kelly Blunden enjoyed his test run: "There's a sweet blend of torsional stability and even flex making it great in all turn shapes and sizes."
KÄSTLE FX85 HP
$1,099
LENGTHS: 157, 165, 173*, 181  *  SIDECUT: 119/85/108  *  RADIUS: 17 @ 173
BEST IN: INITIATION, STABILITY (TIE)      OVERALL SCORE: 7.2
WOMEN: Grippy and stable with exceptional performance in snarly conditions, the FX85 HP helps set the standard for extreme situations. "Arc it or park it! This ski loves speed," statedDonie Blunden. The large sweet spot makes staying balanced easy. The ski knifes arcs in the hardpack with a smooth and buttery feel, yet remains versatile enough to duck into the bowls. Heavier more powerful riders will squeeze out additional performance, but the light little ripper will spank this one red, as Sandra Haziza discovered: "It really held tight, was agile in the bumps and ploughed through soft snow with ease." Ripping this all day would be effortless.
LINE SUPERNATURAL 92
$600
LENGTHS: 165, 172, 179*, 186  *  SIDECUT: 127/92/115   *  RADIUS: 19.6 @ 179
BEST IN: INITIATION      OVERALL SCORE: 7.8
MEN: With abundant on-piste stability and the quick edge-to-edge attributes of a classic all-mountain ripper, this ski is ideal for a supernatural freaky brute who loves soft snow. "It's excellent for charging the mountain on big snow days," according to tester Paul Cunnius. Compact and quiet underfoot, this Line monsters up big clean arcs and is capable of doing everything—carving with supreme power and hucking with confidence in deep, crotchless powder. It's light and playful with a simple no-nonsense performing flex pattern that allows you to play hard. Rodger Poole noted, "It's versatile and does everything well."
LINE SOULMATE 86
$450
LENGTHS: 151, 158, 165*  *  SIDECUT: 125/86/111  *  RADIUS: 13.2 @ 165
BEST IN: INITIATION, LONG RADIUS (TIE)      OVERALL SCORE: 6.2
WOMEN: If you want to play, venture in the slackcountry or rip big tracks on the backside, your Soulmate just got closer. With an ability to slice groomers and take on the crud, this ski "loves speed and will eat big pow lines," wrote Wendy Anderson after her ride. It's easy to initiate and responsive underfoot, with an ability to hold an edge with superiority and power. Nina Gretzmacher commented that it "shines in short-radius turns and light girls will like it most." Keep centred and balanced and you'll be pleasantly surprised. Treat this ski with respect and it will take care of you wherever you ride.
NORDICA FIRE ARROW 80 Ti EVO
$1,150
LENGTHS: 156, 162, 168, 174*, 180  *  SIDECUT: 130/80/110    *  RADIUS: 15.5 @ 174
BEST IN: EDGE GRIP      OVERALL SCORE: 9.0
MEN: This expert dream machine has tons of energy to deliver a foolish amount of fun with rock-solid frontside performance. Versatile enough to throw down long sweeping arcs and dial-in the itty-bitty tight turns you love, this ball of fire loves to go. "Fast or slow, it will do what you ask," said big boy Chris Candow. Nordica really figured it out with this rocket ship and lithe tester Dave Gollogly loved it: "There's crazy stable fun in it! It's like a tank with the agility of an F1 racecar." If you're a high-performance ripper looking for a good time, dial up this Fire Arrow and take it for a spin.
NORDICA FIRST BELLE EVO
$519
LENGTHS: 146, 154*, 162  *  SIDECUT: 128/82/112   *  RADIUS: 12 @ 154
BEST IN: AGILITY      OVERALL SCORE:  8.1
WOMEN: Light and stiff, this super-performer has amazing edge hold with a nice blend of stability and versatility for your casual weekend getaway. Ally Wagorn found the First Belle "fun, fast and poppy. It shone with its own personality to slice packed crud and play in the sugary bumps." The big sweet spot is right in the centre, so turn up the speed and enjoy. The more adventurous rider who spends time in the park will be pleasantly surprised with its nice stiff ride. And carving on groomers has never been easier; this ski "likes to bend and arc with powerful confidence," according to Donie Blunden.
SALOMON X-DRIVE 8.8
$799
LENGTHS: 165, 172, 179*, 184  *  SIDECUT: 130/88/116    *  RADIUS: 17.8 @ 179
BEST IN: INITIATION, LONG RADIUS (TIE)      OVERALL SCORE: 7.6
MEN: This is one sweet forgivable experience whether on corduroy or tree lines freshly filled with powder. There's a nice racy feel on groomers, but also that desirable floaty and sporty sensation when engulfing the fluff. The X-Drive 8.8 delivers an easy playfulness with a "don't work hard" attitude while carving predictable trenches in every turn. Erin Keam summed it up best: "This ski is large and in charge. Rail on groomers, bust through crud—it goes anywhere. A huge sweet spot for such a high-end-feeling ski. Not for the timid." Best for an advanced to expert skier looking for fast performance and versatility.
SALOMON GEMMA
$899
LENGTHS: 157*, 163, 169  *  SIDECUT: 129/85/111   *  RADIUS: 13.5 @ 157
BEST IN: INITIATION      OVERALL SCORE: 8.0
WOMEN: The Gemma has a "big personality that shows off in all kinds of conditions—it's impressive in both soft and hardpacked terrain," commented Kathy Broderick. It's quick and nimble with its solid edge grip so short turns suddenly become automatic. Scooting through bumps is easy and fun with this smooth operator. Salomon has delivered a get-up-and-go, do-anything, go-anywhere ski with the Gemma. It's easy to operate so your legs won't tire, giving you the energy to ski all day and still dance at après. Heather Robilliard was a big fan: "The wow factor is huge! It turns on a dime, is extremely predictable and performance is exceptional."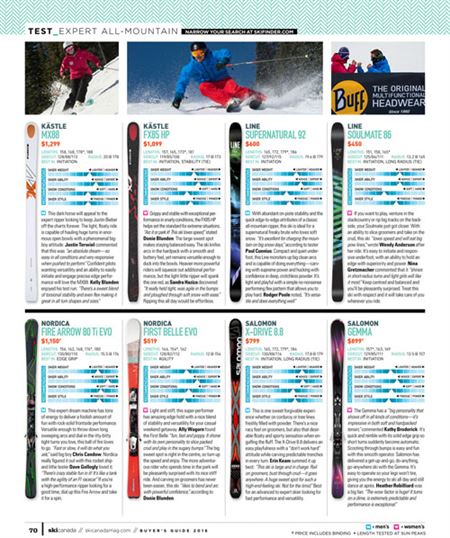 STÖCKLI SCALE DELTA
$1,249
LENGTHS: 157, 167, 177*, 187  *  SIDECUT: 128/83/110    *  RADIUS: 17 @ 177
BEST IN: STABILITY      OVERALL SCORE: 7.4
MEN: This sporty little driver has a tip to yank you through any turn, anytime, anywhere and at any speed. The Delta is snappy and full of energy, and would allow you to enjoy those times you second-guessed a tight line. It has a powerful, grippy bite that eats a turn early, ripping through an arc with superior stability and performance. George Terwiel noted how "smooth, stable and easy it is to ride for that aggressive all-mountain guy." Hang on, ride it hard and pour your "sole" into every turn. Guy Paulsen felt it was perfect for "expert skiers who like the versatility of both short and medium turns."
STÖCKLI SCALE GAMMA
$1,249
LENGTHS: 155, 165, 175*, 185  *  SIDECUT: 135/80/107   *  RADIUS: 15 @ 175
BEST IN: LONG RADIUS      OVERALL SCORE: 
WOMEN: If you're looking for an affluent cruiser to play in the powder and spice up your day, this offering from Stöckli delivers sporty attitude. Most of the female testers agreed that heavier, power-type skiers would enjoy the Gamma most in big-mountain terrain, as lightweight Donie Blunden discovered on her test run: "This is a ski for someone heavier and for soft, deep snow days." Wendy Anderson added: "It loves fast, falling turns, and is solid and stable at speed. The ski floats effortlessly in soft snow and powder, and cuts through crud with ease. It prefers wide-open, moderate powder runs and big turns in the fall line."
TEMPLAR NOBLE
$860
LENGTHS: 165, 175, 185*  *  SIDECUT: 125/90/113    *  RADIUS: 17 @ 175
BEST IN: INITIATION      OVERALL SCORE: 6.2
MEN: You need to ride the Noble to fully appreciate its personal capabilities. Some testers found it shone on firm snow, while others liked the softer stuff. What cannot be disputed is its intense capability to dig trenches and zing through bumpy terrain. It has the ability to float through big turns, and bend and flex with attitude in shorter medium-radius turns. Supercharged lightweight guys will get the most out of this ski. Mark Stein wrote: "It's light and lively, excelling in short turns in soft snow." Chris Candow commented: "The ski liked hard snow but steered through loose snow easily. It was easy to manoeuvre through varying snow conditions."
TEMPLAR DUCHESS
$860
LENGTHS: 165, 175*  *  SIDECUT: 125/90/113    *  RADIUS: 17 @ 175
BEST IN: EDGE GRIP      OVERALL SCORE: 5.2
WOMEN: For the athletic girl wanting to charge the whole mountain, this is an "easy-turning, fun, responsive ski that carves like a razor," according to Barb Kupferschmidt. The Duchess will have you channelling your inner Wonder Woman to power through turns, allowing you to push and fully experience the terrain in any conditions. Tip it and rip it to discover amazing edge grip and energy. Sandra Haziza was smitten: "This ski can be my adventure date anytime, anywhere. It turns on a dime, is zippy, and handles icy pebbly snow with ease. It will give you the confidence to tackle the toughest terrain."
VÖLKL RTM 84 UVO
$1,299
LENGTHS: 162, 167, 172, 177*, 182  *  SIDECUT: 131/84/112   *   RADIUS: 17.9@177
BEST IN: EDGE GRIP, LONG RADIUS (TIE)      OVERALL SCORE: 9.1
MEN: Experts looking for one option to take them over the moon now have a solid contender that promises to rip the frontside, hold an edge and deliver unshakeable performance. As tester Dave Gollogly wrote, there's "a ton of energy in this one. It's kind of like a mullet—all party in the back." Our testers were impressed with the agility, power and playfulness of the RTM 84 UVO, designed to attack the entire mountain. This ride is a winner. Fritz Stephenson agreed, scoring it a 10 across the board: "It has a perfect sweet spot with nice rebound from edge-to-edge, with solid grip throughout the turn."
VÖLKL YUMI
$699
LENGTHS: 147, 154, 161*, 168  *  SIDECUT: 125/83/103   *  RADIUS: 17.1 @ 161
BEST IN: INITIATION      OVERALL SCORE: 8.1
WOMEN:The Yumi is short and snappy for recreational racing. The more power you put in, the more performance you'll get out of it. Tester Britta Gretzmacher found "this a true confidence booster" that's light underfoot with a smooth and easy mindset for everyday use. It delivered performance on crisp morning corduroy and effortless manoeuvres on freshly combed groomers. This ski gripped like glue in big arcing turns and could twitch out short turns with pushbutton precision. Heather Robilliard was along for the ride: "Now here is a ski that will take you on the ride of your life. Put the pedal to the metal!"