---
Vol. 44 #1
published week of August 24, 2015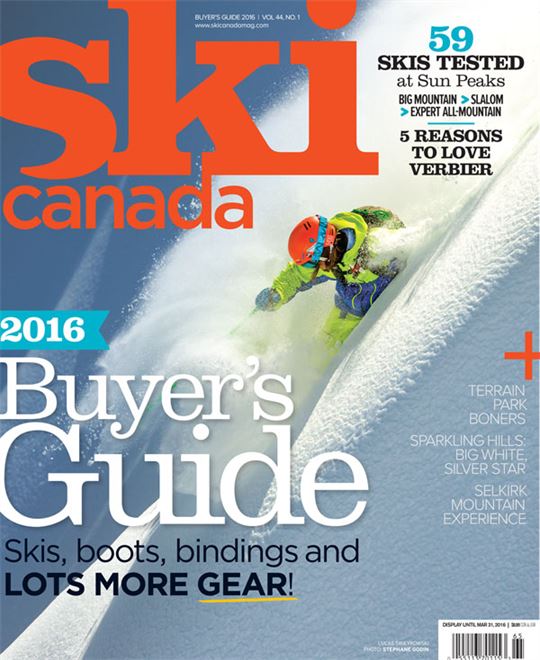 photo: STEPHANE GODIN  *  skier: Lucas Swieykowski  *  snow: Rosa Khutor, Russia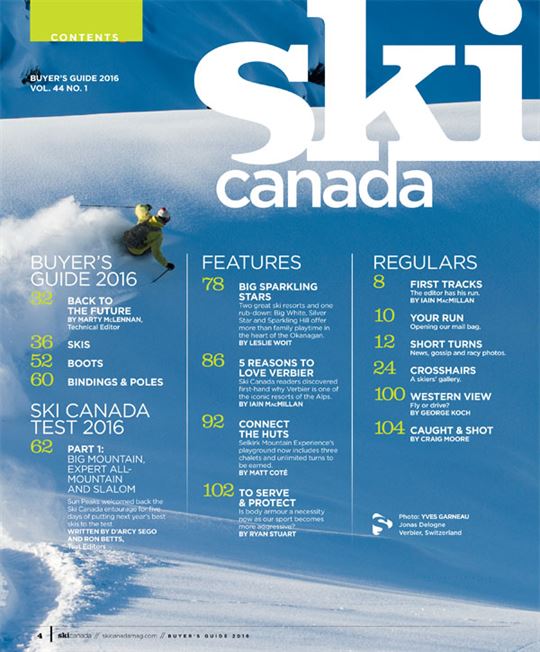 photo: YVES GARNEAU  *  skier: Jonas Delogne  *  snow: Verbier, Switzerland
CONTENTS
BACK TO THE FUTURE – 2016 Skis, Boots, Bindings & Poles
By Marty McLennan,
Technical Editor
* News and Trends From the Trenches
SKI CANADA TEST 2016
 PART 1: BIG MOUNTAIN,  EXPERT ALL-MOUNTAIN & SLALOM
Sun Peaks welcomed back the Ski Canada entourage for five days of putting next year's best skis to the test.
Written by D'Arcy Sego and Ron Betts,
Test Editors
FEATURES
Two great ski resorts and one rub-down: Big White, Silver Star and Sparkling Hill offer more than family playtime in the heart of the Okanagan. By LESLIE WOIT
Ski Canada readers discovered first-hand why Verbier is one of the iconic resorts of the Alps. by Iain MacMillan
Selkirk Mountain Experience's playground now includes three chalets and unlimited turns to be earned. by MATT COTÉ
Is body armour a necessity now as our sport becomes more aggressive? by RYAN STUART
 REGULARS
The editor has his run. by Iain MacMillan
YOUR RUN
Opening our mail bag.
SHORT TURNS
News, gossip and racy photos.
CROSSHAIRS
A skiers' gallery.
WESTERN VIEW
Fly or drive? by GEORGE KOCH
CAUGHT & SHOT by CRAIG MOORE