Reading Time:
6
minutes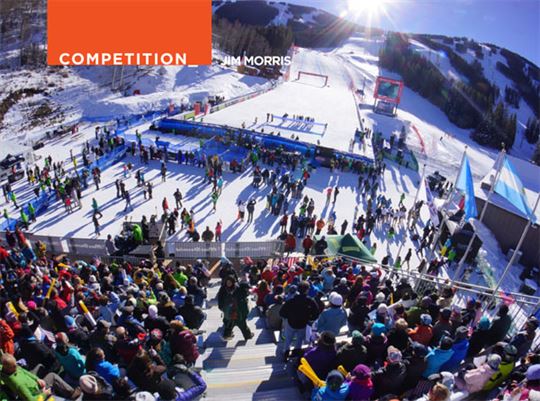 WINTER 2015 issue  *  It seems not all skiing medals have the same shine. Consider the 2015 FIS Alpine World Ski Championships. The two-week event is of course bigger than a single World Cup race, and the competition is every bit as strong as the Olympics, but in North America it lacks the glamour and prestige of the five-ring circus. Staging the Championships in Vail/Beaver Creek, Colorado, offers ski racing a stage to attract attention in the U.S., but they are shoehorned between the Super Bowl, America's homage to media excess, and college basketball's March Madness. The last time the Worlds were held in North America was 1999, also in Vail.
For a skier, being a World Champion does bring a certain esteem, but winning historically prestigious World Cup races like Kitzbühel's Hahnenkamm and Wengen's Lauberhorn still carries more cachet.
"It's one of those things," said Canadian Cowboy Manuel Osborne-Paradis, who placed 2nd in this season's opening World Cup downhill race at Lake Louise in November. "If somebody said you can win five World Cup [races] this year or one World Championship medal, what would you take? I'd take the five World Cup medals in a heartbeat."
Former racer Brian Stemmle noted that the World Championships are big in Europe, but he isn't sure if they resonate with North American sports fans. "I couldn't tell you who won the World Championships two years ago," said Stemmle, who placed 5th in the downhill at the 1996 Worlds in Sierra Nevada, Spain, and is now a television analyst. "I could tell you who won the Olympics. I think a lot of people are like that. They can tell you who won Kitzbühel, too."
Paul Kristofic, Alpine Canada's vice-president of sport, feels the World Championships do matter. "It is bigger than a World Cup, for sure," he said. "For us it holds a lot of importance. To win a World Championship is something really special for your team and your program and all our stakeholders. As a coach it's a real feather in your cap, and as an athlete there's some bragging rights to go with that."
Jan Hudec's bronze medal in the super-G at the Sochi Winter Games broke a 20-year skiing medal drought for Canada at the Olympics. But Canadian skiers have made regular trips to the World Championships podium. Since 2003, six Canadians have won medals, including three downhill golds: Erik Guay in 2011 at Garmisch-Partenkirchen, Germany; John Kucera in 2009 at Val d'Isère, France; and Mélanie Turgeon in 2003 at St. Moritz, Switzerland. Hudec won a silver in downhill in 2007 at Åre, Sweden.
This year's Worlds will be held February 2-15 with athletes from more than 70 nations competing and a total estimated television audience of one billion. The five men's and five women's individual events will be held at Beaver Creek, with a team event staged at Vail. Alpine Canada will send a team of 15 to 17 athletes, with the expectation of two podium finishes.
"Our goal right now on the men's side is one medal," said Kristofic. "On the girls' side we believe we have capacity for a medal as well."
The Canadian men's best medal hopes rest in downhill or super-G, but they must master a demanding Birds of Prey course that doesn't always suit skiers wearing the Maple Leaf. The 2.6-km downhill track, which has a 753-metre vertical drop, opens with about 25 seconds of flat, rolling terrain then plunges into a steep, technical roller coaster of tight turns and big jumps.
"It's one of those courses where you need to have absolute maximum risk and you need to be skiing super well technically to be fast," said Kristofic. "You cannot let off the throttle anywhere. There's no room to breathe on that course. It's demanding; it's fast. For a lot of people, it's intimidating."
The World Championships will follow the men's races in Wengen, Switzerland, and Kitzbühel, Austria, two of the most demanding downhills on the World Cup schedule. Osborne-Paradis knows good results in those races will feed confidence heading into Vail/Beaver Creek. "Confidence trumps skill every day of the week," he said.
The women's speed event will be held on the new Raptor course, which is 2.4 km long with a 710-metre vertical drop.  It's also steep and technically challenging. "Depending on how it's set, it's pretty intimidating," said Kristofic. "I think it will favour some of the more technical skiers."
Canada's best podium chances for the women rest in the technical events. Marie-Michèle Gagnon has won a World Cup super-combined event and finished 9th in the Olympic slalom. She was 11th in a slalom event in Åre, Sweden, before Christmas, and 7th in the Zagreb, Croatia, slalom at the start of the year along with Erin Mielzynski, who placed 6th.
Hudec and Guay have already proven they can be podium threats at the Worlds. Osborne-Paradis admits a World Championship medal would look good on his résumé. "I am the only veteran on our team without one," he laughed. "At the end of the day every medal counts. I wouldn't trade my 10 World Cup podiums for an Olympic medal or a World Championship medal. But I wouldn't complain about having one."
POM-POMS & MARCHING BANDS
This year's FIS World Alpine Ski Championships on February 2-15 in Vail/Beaver Creek, Colorado, will have a few distinctive American twists. Think tailgate parties. Marching bands. Free concerts. Even cheerleaders.
No surprise that organizers of the 2015 Worlds are putting their Made in the U.S.A. stamp on these Championships. "Cheerleaders are not really a thing in Europe," said Kate Peters, senior marketing and public relations manager for the Vail Valley Foundation, the Championships' organizer. "I imagine we are the first. We really want to show the American side of sport. We want this to be a festive and exciting two weeks, especially for our European guests, to get a feel for the American flair."
Ski racing is big news in Europe, but in the U.S. it lags behind traditional sports like football, basketball and even hockey. That's one reason why this year's organizers have gone to great lengths to make the event more accessible and fan friendly. Both the men's and women's courses at Beaver Creek empty into one finish area. A new grandstand will hold about 7,500 people, with another 2,000 seated in a VIP section. And the price is right with free race tickets.
"We felt it was important to get people here and genuinely interested in the sport," said Peters. "If we charged for it, it would be harder to do that."
Fan interest in this year's Worlds should be boosted by a strong U.S. team, which includes rock star Lindsey Vonn, an Olympic and four-time overall World Cup champion; Ted Ligety, a five-time World Champion; and Olympic medallists Mikaela Shiffrin and Julia Mancuso.
"We have so many sports we compete with in America, but I think that not only do we have a lot of talent, we have some household names right now," said Peters. "The average American knows who Lindsey Vonn is. It's maybe not at the level of Peyton Manning and the [Denver] Broncos, but it's getting there." (Even if, for many, it's only because of who she's dating.)
CANADIANS AT THE WORLDS
 1958 Bad Gastein, Austria                                  Lucile Wheeler: 2 gold, 1 silver (DH, GS, K)
1970 Val Gardena, Italy                                      Betsy Clifford, gold (GS)
1974 St. Moritz, Switzerland                               Betsy Clifford, silver (DH)
1982 Schladming, Austria                                  Gerry Sorensen, gold (DH); Laurie Graham, bronze (DH)
1989 Vail, Colorado                                            Karen Percy, silver (DH)
1993 Morioka, Japan                                          Kate Pace, gold (DH)
2003 St. Moritz, Switzerland                               Mélanie Turgeon, gold (DH); Allison Forsyth, bronze (GS)
2007 Åre, Sweden                                              Jan Hudec, silver (DH)
2009 Val d'Isère, France                                    John Kucera, gold (DH); Michael Janyk, bronze (SL)
2011 Garmisch-Partenkirchen, Germany           Erik Guay, gold (DH)
10 TO WATCH
 MEN 
Kjetil Jansrud, Norway: Gold and bronze at the Sochi Olympics; three wins and a 2nd in the first four speed events of the current World Cup season.
Marcel Hirscher, Austria: Gold in SL and silver in GS at the 2013 World Championships; Olympic silver in SL; dominated in World Cup races this season.
Ted Ligety, U.S.: Two-time Olympic gold medallist; won the World Cup GS race in Beaver Creek this season; five World Championship medals.
Alexis Pinturault, France: Bronze medallist in Sochi; 2nd in Beaver Creek World Cup GS.
Manuel Osborne-Paradis, Canada: Opened the World Cup season with a 2nd in Lake Louise downhill.
WOMEN
 Lindsey Vonn, U.S.: Battled back from two knee surgeries to open the World Cup season with a downhill win and 2nd in super-G at Lake Louise; five World Championship podiums.
Tina Maze, Slovenia: Double Olympic gold medallist; on the podium in downhill, SL and GS this World Cup season.
Anna Fenninger, Austria: Olympic, World Championship and World Cup overall titles; won a World Cup GS this season and a 2nd in downhill.
Eva-Maria Brem, Austria: Strong start to the season saw her earn three World Cup podiums in GS.
Marie-MichÈle Gagnon, Canada: Best Canadian women's chance for a medal; won a World Cup combined event, and has several top-10 finishes this season.