---
If there's one tale I'm happy to tell the young 'uns when I git to reminiscing about skiing "back in the day," it's the fact that I learned the sport wearing leather boots firmly bound to two-metre-long wooden skis by a cable "safety binding." To say it was a crude, unsafe set-up is an understatement. But like cars with no seat belts and DDT insecticide, to say nothing of smoking cigarettes from movie theatres to doctors' offices, no one thought about it much.

And even if you lived in Ontario "farm country," you were likely closer to a ski hill than you are now. Across North America 50 or 70 years ago, thousands of low-cost, locally owned ski hills sprang up, with rope tows, T-bars and J-bars transporting newly affluent members of the post-war middle class up hills, cut-banks or out of ravines.
Ironically, finding decent gear was a challenge. In the same way that you might see a few rear-entry boots at Don Valley, Chedoke or the Salmo Ski Hill, hand-me-down wooden skis made in Montreal, Peterborough or even Fort Frances, Ontario, were the norm. And if you wanted to buy ski equipment, you scanned the classified ads of the local newspaper or ordered from the Amazon of the day—notably the Eaton's Christmas Catalogue, the Simpsons-Sears Wish Book or the Canadian Tire winter catalogue.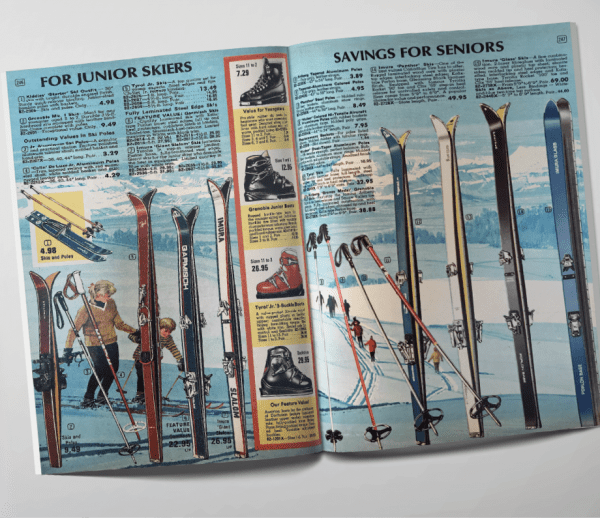 I'd actually forgotten about Canadian Tire until a call-out on social media resulted in scans from "back in '72," thanks to Vancouver Ski Services owner Barry Cleator. It was a trip, to say the least. Those "plastic-covered" Tyrol leather boots with the little Canadian flag on the back? I had 'em (later customized with a pair of "Jet Stix," mail ordered from the United States). Ever the cheapskate, I bought the Tyrol Imura Panther that offered "terrific value," according to some copywriter. The hot set-up could be all yours for $30 (roughly $190 in 2019 dollars, says the Bank of Canada inflation calculator that has $1 then worth more than $6 today). At least the bindings were included.

Devouring early '70s ski magazines (Ski Canada launched in 1972), I sought to tune my own skis using a P-tex candle (25¢) and a slick coating of Arlberg 1-3-5 bar wax. The Number 5 silver wax was for above-freezing conditions and something called "rain wetted snow." The magazines advised removing wax naptha after each day on the slopes, but that silver paste would embed itself permanently in the base like a red wine stain on a white cotton dress shirt.

Other must-haves were the boot tree or boot stretcher (so that your leather boot soles wouldn't warp) and a "ski carrier" for the back of your Volkswagen Beetle ($6.95). The nylon ski-tow mitts ($4.49) featured a "reinforced leather palm." Due to the fact that I was in bitchin' aluminum frame aviator-style glasses, I couldn't wear super-cool Uvex Astronaut goggles ($5.89).

Sweaters, tight-fitting nicely creased "stretch pants" and White Stag jackets were the purview of the Eaton's and Simpsons catalogues. Like many others, I chose the trim-fitting David S. Reid down jacket, a pair of charcoal stirrup-style stretch pants, and—a breathtaking splurge, even now—a pair of red and white leather Kombi gloves, apparently "worn by Canada's national team." Sorry, Dad, those were a wallet-melting $50. But like that $12.99 two-record set of Bob Dylan's Greatest Hits, Volume Two, I just had to have 'em.

The Canadian Tire books show metal skis by a long-forgotten Swiss company called Schwedener were $110. And there's one accessory sold on page 245 that seems to have disappeared entirely. At $3.49, the split-leather, nylon-piped wineskin was likely responsible for more "Yee-haws!" than any other item in the catalogue. It was also useful off-season at university football games.

Some things haven't changed. Canadian Tire today sells more skis than you might expect, indeed, some estimate roughly one out of every two pairs in Canada. Its assortment of gear and clothing is now sold at a little ski shop owned by Canadian Tire called SportChek, one of the biggest ski retailers in North America.

ski shops, SportChek, Vancouver Ski Services