Reading Time:
4
minutes
A spiritual ride for women that tones all levels of the body and mind.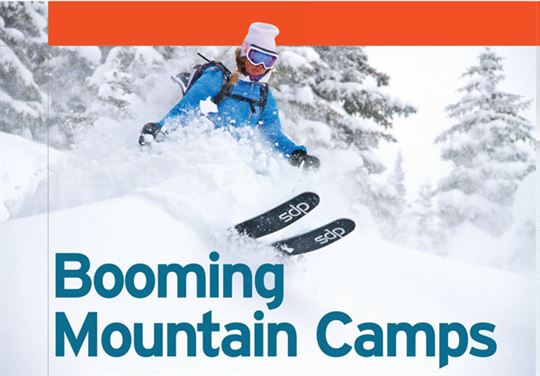 Training involves not just buffing up the body to withstand the blows of hardpack or powder pillows, but satisfying the soul-skier that lives deep down inside with clarity, meditation and joyful energy. For an increasing number of riders, it also means acquiring greater knowledge of the backcountry, of snow science and safe travel, avalanche terrain management and assessment. And for 50-odd per cent of humans, this also means finding a welcoming yet challenging space in which independence can be fostered outside of the usual gender divides. There are few places where it all comes together in a holistic gestalt; one such training nirvana is the freshly minted Bhumi Mountain Camps.
Founded by ACMG ski guide Kitt Redhead in 2011, the Bhumi camps combine guided backcountry ski touring led by Kitt, powder and terrain skills from pro freerider Izzy Lynch, and restorative and meditative stretching from Gaiatri Yoga's Ally Bogard. Three week-long sessions explore different aspects of mountain awareness and skills development. The first, at Valhalla Powder Cats in B.C.'s Selkirk Mountains (between Nelson and Rossland), is focused on a mellow introduction to touring and draws a lot of young mums, says Kitt, who are looking to handle risk tolerance while getting back into the alpine. The second week at Sentry Lodge at Golden is with Izzy, and facilitates the athletic, while the third week with Izzy at Battle Abbey in the Selkirks is all about spring ski mountaineering.
If you've recognized a certain ring to the names above, you're not alone; somewhat unique in the ski industry, all the decision-making and leadership roles are staffed by women. After guiding with numerous B.C. heli operations, including Mica, and alpine guiding Denali, Rainier and Aconcagua, Kitt realized there was a lack of backcountry ski training for young people in general, women in particular. The focus on the female dynamic offers a different kind of training in an often male-dominated sport: "It's about realizing the level at which women are at," says Kitt. "They need to be in an environment where they're together and challenged. Because they're not like 'somebody's girlfriend' anymore. They can do it. Just the way the genders work, [women] often defer a little bit to men. And in a group of women, everybody's quite strong and independent and just comfortable."
Izzy and Kitt met in Revelstoke in 2008 and quickly became close friends and ski-touring partners. Calgary-born Izzy grew up ski touring with her outdoors-oriented family, first hauling it out to her Dad's Amiskwi Lodge at age nine. The mountains have been with her ever since; she now rides with the Sherpas—you'll see her in Into the Mind—and has travelled to Kyrgyzstan with the B4 Après film crew for The North Face episode Jalpak Tash. She often chews it up with Canadian Freeskier Champion Leah Evans, and coaches with the Girls Do Ski freeskier camps.
Though a flatlander from Saskatchewan, Kitt grew up ski racing at Mission Ridge and Whitefish, Montana. She gained a love for the mountains while ripping it up at Mt. Hood's summer race camps, bashing gates at the 1998 Whistler Cup and hauling ice on the NORAM circuit. An extended sojourn through Pakistan's Karakoram range in 1999 introduced her to the wilds of high-altitude alpinism. But the methods of the mountains have also been hard; in her second year of university, she lost her best friend to an avalanche while mountaineering. She says that the spirit of her friend has remained close with her ever since. Realizing that she didn't want to pursue the alpinist ethic of "living in fear," she dropped out of the University of Victoria and turned to the Adventure Guide Program at what is now Thompson Rivers University. Guiding opened her eyes to new ways in which she could utilize her race background. With her mountain experience, she quickly moved through the program, and by 2012 was a certified ACMG ski guide.
Getting the girls together is meant to be relaxing, a mental break from having to show-and-prove against a typically outnumbered environment of guys to girls. "It's like a breath of fresh air," says Izzy. "We do yoga in the morning, we ski all day, and then we sit around and chat about life and our experiences. We laugh a lot. There's way more giggling that goes on. It's part of the therapeutic process of being out there."
She adds, "The girls feel so comfortable that they can push themselves to another level." The camp's last-day booter session had the (relatively) fearless hucking front and backflips, with others celebrating their first-time airs. (Kitt notes that they had a clear fly day, were set up just below the lodge and avi conditions were safe.) It has to be mentioned that the girls went airborne in tutus. That night was the dress-up dance party. "There is this element of silliness," says Izzy, "but it's also really serious in that we're pushing ourselves hard to try new things, and people feel comfortable to do that."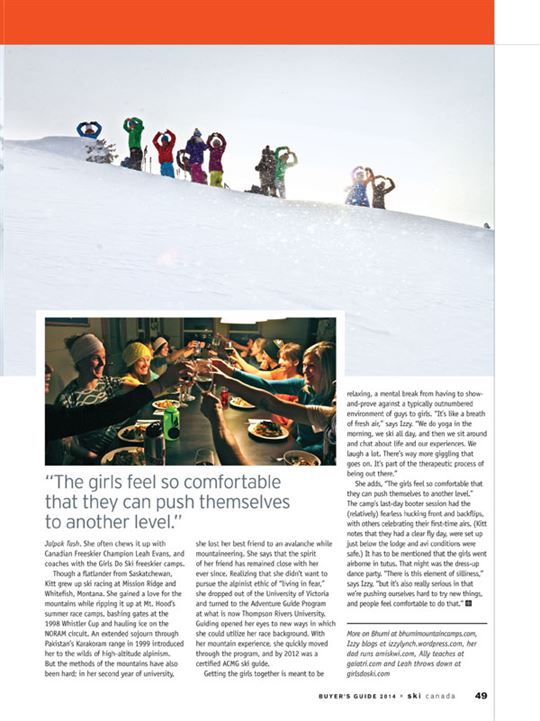 More on Bhumi at bhumimountaincamps.com, Izzy blogs at izzylynch.wordpress.com, her dad runs amiskwi.com, Ally teaches at gaiatri.com and Leah throws down at girlsdoski.com