Reading Time:
12
minutes
Ski Canada looks back at a year's worth of entertaining anecdotes and what's so great about skiing at home.
by COMPILATION EDITOR LESLIE WOIT in the Winter 2017 issue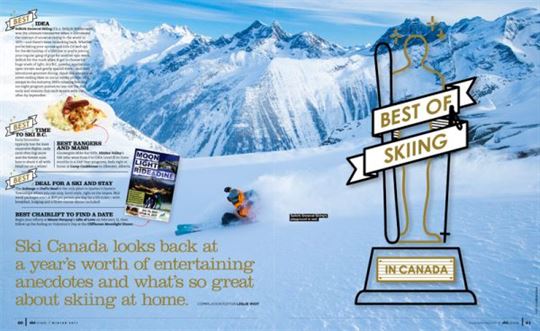 BEST IDEA
Selkirk Snowcat Skiing (f.k.a. Selkirk Wilderness) was the ultimate trendsetter when it introduced the concept of snowcat-skiing to the world in 1975—and there's been no looking back. Whether you're taking your spouse and kids (16 and up) for the ski holiday of a lifetime or you're joining your regular gang of guys for another epic week, Selkirk hit the mark when it got to choose its huge stash of light, dry B.C. powder, spectacular open terrain and gently spaced trees—and then introduced gourmet dining, cloud-like sleeps and never-ending likes on social media photos. Still unique in the industry, SSS's relaxing five-day, six-night program pushes no one out the door early and ensures that each season sells out, often by September.
BEST TIME TO SKI B.C.
Early December typically has the least-expensive flights, early (and often big) snow and the fewest numbers to share it all with. Head out on a whim!
BEST BANGERS AND MASH
Glaswegian Mike Ractliffe, Hidden Valley's GM (who went from 0 to CSIA Level III in three months in a GAP Year program), feels right at home at Camp Cookhouse in Elkwater, Alberta.
BEST DEAL FOR A SKI AND STAY
The Auberge at Owl's Head is the only place in Quebec's Eastern Townships where you can stay, hotel-style, right on the slopes. Mid-week packages start at $99 per person per day for a lift ticket—with breakfast, lodging and a three-course dinner included!
BEST CHAIRLIFT TO FIND A DATE
Begin your efforts at Mount Norquay's Lifts of Love on February 11, then follow up the feeling on Valentine's Day at the Cliffhouse Moonlight Dinner.
BEST FRIGID POLE MOMENT
Ice fishing out on the hard water on a guided adventure with Elevated Fishing Adventures is a uniquely Canadian experience on one of the many mountain lakes surrounding Sun Peaks. Rainbow trout and a heated ice-fishing tent await, along with a weather caveat: "This tour cannot operate in extreme weather of -40°C." We're in complete agreement.
BEST VIEW OF QUEBEC CITY
From the river. In an ice canoe. Paddling the frigid waters since the 1600s, the practice continues today although negotiating the icy currents of the mighty St. Lawrence is more sport than mode of transport. And when accompanied by a professional guide, you can do it, too!
BEST TURNAROUND
B.C.'s Mount Baldy was through bankruptcy court on June 25 and opened December 1 with a decade of deferred maintenance completed. By November, there were 2,000 season passes sold and more than a metre of snow. Game on.
BEST REASON TO NOT DRINK BUDWEISER
Craft beers are becoming as common as water—only so much better. Big Rock Brewery uses Alberta-grown barley and the glacial waters of the Rockies to produce more than a dozen labels. The latest new craftery, Whitetooth Brewing Company in Golden, has the nose of the Kicking Horse River and a head like its class-four rapids. Over in Kimberley, B.C., new Overtime Beer Works doubles the local craft-beer tappage. And, of course, Steam Whistle is making its way across the country.
BEST-NAMED NEW RUN
SilverStar's new backside black-diamond run is forever joyfully known as Hurtzwinkle's Delight. We love the Charlie and the Chocolate Factory à la Harry Potter vibe and will be headed his way very soon.
BEST PASS OF THE BATON
Mont Sutton's first season with the new owners in charge includes big plans for a four-season tourist destination. For now, 50 new snowguns are being installed on the slopes, an investment of half a million dollars.
EARLIEST STARTS
November 3, 2016, at Sunshine Village was the best early-season opening in the West. And in the East, Mont-Edouard in Quebec's Saguenay region opened with 120 cm of snow and 100 per cent of the terrain available on December 3.
BEST FREEBIE
With free entry this year to all national parks, including Banff and Jasper, there's never been a better time to ski Marmot Basin, Lake Louise, Sunshine Village and Mount Norquay than 2017. Happy birthday to us!
BEST FOOD FARE
Whitewater cooks it up like crazy in the West with one sell-out cookbook after another. In the East, Le Massif mountain-top dining does delicious cuisine with nothing fried and generous serving sizes. Chef Guy Bessone and his brigade enjoy producing pastries, charcuteries and a wide range of Charlevoix dishes like tourtière and ragoût de boeuf.
BEST TRIVIA
Knowing Super Mario's brother's name proved to be a cash cow when riding Kicking Horse's Goal Light Gondola. In association with the Calgary Flames, the red goalie light flashed for cash on the ride up and winners took home hundreds of dollars in Resorts of the Canadian Rockies (RCR) currency. (Pssst, it's Luigi.)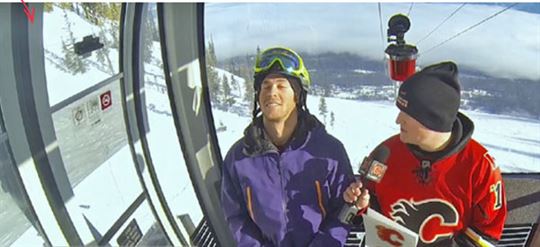 BEST WAY TO WORK OFF THE CHEESE SOUP
Sun Peaks does a twilight chairlift ride up to the Sunburst Mid Mountain Restaurant for fondue, followed by a gentle eight-km starlit ski down.
DEDICATED ALPINE TOURING TRAILS
Uphill skiing, done slowly or at heart-busting high speed, is booming and popping up from Quebec to B.C. New guided "uptracking" tours at Fernie, for instance, show you the way to the top on skins. At Mont-Sainte-Anne, two exclusive ascent paths for tourers climb to the summit through deep forest, providing beautiful landscapes and picturesque scenery. For the Zen and the exercise.
BEST STRIKE
The ski-in, ski-out bowling alley at SilverStar.
BEST WELCOME
Across the country the Canadian Ski Council's Never Ever Day in January (or, in Quebec, Ma Première Fois) introduces our sport to future skiers and snowboarders for $25, which includes a lift pass, lesson, rentals and helmet. One of the biggest red carpets is at Camp Fortune in Chelsea, Quebec, near Ottawa. Fortune regularly has more than 2,500 beginners in seasonal lesson programs and teaches thousands more in after-school programs and private lessons every year.
BEST SKI-IN, SKI-OUT SCHOOL PROGRAM
Marmot Learning Centre is jointly operated by Marmot Basin, Parks Canada and the Grande Yellowhead Public School Division, the only interactive ski-in, ski-out classroom in Canada with experienced Parks Canada outdoor educators. Free one-hour sessions are linked to the B.C. and Alberta curriculum for youth groups to ski, have fun and learn in the same day.
OUTDOOR TABLES
Okay, it's a long way from the sunny Alps or Colorado, but Whistler is all set up for spring's arrival. Overlook B.C.'s Coast Mountain peaks more easily with 250 new outdoor seats at the Roundhouse Lodge (upper patio heated), and in the new heated patio at Steeps Grill and Wine Bar in the Roundhouse (seated, service, yippee). As well, there's a new grilled-cheese stand on Whistler Mountain, and even the GLC at the base of Whistler is heating the outdoors with more outdoor seating nearby. They are clearly expecting a crowd. And unusually fair skies.
BEST WAY TO INCREASE YOUR CARBON FOOTPRINT
Heat the outdoors.
WHY-NOT AWARD
Wintercrack is the newest entry to the split-ski manufacturing scene, and as far as we know, the world's first. Started in Kirkland Lake, Ontario, for use on its challenging gold mine slag-heap slopes, it allows skiers to attach their skis together so they can mono-ski just like split boards. "We know we're ahead of the game on this one," explains Wintercrack spokeperson Darryl Benoit. "We've used mining technology to sandwich layers of locally sourced paulownia wood with Canadian Shield mica, all bonded with AAA Ontario maple syrup and pine pitch." One man's crack is another's split.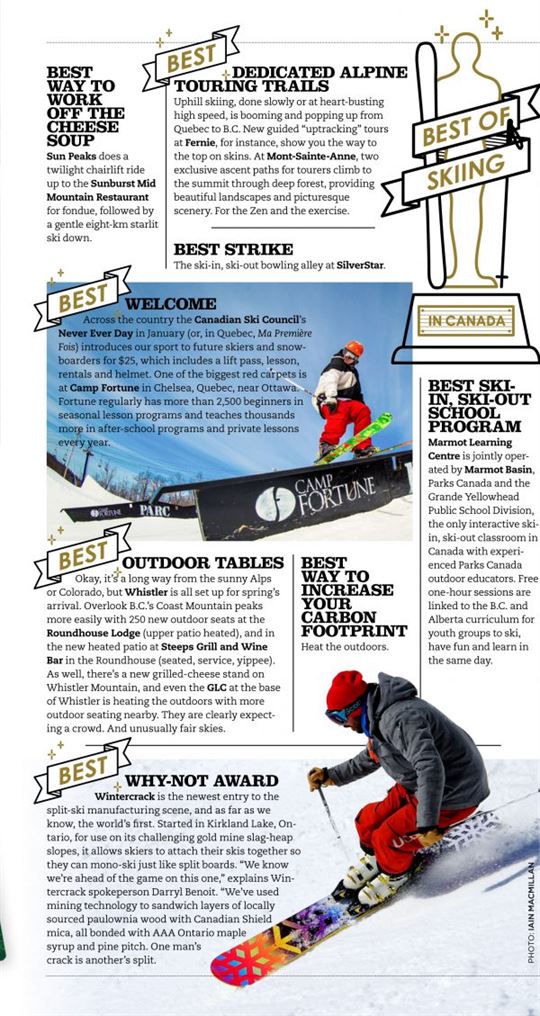 BEST MASCOTS
Taking the cute and cuddly prize from the west is Jasper the Bear, and in the east it's Quebec's bountiful Bonhomme de neige.
BEST WAY TO SPEND $3 MILLION
Beaver Valley, Ontario, and Beaver Creek, Colorado, may share a name, but only Beaver Creek is open to the public. Beaver Valley Ski Club's new chairlift is valued at nearly $3 million along with $500,000 worth of new snowmaking equipment. The private club, with a membership of 750 families, is situated in the picturesque Beaver Valley along the Niagara Escarpment and is home to 29 trails—and no escalators.
BEST WAY TO SHARE IN $2 MILLION
Mount Washington improvements include 10 snowmaking machines, a new Eagle View Bistro, retail store and demo centre, new rental equipment of more than 500 pairs of skis, 100 snowboards and 500 pairs of boots, as well as new groomers.
BEST FARMING TIP FOR A WHITE CROP
Ski season at Sunshine Village kicked off in November, its earliest opening in 30 years. Canada's first ski resort to open every season credits its early start to its low-cost "snow farming"—20 km of plastic fencing that traps snowfall on upper peaks, reducing the need for traditional snowmaking by protecting blowing snow from alpine gusts. The process begins in early September when several thousand pieces of 1.8m steel are pounded into the ground, which later freeze into place so that fencing can be tied around it securely.
TRUTH IN ADVERTISING
The Shed, Kimberley's understated little gem, advertises "beer and food" and does not disappoint.
FASTEST SCHOOLROOM IN THE WEST
Red Mountain is now the official Western Canadian Training Centre for the National Ski Academy, a Ministry of Education-inspected private school, granting high school credits for Grades 9 to 12—and creator of ski racers by the dozen. The NSA celebrates its 30th anniversary this year in Collingwood.
CHARITY SKI DAYS
Mount Norquay's Toonie Day has seen overwhelming support from Albertans: $20,000 was raised for Calgary and Bow Valley charities last season on five days throughout the winter when you can ski for just a toonie and make an optional donation to charity.
SAFEST WAY TO SKI THE BACKCOUNTRY
Hire a mountain guide! Across the West, qualified mountain guides take individuals and groups safely off-piste and back again. With the Rockies as their playground, Kevin Hjertaas and Martin Lefebre of MTN Guiding are a good example of who and what's waiting for you out there.
SUITE AT A BEST WESTERN
The Jasper Inn and Suites has the sweetest suite we've ever seen at any Best Western—right off the cover of a house-porn magazine. When you're booking, ask about the Cavell Suite.
MOVE-IN READY
Fly direct to Kelowna and hop the 45-minute airport shuttle to your fully stocked larder at Big White's ski-in, ski out village. They even take your kids away at your door in the morning.
LEAST SURPRISING MOVE
A lowering-costs mandate came into effect quickly following the Whistler takeover when new owners Vail Resorts Inc. laid off 60 Whistlerites in November. Shareholders rejoice!
MOST NON-DISNEY MOUNTAINS
It's a tie between the powder paradise of Whitewater and the long, challenging steeps of Castle Mountain that make both perennial favourites of some of the best skiers in the country.
BEST CHANCE FOR TUBE 'N' TIPPLE
SilverStar's Tube Town Bar is now fully licensed, plus there's a new Magic Carpet and more tubing lanes making swerving de rigueur.
BEST IN THE BUSINESS
Fernie legend Heiko Socher left us last October at 86. Owner-operator of Fernie Snow Valley from 1972-97, Socher was hands-on, from shovelling snow off roofs or skiing the back bowls of his beloved mountain.
POWDER EAST OF MASSIF
Le Valinouët, 50 km north of Chicoutimi, with 30 runs covered with 100 per cent natural ingredients, no man-made snow. Plus they have a cute umlaut.
BEST WEIRD THING
Quebec's ASSQ's cold box. To explain to downtown Montrealers that -20° in winter is not that cold—indeed it's normal—the Cold Box invited folks to test what -20° feels like inside a closed box. We're wondering about those fans in the back of the box. Did they simulate windchill of -40° for authenticity?
BEST PRE-SEASON TRAINING
Nearly 30 teams from across North America, and one from Japan, visited Sun Peaks in the weeks prior to opening to train at Nancy Greene's Alpine Race Centre.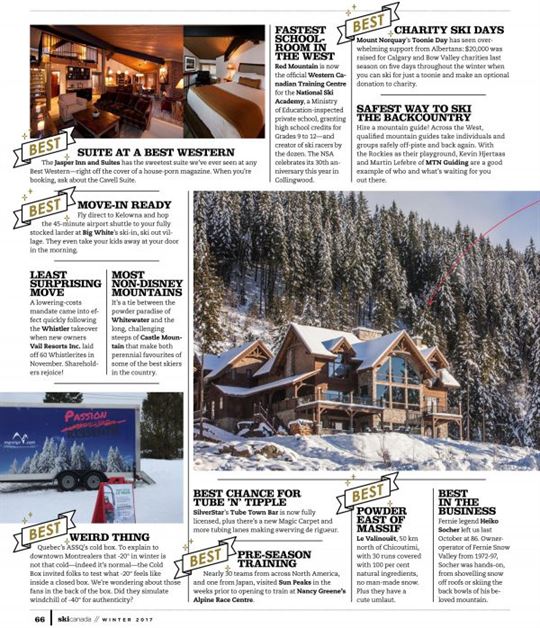 MOST DECADENT FONDUE
Heli-fondue at the Summit Hut at Panorama begins with an exhilarating 12-minute helicopter flight over the pistes of Panorama en route to Summit Hut. After landing, there are drinks on the patio or beside the crackling fireplace, then more liquids in the form of cheese and kirsch followed by chocolate fondue.
BEST NEW SLIDE
Baseboarding at Whistler Olympic Park, developed by former world champion and Olympic skeleton racer Kristan Bromley, is a cross between skeleton, bodyboarding and tobogganing. With a little instruction, you'll lie flat on your stomach on the board then speed headfirst toward the valley floor for a kilometre or so—ostensibly controlling your rapid descent with your feet. Do let us know how it goes.
BEST NEW CATERED LODGE
Bison Lodge at Revelstoke. A cobbled helipad is our idea of true Canadian class. This new spectacular ski lodge, at the base of North America's longest vertical, is a castle in wood that's available for exclusive use, comes fully staffed and is kitted out with all the bells and whistles. Elegantly decorated and on the edge of the piste, in case your heli is late.
WHITEST NIGHTS
Bromont's 8 Nuits Blanches nightskiing evenings feature music and a friendly atmosphere into the wee hours of the morning.
BEST NEW RESTAURANT REFURB
Eagle's Nest in the Sunshine Mountain Lodge got a serious feather fluffing. New chef Kelly Yarrow has updated the menu. Try the foie gras appetizer and AAA Alberta beef tenderloin with garlic and truffle mashed potatoes.
CONNECTED CHEF
From private chef to Posh and Becks, cooking for the Queen and the Spanish Royals, to the Juniper Bistro in Banff… If Chris Irving survived working for the odious Gordon Ramsay, he should be able to weather a Banff winter.
BEST CONCERT IN CORN
Celebrate April in the sunshine and corn at Fernie's Fernival 2017, a free concert that promises more bands this year, plus fundraising for the Emily Brydon Youth Foundation.
LEAST MOBILE PHONE
Old school at Quebec's Mont Sutton.
BEST HIGHWAY
Highest concentration of alpine resorts and backcountry, cat, heli and nordic skiing/riding in the world. In the southeastern corner of B.C., the Powder Highway refers to a combined tenure of 1.25-million hectares. Known as the Kootenays, this powdery ski mecca is made up of 70+ ski operators along the route: eight alpine ski resorts, 23 backcountry lodges, 14 cat-ski operators, 18 heli-ski operators, 14 nordic clubs/centres and some choice backcountry skiing on Crown Land.
BEST NON-SKI GONDOLA
Snowshoeing is fun, but locals and indeed all Canadians look forward to the future return of alpine-touring gear allowed on the Jasper Skytram. Open from late March to late October.
BEST WAY TO CHILL
Quebec City's Hôtel de Glace is rebuilt every year over three months, crafting and carving 44 uniquely themed rooms and suites out of Canada's most infamous ware. The only ice hotel in North America that has seduced more than a million guests since its opening in 2001.
PLACE FOR A GAY SKI WEEK
Have you seen SilverStar? Of all the gay ski week venues in the country, this must be the original rainbow village. What are they waiting for? Come on, you know you want to see Norms Crerar and Kreutz, and dance partners Martin Olson and Guy Paulsen, ski in their ass-less chaps. We're still waiting for the photos.
BEST TREE SKIING, EAST
We're getting reports of conditions as good if not even better than award-winning Sutton at Le Massif-du-Sud. Cathedral run—you won't believe you're in St-Philemon, Quebec, Toto.
BEST NEW SHUTTLE
Kicking Horse shuttle service connects Calgary International Airport to the resort twice a week, Wednesday and Saturday, on the Banff Brewster Airport Express.
Biggest (and only) snowbank
Canada's first Ski-Thru ATM at Whistler, complete with gloves and poles holder as well as outdoor heating lamps, gives new meaning to the term "cold, hard cash."
BEST QUEBEC SPAS
Whether it's Le Germain Charlevoix's award-winning Spa du Verger thermal experience, the Townships' Spa des Chutes Bolton or Tremblant's Spa Le Scandinave.
BEST NEW FLIGHT
The one-hour direct flight from Vancouver to Revelstoke on Pacific Coastal, the only resort in the world to offer lift, cat, heli and backcountry skiing from one village base. With an airstrip notorious for being fogged in, backup transport from Salmon Arm and Kelowna is already worked into the business plan.
BEST DAY OFF FROM THE SLOPES
The new Valcartier Hotel at Village Vacance Valcartier near Stoneham, just outside Quebec City. Indoor waterpark, ice hotel and the world's largest outdoor snow-tubing park.
BEST CHANCE OF SEEING WILDLIFE
Grizzly bear, wolf and elk are at home in Jasper and Banff national parks, so for a furry selfie aim for Marmot Basin, Lake Louise, Sunshine and Norquay.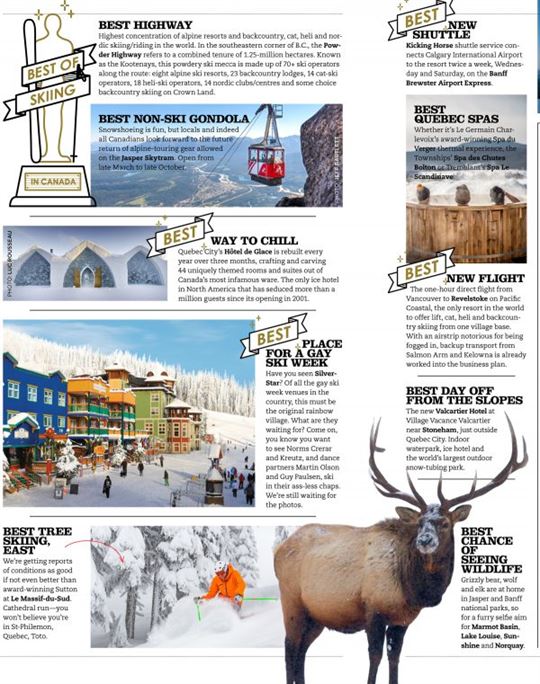 BEST SKI TOWNS
Fernie
Jasper
Nelson
Revelstoke
Rossland
HARDEST PIN TO WIN
Mount Norquay's Gold Pin for skiing 27 laps, 35,000 vertical feet, off the "Big Chair."
BEST-LOOKING LEGS
Steeped in tradition, Kimberley's Iron Legs Pentathlon pants into its 34th year, with competitors skiing, snowboarding, running and biking while we cheer from the sidelines.
BEST COMEBACK FOR ONTARIO SKIERS WHEN PROVOKED
With five six-packs and seven other lifts, Blue Mountain's uphill capacity blows away the rest of the west. By comparison, Revelstoke, with the biggest vertical in North America, pumps 6,000 skiers per hour uphill vs. Blue's 26,750.
BEST RETORT
Revelstoke? Skiing off two chairlifts accessed by one gondola? Who knew it could be so good?
BEST POWDER PREP PROGRAM
PPP is new this winter at Sun Peaks, a HeliCat Warm-Up Camp specifically designed to prep for that heli trip of a lifetime.
BEST CHARCUTERIE WITH A VIEW
At Lake Louise, Whitehorn Bistro's Rocky Mountain Game Platter for two—Grana Padano, applewood smoked cheddar, Emmental, Banff Avenue black pilsner, Quebec maple syrup, seasonal vegetables, baguette…
BEST EXCUSE FOR A FOUR-DAY WORKWEEK
The Friday season pass at Mont Sutton, $168 no restrictions, all categories.
BUSIEST GROOMERS
They're like bloody cats! For perfect corduroy, Bromont grooms its slopes at least twice a day. It also hosts a groomer's challenge every year.
BEST SEASON-LONG SKI SCHOOL PROGRAM
First-timer $5 learn-to-ski days at Mont-Avila in its new Terrain-Based Learning Area. Let's make it a national program!
BEST REMINDER YOU'RE ON THE LEFT COAST
New electric charging stations at Vancouver's Cypress Mountain has everyone buzzing. One is Tesla Specific and the other is a Clipper Creek High Power Charging Station. Expect lineups.
BEST DEAL FOR KIDS
At Mont Miller at Murdochville, Quebec, children 12 years and under ski free.
BEST URBAN GUERRILLA MARKETING
Helly Hansen took to Toronto's Yonge-Dundas Square in November with Fernie ski patrollers in uniform "ticketing" unsuspecting pedestrians. Each of the 1,000 tickets they handed out offered a free ski day at a Resort of the Canadian Rockies. Overheard from one passerby: "My family and I just emigrated from Malta. What is skiing? What's a Fernie?"
BEST VIEW OF KIMBERLEY'S BACKCOUNTRY
Heli-touring with Boulder Hut Adventures brings ski touring to you. Stay at Trickle Creek Lodge at the base of the resort, climb aboard a helicopter and lift off into Kimberley backcountry for 6,000 hectares of Purcell powder. Less effort, all the magnificence.
MOST PROMISING TECHNOLOGY
Snowmaking can be an art at the best of times, but Industries Samson of Lévis, Quebec, can help. The company's 50-tonne snowmaker is portable and produces 110 cubic metres of snow per day—in weather up to 15°! Given it takes a lot longer to melt than make, Samson may actually lengthen our future ski seasons despite our challenging starve-or-feast forecasts.