Reading Time:
3
minutes
10 ways you're probably screwing up on keeping warm.
You shouldn't be cold when skiing. It all comes down to how you dress—and most skiers could do better. According to the baselayer experts, the following are the top-10 mistakes most skiers make when it comes to keeping warm, dry and comfortable.
#1 LAYERING IGNORANCE
The basic rule-of-thumb for layering is: a next-to-skin baselayer that manages moisture; a mid-layer that locks in heat and moves moisture toward the outside; and an outer layer that breathes and protects from the elements, including wind, rain and cold.
#2 NOT KNOWING FABRIC DIFFERENCES
Cotton—pros: inexpensive and already in your drawer; cons: holds moisture next to the body and dries very slowly.
Merino wool—pros: absorbs moisture from the skin and feels dry, doesn't retain odour and is warm for its weight; cons: expensive, dries slowly, and though merino is pretty soft, sensitive-skin types find it itchy.
Synthetic—pros: dries fast, lightweight, soft, less expensive and recycled options; cons: gets stinky without treatment.
#3 ALWAYS DRESSING THE SAME
"The biggest mistake people make when layering is assuming their layers work the same in all conditions, which can result in either overdressing or underdressing," says Spring Harrison, MEC's backcountry apparel designer. Harrison recommends owning a few different options, like a warmer and cooler baselayer, and maybe one or two mid-layer options, too.
# 4 WEARING TOO MANY LAYERS
Molly Cuffe sees it all the time: people wearing two or three baselayers. "They can barely move," says the global communications director at Smartwool, a merino wool baselayer specialist. She says wearing the right weight of baselayer, i.e. a heavier one for cold days, works better.
#5 IGNORING YOUR FEET, HEAD AND HANDS
The baselayer system extends from head to foot. Think thin toque under a helmet, the right weight of glove so you don't sweat (a quick way to go from warm to cold hands), and one pair of socks, again made from a synthetic or wool. The extra bulk of two pairs of socks impinges on boot fit and cuts off circulation.
#6 SKIING IN A DOWN JACKET
Fleece and new breathable synthetic insulation options are better than down for locking in heat and releasing sweat, key to staying comfortable in stop-and-go activities.
#7 THINKING SWEAT IS UNIFORM
When Smartwool studied how 1,200 men and women thermoregulate, it realized the sexes do it differently. Using sophisticated knitting techniques, it biomapped its baselayers, putting more breathability in the hot spots and better wicking in the cooling zones.
#8 FORGETTING ABOUT FIT
"Performance wise, if the baselayer isn't touching the body, it's harder for it to move moisture," says Kristoffer Ulriksen, director for base- and mid-layers at Helly Hansen. Ditch baggy for form-fitting.
#9 OVERLOOKING SEAM PLACEMENT
Seams dig into skin, chafe and rub, especially if you're wearing a pack. Opt for new seamless designs that fit better.
#10 NOT BUILDING A SYSTEM
There's little agreement about what combination of fabrics and materials works best so don't stress the little details and concentrate on the basic combo: moisture-wicking next to the skin, breathable insulation and exterior protection.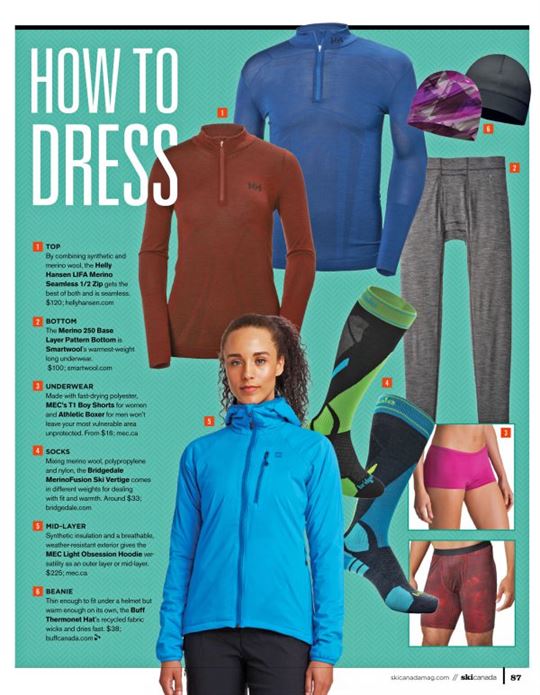 TOP
By combining synthetic and merino wool, the Helly Hansen LIFA Merino Seamless 1/2 Zip gets the best of both and is seamless. $120; hellyhansen.com
BOTTOM
2. The Merino 250 Base Layer Pattern Bottom is Smartwool's warmest-weight long underwear. $100; smartwool.com
UNDERWEAR
3. Made with fast-drying polyester, MEC's T1 Boy Shorts for women and Athletic Boxer for men won't leave your most vulnerable area unprotected. From $16; mec.ca
SOCKS
4. Mixing merino wool, polypropylene and nylon, the Bridgedale MerinoFusion Ski Vertige comes in different weights for dealing with fit and warmth. Around $33; bridgedale.com
MID-LAYER
5. Synthetic insulation and a breathable, weather-resistant exterior gives the MEC Light Obsession Hoodie versatility as an outer layer or mid-layer. $225; mec.ca
BEANIE
6. Thin enough to fit under a helmet but warm enough on its own, the Buff Thermonet Hat's recycled fabric wicks and dries fast. $38; buffcanada.com