Reading Time:
5
minutes
''If you're a strong skier, particularly one who loves the steeps, La Grave—along with La Meije, the imposing monster of a mountain that rises vertically from the valley opposite—is your mecca. ''
No, Sophie, I'm pretty sure you won't be going to La Grave." I chuckled on a Skype call last winter with my 15-year-old. She'd just arrived in Brittany, France, for a three-month exchange and was already starting one of many school holidays. "The skiing at La Grave is all super extreme, steep freeride stuff," I continued, "glaciers, seracs and cliffs everywhere, there aren't any actual designated 'runs,' and it's 100 per cent off-piste."
But she remained insistent and after a few e-mails with her exchange partner's dad, Marc, I was amazed to learn that indeed their family ski holiday would include a few days at Serre Chevalier, Sophie's first randonée experience from an off-grid alpine chalet—and one day skiing the infamously steep destination of La Grave. You go, girl.
Despite its cult-like attraction for extreme skiers, if you ask the majority of people in a lift line in North America, or the Alps for that matter, they'll likely have never heard of La Grave, a 12th-century stone village that clings to the mountainside about 80 km east of Grenoble, France. But if you're a strong skier, particularly one who loves the steeps, La Grave—along with La Meije, the imposing monster of a mountain that rises vertically from the valley opposite—is your mecca.
I've wanted to ski La Meije since I first heard about it in the '90s and here in a bizarre 2016 coincidence, my youngest, along with her student exchange partner, Tom, and his family, was beating me to it by one week.
The stuff of legends, La Meije has no (or minimal) avalanche control nor ski patrol, certainly no grooming, virtually no ropes or signage…but it does have a staggering 2,100m lift-accessed vertical of elevator-shaft steeps, longer when you end up farther down the valley and hitch home. On our second day we pushed the afternoon run to a staggering 2,382 vertical metres, that's almost 8,000 feet. Ending up in the village of St. Christoph at the end of the day, it was an hour taxi ride back to the crackling fireplace and tantalizing aromas from the kitchen at the centuries-old Auberge Edelweiss.
A single run on La Meije can include negotiating glacial crevasses at the top, tree-skiing at lower elevations, and endless couloirs and steeps so far off the inclinometer your mountain guide may have to rope you down the sporty stuff. On the other hand, and contrary to everything I've ever read, Sophie learned you don't have to be a certified adrenaline junkie to ski it. She reported on a sunny day, with no new snow, the somewhat "main route…is only as steep as a typical double-diamond in Western Canada" and is indeed regularly skied by families who know the area.
Apart from a glacier button lift at the summit that opens up even huger terrain (including a connection to Les Deux Alpes if you're okay with hoofing it), La Meije's entire uphill arsenal is the one austere pulse gondola with 40 cabins grouped together five at a time. The lift runs at higher speeds for most of the journey, slowing down only when the gondola pods enter the lift stations.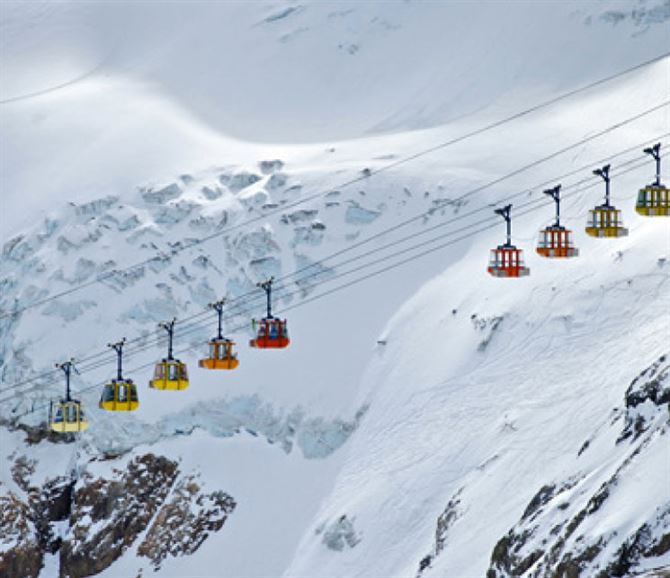 On our first ride up, a leather-skinned, gravelly-voiced mountain guide named François jammed the toe of his ski boot between the clamshell doors to prevent them from locking. After the rumble of the lift tower wheels had quieted and we began our ascent, both doors were casually slid wide open for a humbling (some might say fearsome) view of numerous massive hanging glaciers and north-facing colouirs off La Meije's nearly 4,000m peak.
"It's okay?" François asks my slack-jawed companions Holly and Trevor, and me. Given our destination, it's assumed none of us has a problem with heights. To complete the scene, François added the aroma of his never-extinguished hand-rolled cigarette. We're in France, after all.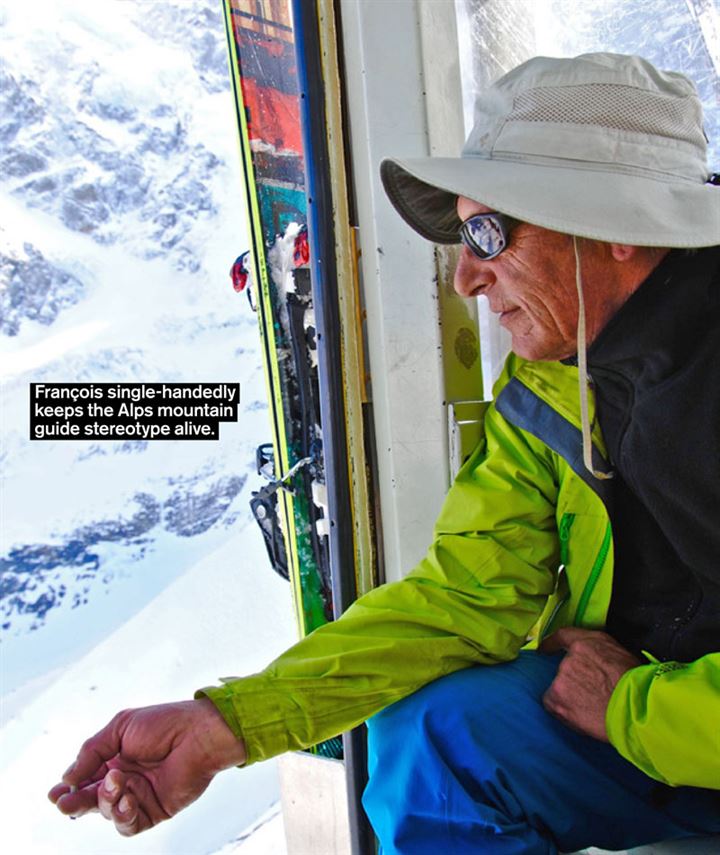 We were reassured somewhat that the last death by avalanche was "at least a dozen years ago, maybe 15" and that "you're much more likely to slide off a cliff." The most famous exit (to North Americans anyway) being extreme skier Doug Coombs, who died in 2006 after trying to rescue one of his steeps clinics' charges who'd slid over moments earlier.
Avalanche gear remains an obvious necessity, as does a climbing harness and of course a mountain guide if you want to stray in any direction beyond the simplest way down. Straying from normal mountain guide lexicon, François actually offered us a compliment later in the day after we gingerly picked our way down steeper and steeper couloirs. "You are good skiers. I don't normally take skiers down here." But as Holly pointed out, "That's just because I ended up wallowing in alders and holing my skis over rocks."
Despite the lack of new snow, our two bluebird days in La Grave offered appropriately jolting and unparalleled massive alpine views that outmatched the severity of the skiing. La Grave remains a destination that all serious skiers must make at some point in their lives. And it's good to know that if they're accompanied by less sporty friends and family, the neighbourhood has weeks' worth of more traditional skiing like Serre Chevalier, Les Deux Alpes and Alpe d'Huez, each about a half-hour's drive; the massive Milky Way domain, centred about Sestriere, Italy, is about 45 minutes.
Our adventure had begun about three hours from the Geneva airport after dropping off friends and family and extending our stay. The final push in the rental car involved negotiating a moving emergency road that matched some of the skiing at La Meije, which was necessary all last winter after a major tunnel collapse shut down direct access to the valley in 2015. With the tunnel temporarily open just in time for this season, attention on the town has returned to politics and the future of La Grave in general with the lift company's lease coming due in June. Rightfully fearing the obvious, that the top bidder for the lease will be the Vail Resorts-style Compaigne des Alpes, which owns the neighbours already mentioned plus many more in France (Tignes, Val d'Isère, Méribel, La Plagne…) and even more in a dozen other countries. It would irrevocably change life in La Grave.
Those who believe in the independence of the community, and its status as an outdoor gem in the rough worth preserving, formed the crowd-funding campaign Signal de la Grave to raise money and awareness. Its initial financial goal was exceeded quickly in the fall, but the fight to convince La Grave's town mayor that there's an alternative to selling out has barely begun. A decision is expected in February. A personal visit to make your donation to fight it may be necessary.
Plan: lagrave-lameije.com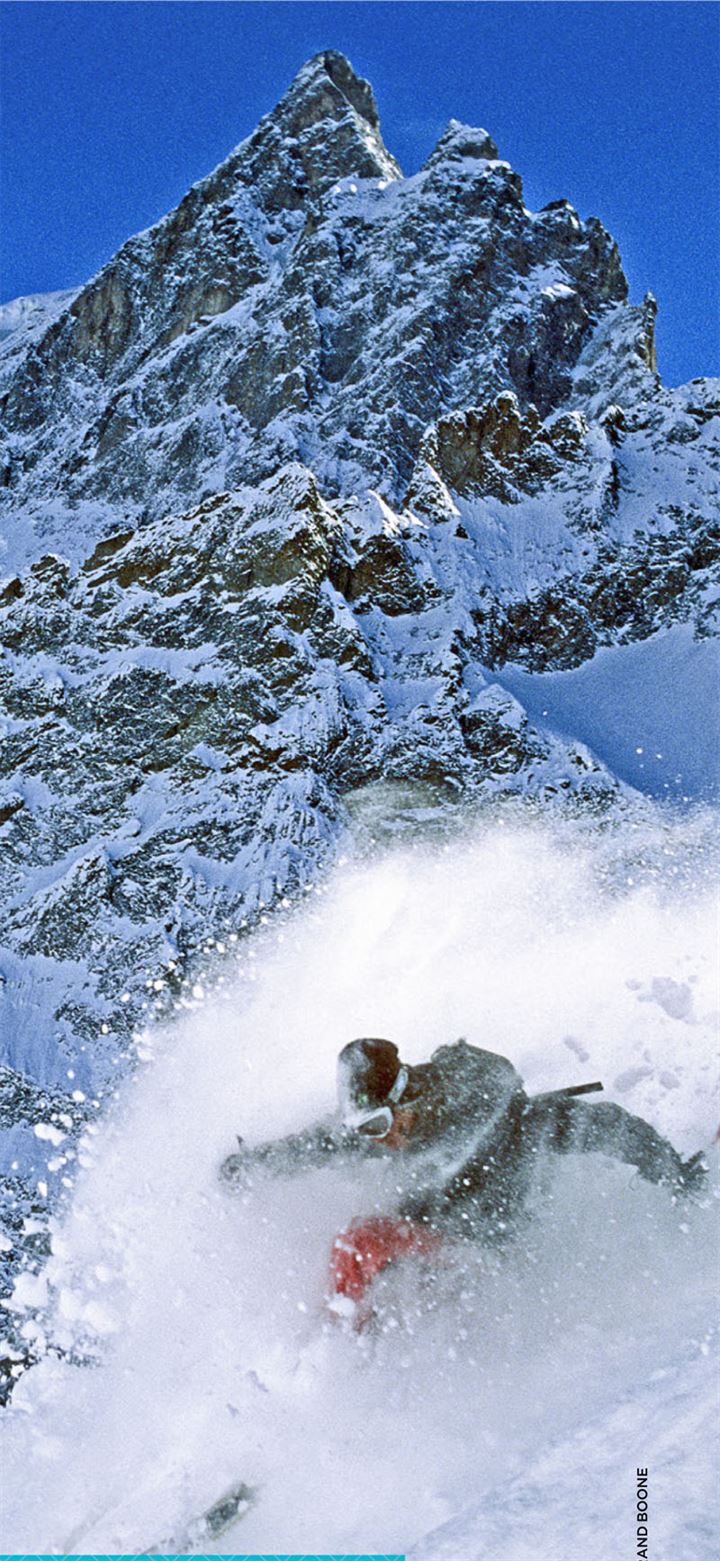 Stay: hotel-edelweiss.com